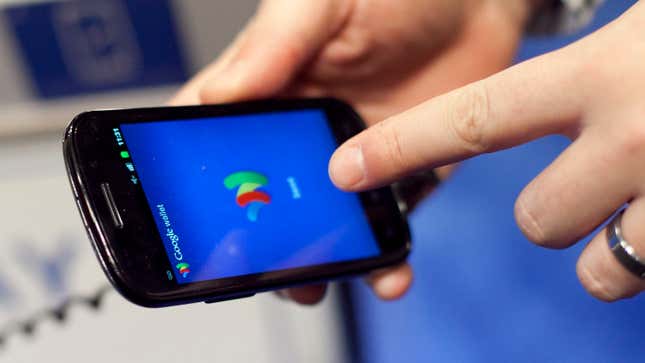 Everyone from Google to every major cell carrier in the US really, really wants consumers to start paying for things in stores with their mobile phones. And yet adoption of the technology in the US has been slow. Similar "mobile wallets" have been available in Japan since 2004, and yet by the end of 2010, in a typical month only 10% of Japanese consumers were using their phones to make a purchase.
So what's wrong with people? Don't they understand how completely magical it would be to just tap a cash register with their phones, rather than swiping a credit card or fishing out a wad of bills?
Just asking the question points to the answer: in rich countries, at least, the existing means of paying for things are already pretty great. And none of the competing mobile-wallet technologies has too much of an edge either over the old methods, or over each other.
One, near-field communications (NFC), lets a shopper tap a phone with an NFC chip in it against a receiver, to instantly beam the payment information. A second is the distinctive, square barcode-like symbol called a QR code; shoppers can pay by having a QR code flash up on their phone's screen where a camera attached to the payment system can read it. The third, known as  "pay by name," is a system in the store that detects when a known mobile phone is in range, identifies the buyer, and displays his face on a screen, so that the person behind the register can simply tap the picture to complete the transaction.
The reason none of these is a clear winner, says Bill Ready, CEO of Braintree, which powers the credit-card handling portion of various websites, "is that mobile doesn't solve a huge pain point for either the consumer or the merchant on in store payments." In other words, none of these methods makes life that much easier. It's true that mobile wallets could allow for all kinds of new features, from helping shoppers keep track of their spending to giving retailers new ways to reward loyal customers; but  technologies tend to catch on fast only when they solve a pressing problem. Those that merely make life a bit better take time for people to adopt.
Contrast the situation of paying in stores with that of handling credit-card transactions online. It's famously annoying for websites, which have to get a merchant account from a bank, then integrate their systems with those of payment processors, which aren't renowned for their ease of use. Braintree and its competitor Stripe—which as we've written is, literally, obscenely popular with website developers—have made this process even easier than industry leader PayPal has. (According to Ready, Braintree already powers payments for 30 million users, as against PayPal's 113 million.) But customers haven't been nearly as quick to adopt things like Google Wallet, precisely because mobile wallets aren't an answer to a problem that they had in the first place.