Residents in Houston, Texas, awoke this morning to submerged roads, power loss, tornado warnings, and widespread damage as Hurricane Harvey's relentless rain continued to fall over the nation's fourth most-populous and notoriously flood-prone city.
The rainfall is expected to continue through Wednesday, with totals of 50 inches (127 cm) now predicted in some areas, the highest ever recorded in the state.
At least five deaths (paywall) and more than a dozen injuries were reported by Sunday morning in what is being called the most powerful storm to hit Texas in over 50 years. More than 2,000 were reportedly saved from rising flood waters, with further rescue operations still underway.
The National Weather Service said the event was unprecedented and that the storm's impacts are "unknown and beyond anything experienced."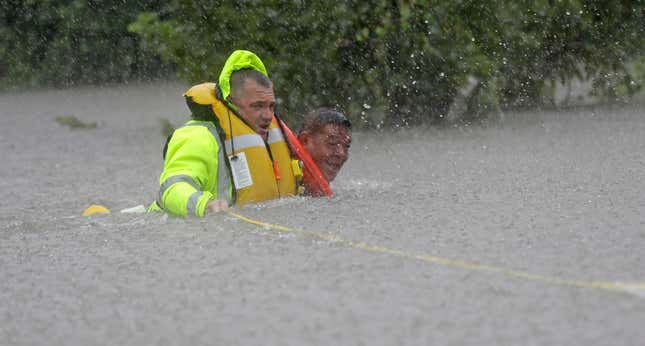 A flash flood emergency warning was extended until 1:30pm local time, which warned people in counties across Houston and Galveston to seek higher ground. "This is an extremely dangerous and threatening situation," the alert said. "Do not attempt to travel unless you are fleeing an area subject to flooding or under an evacuation order."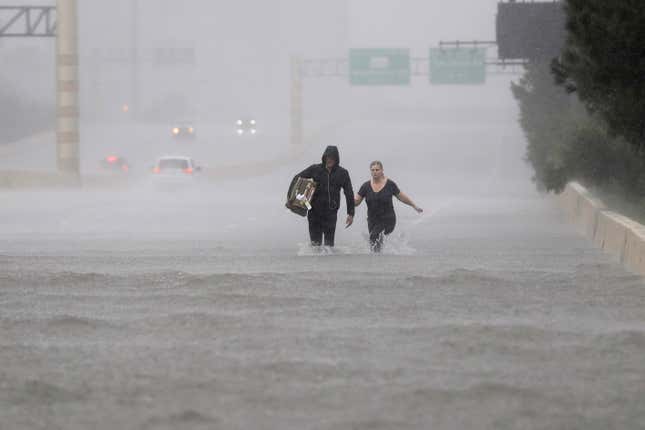 Houston is home to the country's largest refinery and petrochemical complex. As Quartz previously reported:
The federally-controlled offshore waters of the Gulf of Mexico produce 17% of the US's total crude oil output, while around half the US's petroleum and natural gas refining capacity is situated along the gulf coast. … A direct hit from a big storm would cause enormous damage, not just economic but also environmental, since the complex stores huge quantities of dangerous chemicals.
Today, the nation's second-largest oil refinery, run by Exxon Mobile in Baytown, Texas, was being temporarily shut down, the Houston Chronicle reported.
Journalists working at local TV station KHOU in Houston were also forced to evacuate as floodwaters entered the outlet's offices.
This story will be updated as more information becomes available.
---
Read next
: