A national referendum could soon make marriage equality a reality for gay Australians—but not before a lengthy and fractious process that many had warned could do more harm than good.
After a years-long debate over whether to legalize same-sex marriage in Australia, prime minister Malcolm Turnbull announced last month that the country would hold a referendum by postal ballot to settle the matter, with some challenging the legality of the government's decision to order the vote altogether.
Last week, campaigning by both sides got underway, with the "no" camp, represented by the Coalition for Marriage, firing the first salvo in a television ad that claimed schools would allow boys to wear dresses and that kids are being asked to role-play as same-sex couples. The Coalition for Marriage is campaigning under the slogan "you can say no."
"It's scaremongering, it's inaccurate and it's hard not to take it personally," Danielle Cave, 34, an academic at Australia National University in Canberra, tells Quartz. "As a member of the LGBTI community, I've been told that my family is not a real family unit because I'm not in a married heterosexual relationship,".
A high school in Melbourne refuted claims that it had ever told male students they could wear dresses. The mother who made the claim in the ad, Cella White, has a son who attends Frankston High School. White has previously criticized the Safe Schools Coalition in Australia, which promotes acceptance of LGBT pupils in schools.
"Conversely, the 'yes' campaign has been accused of shouting down any opposition to marriage equality through accusations of bigotry," says Cave. "This conflation of marriage equality with other issues, and the related attacks on LGBTI youth and other vulnerable members of the community is why the Australian government should have assumed a leadership role on this issue."
Indeed, opposition leader Bill Shorten said in response to the Coalition for Marriage ad that "this is exactly what was predicted when Malcolm Turnbull decided to waste $122 million on a postal survey."
Australia stands out as one of the few liberal democracies in the Western world where same-sex marriage isn't allowed, despite the fact that polls show a majority of people supporting it. The parliamentary process of legalizing it has been held hostage by conservative politicians in Canberra. It was legalized in New Zealand in 2013, and Taiwan this year became the second country in Asia-Pacific to follow suit.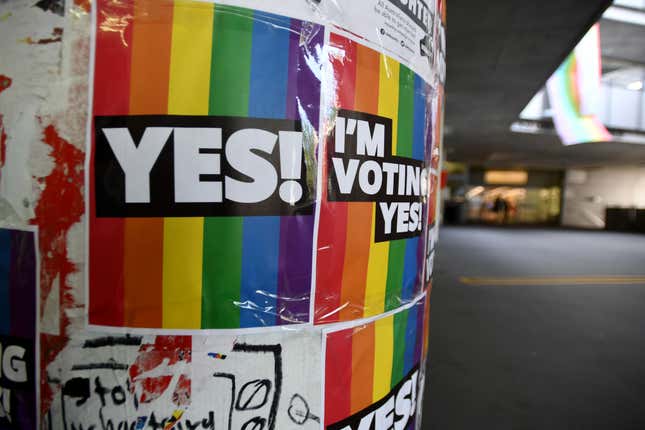 In response to the ad from the Coalition for Marriage, Australian Marriage Equality released a TV ad (paywall) directly rebutting the "no" side's claims that legalizing same-sex marriage would be harmful to young people.
"The only young people affected by marriage equality are young gay people who, for the first time, will have the same dignity as everyone else in our country and they deserve that," Kerryn Phelps, a doctor and long-time gay rights campaigner in Australia, said in the commercial.
For some, the experience of Ireland—which became the first country ever to legalize same-sex marriage through a referendum in 2015—was a cautionary tale of how Australia should not approach the matter. During the Irish referendum, for example, calls made to LGBT helpline services spiked.
"Having lived through the same-sex marriage campaign in Ireland just two years ago I can't quite believe our politicians are putting Australia's LGBT+ people and their families through that same experience," wrote Sophie Donaldson, an Australian who now lives in Ireland with her partner. "Prejudices that had long been swept under the rug were aired in the name of fair debate. The societal fabric began to fray, then it unravelled at an unruly pace."
Brian Tobin, a lecturer in law at the National University of Ireland Galway, said that "putting a human rights issue to a national vote is a crude means of legalising same-sex marriage," adding it "forces a historically oppressed minority to literally have to plead with the majority" for the right to get married.