The Chinese government's official broadcast media says that ice cubes served in KFC were 12 times dirtier than toilet water—and 19 times the national bacteria level standard.
The report, which was based on samples the China Central Television (CCTV) reporter took in eastern Beijing, found that ice cubes at Chinese fast food chain Kung Fu also out-germed toilet water. While McDonald's ice cubes also exceeded the national bacteria level standard, though they were still cleaner than toilet water.
A food safety expert interviewed in the initial segment—CCTV has since aired many more—said the bacteria could cause dysentery and diarrhea (link in Chinese). After the initial CCTV report aired on Sunday, discussion of the issue went, er, viral on Sina Weibo. Since then, KFC, McDonald's and Kung Fu have all apologized and vowed to clean their ice machines. Here's a look at some of the footage from the CCTV report (link in Chinese):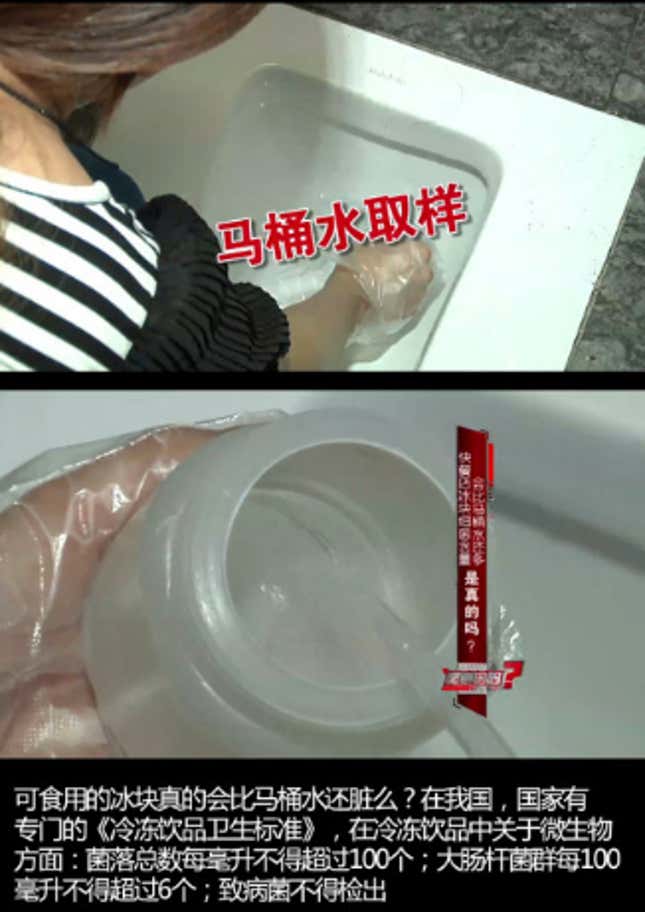 Toilets are obviously not primed for drinking; the risk they pose to human health comes from bacteria transmitted via fecal matter—bacteria like e. coli, for instance.
But while the CCTV report was based on the raw number of bacteria colonies, it didn't reveal what sort of bacteria it found. That makes it somewhat misleading (link in Chinese), as one food safety expert told First Financial Daily. "The [headline] might be a little eye-grabbing, but it's not that useful—for instance, the bacteria count on your teeth or on the bottom of your shoe is about the same," Dong Qingli, a food safety expert, told the paper. "Instead you should look at which actual bacteria types exceeded levels."
Bacteria-infested fast food restaurant ice machines are common outside China, too. Last year, a report on a slew of fast food outlets in the UK proved similarly shocking to the public, and prompted a government-accredited laboratory to name them a "hygiene risk." None of those samples contained bacteria that were actually harmful to human health.
While this is no excuse for neglecting to clean your ice machine, it does provide some useful context that CCTV appeared to have omitted. The network is well-known for needling corporations in the name of consumer rights. These types of exposés used to proliferate around "consumer day" in mid-March each year—Apple was this year's example. But they appear to be branching out.
KFC parent company Yum Brands in particular has attracted media scrutiny. Reports last year about KFC's use of "fast-growing chickens" frightened consumers and turned out to be false, as did a follow-up report on use of antibiotics. And it's not just media; in May, the Shanghai government alleged health code violations at Little Sheep Hotpot, which KFC owns (the results of its investigation remain unclear). At the time, Yum denied the charges.
China generates around half of Yum's revenues. Along with the effects of the Avian flu outbreak, scandals may have hurt its financial performance of late—same-store sales fell 29% in April. Here's a look at its stock performance: