It's been a volatile few weeks for yields on Portuguese 10-year bonds (essentially the interest rate the Portuguese government would have to pay if it borrowed money for 10 years). Today, they plunged dramatically, hitting 6.5%, from 6.99% on July 19. That's after nearing 8% on July 3, and again on July 12.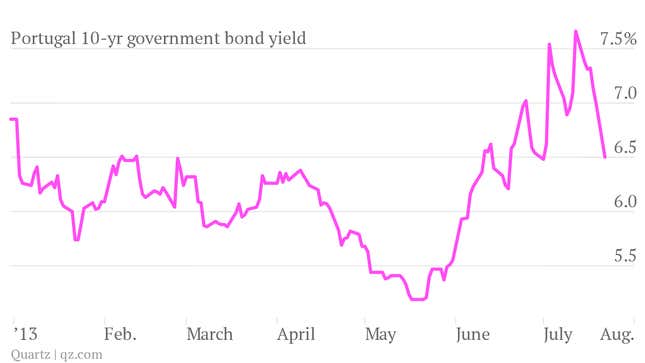 Like those of other European countries, Portugal's bond yields have become the go-to data point for analyzing its financial health since the end of the financial crisis.
Political turmoil that could have threatened that financial heath has been responsible for these crazy swings in the yields on Portuguese sovereign bonds over the last few weeks. Angry over a cabinet appointment by prime minister Pedro Passos Coelho, the Social Democratic Party (PSD), the government's primary coalition partner, threatened in early July to withdraw its support, which could have forced a fresh round of parliamentary elections.
That prospect may have shaken investors' confidence. The Portuguese government has done a pretty decent job of pushing forward with euro zone leaders' prescriptions that it slash spending and cut down the size of its government in return for bailout funds. New elections could have disrupted the pace of economic reforms. That, in turn, might have jeopardized Portugal's eligibility for outside funding, which it still desperately needs. The economy shrunk 4% from the year before in the first quarter.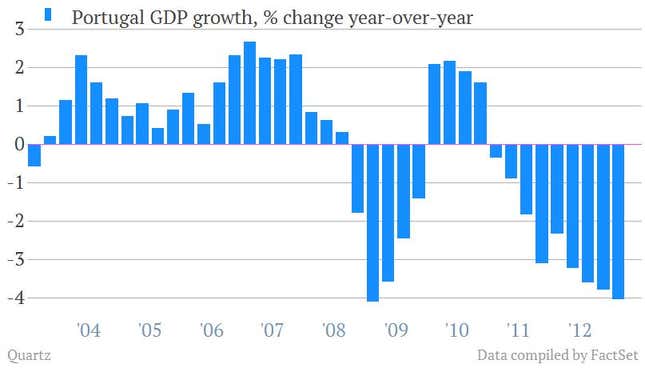 So why did bond yields plummet today? Over the weekend, Portuguese president Anibal Cavaco Silva ruled out new elections, pledged his support for the current coalition, and vowed that the country would remain on track with its bailout program.
But no matter what bond yields may tell you, Portugal's government remains fragile. "The government faces tough decisions in the coming months, including negotiations on the spending cuts equalling €4.7 billion that are needed to comply with the bailout requirements," Teneo Intelligence analyst Antonio Barroso wrote in a client note today. "The coalition will also have to agree on a budget for 2014 in the fall, which is likely to prove challenging."