Germany's Christian Democratic Union pulled out its big guns this week in the run up to Sunday's election: a black-and-white picture of Angela Merkel as a child, and the caption "For a Germany in which everyone can become anything." Considering the girl in the photo grew up in Communist East Germany and went on to become one of the most powerful leaders in the world, it's a poignant message.
The woman known as "Mutti," meaning "mom," due to her steady style and air of "mother-knows-best" competence, seems to invite people to project their own ideas of who is she is onto her. However, she remains eternally hard to pin down. She's a liberal hero to some, thanks to her approach to the refugee crisis and to world leaders like US president Donald Trump and Russian president Vladimir Putin. But on the other hand, she's against gay marriage and has supported a burqa ban in the past. The contradictions pile up around Merkel.
From growing up as a Protestant pastor's daughter in East Germany, she's now the head of a Europe's strongest economy. But she still lives in a simple apartment in central Berlin and wears the same shabby clothes on her yearly hiking holiday. She's a politician who lacks charm at the podium but, according to Der Spiegel journalist Dirk Kurbjuweit who accompanied Merkel on many trips, in private she can be cheerful, exuberant, and even succumb to fits of laughter.
"Being underestimated always helped her," Tanit Koch, editor and chief of Germany's biggest paper Bild told BBC's Newsnight. Many have underestimated her at their peril. Like former chancellor Helmut Kohl, who made the young, bashful Merkel his minister for women and youth in 1991. Kohl used to call her his "girl," but he would later call her his assassin, after Merkel ended his career in 1999 by publicly denouncing him in a national broadsheet after Kohl was caught in a party-funding scandal.
Then there was Vladimir Putin, who brought his big, black Labrador into a meeting with the chancellor, who's terrified of dogs. "I understand why he has to do this — to prove he's a man," Merkel told a group of reporters afterwards. "He's afraid of his own weakness."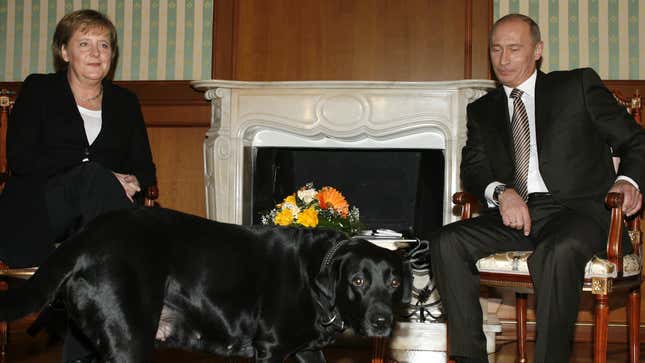 Born in July 1954, Merkel would earn her doctorate in quantum chemistry before going into politics in the early 1990s after the Wall came down. Long before she had to deal with the world's current crop of strongmen, she'd mastered Germany's chauvinist political arena. Her uniform of boxy blazers and sensible shoes was born when she was environment minister: Merkel said that people were looking at her shoes instead of listening to her—so she took outfits out of the equation.
Merkel's home life with her second husband Joachim Sauer is also fiercely private—and has been presented as so humdrum it doesn't merit any attention. Sauer, whom she married in 1998, is a professor of physical and theoretical chemistry who works at the Humboldt University in Berlin. Merkel likes to bake at home and is occasionally snapped in local Berlin supermarkets. Locals leave her in peace, shopkeepers normally refuse to say what she bought.
The liberal chancellor, or not
The Western media often casts Merkel in the role of left-leaning liberal, even though her CDU party is a center-right party. Her decision that Germany would accept over 1 million refugees at the height of the migrant crisis in 2015 helped many people rebrand her in their minds as a liberal hero. Many believed we were seeing a new, more emotional Merkel, one who would go out on a limb for her humanitarian values. She even was nominated for a Nobel Peace Prize, even though behind closed doors she allegedly was relieved to not have won.
So it may seem contradictory that in 2010 she declared that multiculturalism in Germany had "utterly failed." She also refuses to identify herself as a feminist, and voted against same-sex marriage this year because, for her, it was unconstitutional.
The refugee crisis was pretty much the only time Merkel has risked her political wellbeing, but then again, she had to. Thousands of refugees being turned away at the German border would have been a political catastrophe for her. Since then, in the face of a torrent of criticism, she has said that such an influx can never be allowed to happen again. And taken steps to make sure it won't.
Last year, she spearheaded an agreement between the EU and Turkey, in which Turkey would get billions in aid in exchange for taking back migrants who cross the sea to the Greece. Human rights groups slammed the deal as unethical, saying that Turkey was forcing Syrians back over the border into their own dangerous country. But for Merkel, politically, this deal, coupled with the closure of the "Balkan route" into Europe, also calmed a major uprising in the ranks of her own party that almost threatened to topple her.
Queen of the U-turn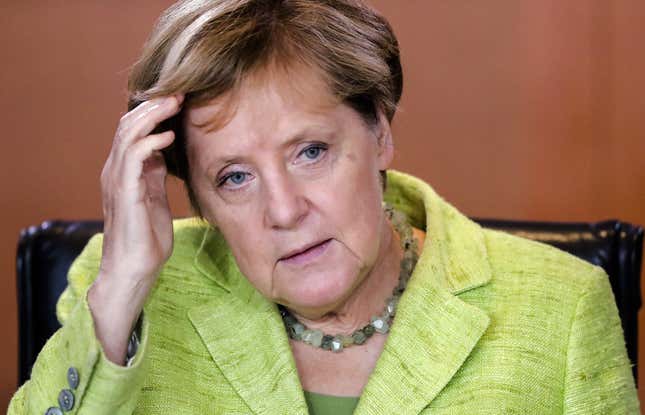 A cool-headed pragmatist and with an analytical scientist's mind, Merkel has developed a leadership style that merited its own verb: "merkeln." It basically means kicking the can down the road before making a firm decision. But this wait-and-see approach and canny ability to sense the mood of the nation has served her well over the past 12 years.
At a recent podium interview at a Handelsblatt event (paywall) Merkel said: "Never try to change your negotiating partner's mind… but find and exploit the wiggle room within their thinking."
"Patience is the secret of Merkel's success," according to Ralph Bollmann, author of The Germans, Angela Merkel, and us. "She's much more patient than any other politician in Germany, in Europe, in the world."
She has a calculating habit of swiping hot button issues out of the hands of her political rivals. During this election campaign, she grabbed gay marriage off the Social Democrats, her closest rivals, suddenly announcing that it should be put to a parliamentary vote of conscience—and hung onto her core conservatives by voting against it.
The complex chancellor is a master at reversing direction. She's made a number of high-profile U-turns over her 12 years at the helm, perhaps a core reason for her firm grasp on power.
She was pro-nuclear power and then suddenly, after the Fukushima nuclear disaster, decided Germany must phase out nuclear energy by 2022. She opposed more bailout money for Greece, then decided Greece should be given more money. She said the US-UK invasion of Iraq was unavoidable in 2003, but in 2016 said she "did not support the war in Iraq."
"A ball of contradictions is one way of putting it, completely unprincipled would be another way." Hans Kundnani, senior transatlantic fellow at the German Marshall Fund of the United States, told Quartz. He sees the view of Merkel as the leader of the free world is part of a broader trend towards "the personalization of international politics" since the election of Trump.
Billing Merkel as the new leader of the free world may be understandable in the era of Brexit and Trump, but it fails to take into account the less-than-great stuff that has happened on her watch. The Volkswagen emissions-cheating scandal, the biggest in recent German corporate history, wasn't discovered by German watchdogs, but by the US. Recent revelations that not just VW, but all Germany's main auto giants had been fixing their cars' emissions has again shone a spotlight on just how cosy her government is with the country's auto industry.
Likewise, on the topic of the environment, Merkel has been dubbed the "climate chancellor" for how she has spearheaded Germany's transition to renewable energy, the "Energiewende." Yet the country won't hit its goal of cutting greenhouse-gas emissions by 40% by 2020, thanks largely to its heavy reliance on lignite coal, and a car industry that has been arrogantly slow in developing electric cars.
We still don't know who she is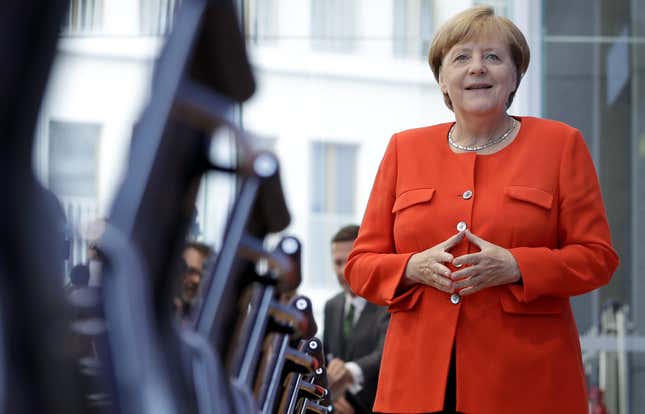 The word "enigma" seems to be about right to describe Merkel, then so too would be Machiavellian, pragmatic, predictable, maybe even plodding, words with a lot less allure than enigma.
"The most extraordinary thing about Merkel is that… we don't know who she is at all. She's completely opaque," Kundnani says. "She has a handful of people around her who she trusts… and when those people speak to the media they're telling you what they want you to think about Merkel, not what she actually thinks."
As for what Merkel wants, her own dreams? "I believe her personal dream came true with the fall of the Berlin Wall, which was about freedom," Josef Janning, director of the European Council of Foreign Relations, told Quartz. "If you grow up under the confines of communist rule, particularly of the GDR type, then basically she has seen the realization of the wildest political dream of her life. After that, there is no other."