Japanese voters going to the polls next month will get to choose between the current conservative government, a conservative party led by a popular female politician, and the communists.
The Japanese Communist Party (JCP), founded as an underground organization in 1922, is the only communist party in the G7 group of countries that has political representation at the national level apart from France (paywall). After enjoying electoral success in the last lower house elections in 2014, it will hope to repeat that success with the near implosion of the country's biggest left-leaning opposition party, which just announced that it won't compete in the elections taking place in three weeks.
Prime minister Shinzo Abe, looking to take advantage of the disarray of the opposition Democratic Party (DP), this week called a snap election for Oct. 22, hoping for a straightforward win to confirm his mandate. His plans, however, have been derailed by charismatic Tokyo governor Yuriko Koike, who formed a new party to challenge Abe's Liberal Democratic Party (LDP).
Before taking out Abe, however, Koike took out the DP, the main left-of-center alternative in Japanese politics. In the face of Koike's momentum and popularity, the DP's leader said it wouldn't field any candidates and that all its members would be allowed to seek nomination from Koike's Party of Hope.
That leaves pretty much just the JCP, Japan's oldest political party, for Japan's left. While the party has long since abandoned truly revolutionary aspirations, it still publishes a daily newspaper called Akahata (link in Japanese), or Red Flag, and maintains an anti-capitalist stance. More concerning, at a time when tensions with North Korea have risen sharply, the JCP is against the US-Japan security treaty, which pledges the US to defend its ally and allows for US bases. It is also firmly committed to maintaining Japan's pacifist constitution, which prevents Japan's military from engaging in offensive operations—something that Abe is committed to revising. That's going to be harder if the voters who might have chosen DP, choose the communists instead.
"The JCP is the only credible political force left in opposition to constitutional revision," said Sebastian Maslow, an assistant professor in political science at Kobe University.
While Koike, who was Japan's first female defense minister briefly in 2007, describes her new party as centrist, she, much like Abe, is a foreign policy and security hawk. Her party has not fully clarified its position on constitutional revision, apart from saying such a reform shouldn't focus only on the article that commits Japan to pacifism. Koike has also said that she wants to "reset" Japanese politics and form a party that is free from political influence, but the JCP said her party is "nothing more than a support force for the Abe regime" and JCP leader Kazuo Shii said the DP's effective merger with Koike's party is a "betrayal of the struggle" (link in Japanese) against the Abe government.
On the left, many are unhappy with the Abe government for taking a hawkish approach on a range of issues, including bringing in a new anti-terror law that gives authorities greater power to detain people.
In a poll conducted by the Asahi newspaper just before the DP announced it wouldn't compete in the elections, a third of people said they would vote for the LDP, 13% for Koike's party, 8% expressed support for the DP, and 5% for the JCP.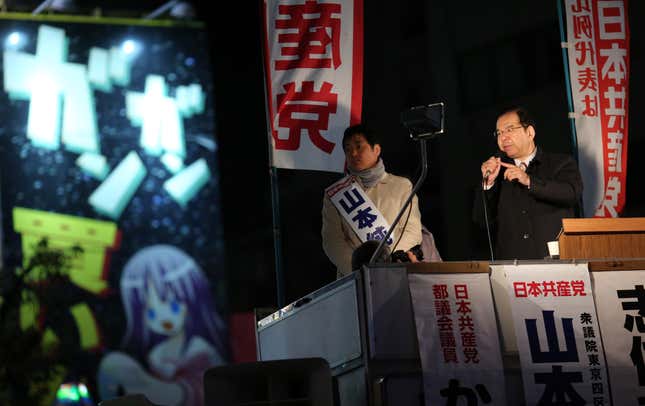 The JCP managed to increase its share of seats in the House of Representatives election in 2014 to 21 from eight, winning voters who were anti-Abe and who were frustrated (paywall) with the lack of real choice among the opposition, particularly as the DP's three-year stint in power disappointed many voters. The DP currently has 88 seats in the lower house.
The LDP has been in power almost continuously in post-war Japan, save for the DP's stint in power from 2009 to 2012, which was largely seen as a disaster. Since then, voters have been disillusioned with the DP's persistent in-fighting and ambiguity on key issues, including constitutional revision, and cooperation with other opposition parties. In the face of that, some voters see the JCP as the only party that has maintained a principled stance on every issue since its inception—including its name.
JCP chairman Shii said in 2013 (paywall) that sticking with the communist label, no matter how outdated or odd, "symbolizes that we are a party that doesn't go off course."