Was she asking for it? The question is a prime example of victim-blaming when harassment happens, as if the person being harassed could be somehow responsible for another adult's behavior. Yet that's the exact question that celebrated fashion designer Donna Karan posed Oct. 8 when asked to comment on sexual harassment and assault allegations against Hollywood producer Harvey Weinstein.
"Obviously, the treatment of women all over the world is something that has always had to be identified. Certainly in the country of Haiti where I work, in Africa, in the developing world, it's been a hard time for women," she said during a red carpet interview at the CinéFashion Film Awards, as reported by the Daily Mail. "To see it here in our own country is very difficult, but I also think how do we display ourselves? How do we present ourselves as women? What are we asking? Are we asking for it by presenting all the sensuality and all the sexuality?"
Karan quickly backtracked after a public backlash, saying that her comments had been taken out of context and did not represent her true feelings or her belief that sexual harassment is "NOT acceptable."
It's hard to imagine what additional context would have cast her words in a different light. Even more baffling is that they came from Donna Karan, a name synonymous with clothes that made life easier for working women.
When she launched her label in 1985, Karan's clothes were a godsend to women in the workplace. Unlike men and their suits, working women in the 1980s had no standard work uniform, and were expected to look professional without looking dowdy—all the while shouldering most of the responsibility for housework, too.
Karan offered a solution with her "Seven Easy Pieces," a modular wardrobe made of items including skirts, pants, blazers, and the always versatile bodysuit, that she conceived specifically to simplify getting dressed for work. "I'm attempting to make it easy for her, with clothes that function for her life," she told the New York Times when her clothes debuted.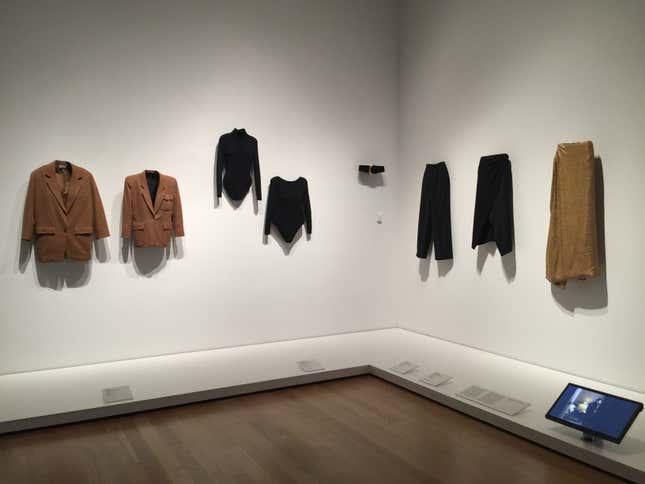 The effect was immediate. Just two years later, critic Carrie Donovan wrote for the Times, "Sometimes one wonders how executive women dressed before Donna Karan. Such has been the impact of this woman's sound clothing theories and her knowledgeable and carefully worked-out concepts."
Of course corporate dress codes aren't the only complication women faced then and now at work. Too often men in power—men like Harvey Weinstein—recognize women for their bodies, not their abilities. Clothes get part of the blame: Women are often expected to look attractive, but not overtly sexy. If they do dress in a way that shows their body, they risk being harassed, and then told their clothes sent the wrong message.
Karan left her clothing label in 2015 to devote herself to her healthcare-focused nonprofit. But her legacy is still the wardrobe she created for working women. Her Seven Easy Pieces are currently hanging in New York's Museum of Modern Art as part of its major new fashion exhibit. They're in a section about power, and the role clothes play in communicating it.