Around 1am last Sunday night, the smell of smoke woke Preston Raisin. He got out of bed, walked around to check on his kids, and made sure his house wasn't on fire.
Turns out his house was on fire, just not the one he was in.
Raisin's vacation home, 55 miles to the north of San Francisco, was burning to the ground.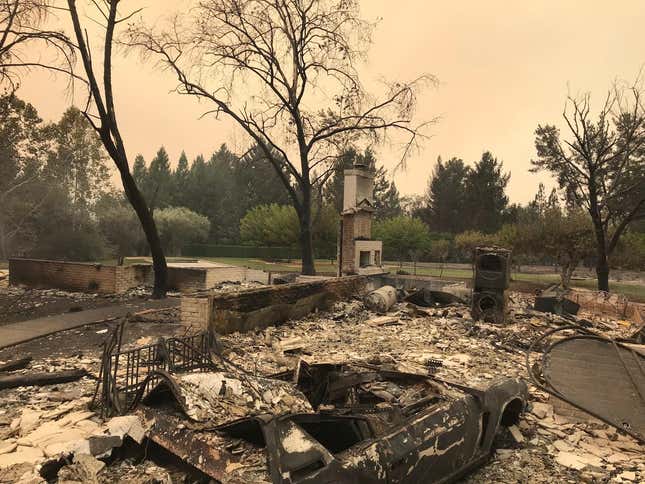 Raisin's house was one among the thousands of structures reduced to cinders by California wildfires that have left 17 people dead and nearly 20,000 forced to evacuate. Yesterday (October 11th) there were currently eight fires burning across nearly 142,000 acres throughout California, an area nearly the size of New York City.
"It was the perfect storm because you had low humidity and 30-45 mile per hour winds," Raisin told Quartz. "It was like a big oven. The wildfires this year have been brutal."
This year alone, the US Forest Service has spent a record-breaking $2.4 billion to suppress more than 50,000 fires. The Forest Service's previous record was $1.7 billion in 2015.
Over the last twenty years, the amount the Forest Service has allocated to fight wildfires has tripled from 16% of the overall budget to 52%. The agency estimates that by 2025, that number will increase to 67%.
To make matters worse, the more money the Forest Service spends suppressing fires, the less money it has to spend on forest restoration projects to prevent wildfires. To tackle the intensity of fires this season, more than a half-billion dollars was moved from fire prevention programs to fire suppression.
Raisin says that he's seen little effort being put into brush clearing or cutting down dry and hazardous trees to prevent fires from spreading. "At the end of the day, you have to be careful what you wish for right? We had a bad drought, we got a lot of rain, a lot of rain created overgrowth. The overgrowth got dry fast and wasn't attended to, so it burned like crazy."
Raisin is planning on rebuilding his Kenwood house, even though he's aware that wildfires will continue to get bigger, and the wildfire season is only growing longer, but he has plans to lower the chances that his house will get torched again.
"We had a wood roof, so now we will build a steel roof, add a cement foundation, and clear some of the big trees near the house."