Facebook is now eating the world, literally. The social media giant today unveiled plans to get into the food delivery business, by swallowing up online ordering pages from other food delivery companies.
An "Order Food" button now appears under the "Explore" section of Facebook's home page, along with things like "Events," "Pages," and the old-school "Pokes." Clicking it brings up a list of nearby restaurants with a rating (out of five stars), a short description ("Sports Bar," "Belgian"), a price estimate ("$$$"), and the restaurant's distance from you and address. Some of these restaurants also have another button next to them, "Start Order."
The ordering and delivery process itself isn't handled by Facebook, but a hodgepodge of "partner" services. I clicked "start order" for several restaurants, all in Manhattan. Many opened external pages for Grubhub, the biggest name in US food delivery and parent company of ordering services Seamless and Eat24. Another redirected me to an ordering page powered by ChowNow. Ordering from The City Bakery, a cafe in the Flatiron District, led to a page from food delivery service Zuppler. Facebook's listing for Bleecker Street Pizza, a popular pizza joint in Manhattan's West Village, gave me the option to order through Delivery.com, EatStreet, Grubhub, or Slice.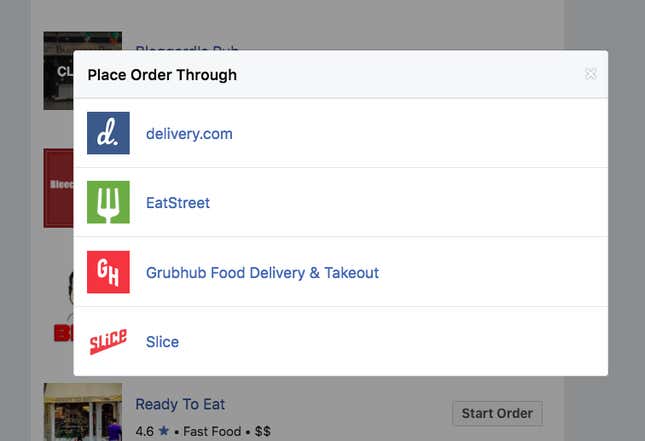 Food delivery is a hot commodity. Uber has spent this year aggressively expanding its food delivery division, UberEats, while Amazon has scaled up Amazon Restaurants, a service that offers free delivery on orders of $35 or more to Amazon Prime members. Startups like DoorDash and Postmates have raised hundreds of millions of dollars from venture capitalists to expand food delivery options. Grubhub, America's largest online takeout and delivery platform, has been growing its orders, users, and profits year-over-year; in August, it paid $287.5 million in cash to acquire Yelp's Eat24.
Why does Facebook want to get into the food delivery business? "Ordering food for takeout or delivery is supposed to be simple. That's the point," Facebook vice president of "Local," Alex Himel, writes in a blog post. "But somehow it's gotten complicated. First you need to decide what to eat, then you have to sift through a bunch of options and services."
The company has been testing its food delivery platform since last year and is rolling it out throughout the US. Facebook said in an email that it doesn't charge fees or take any portion of profits from delivery partners, which include Delivery.com, ChowNow, and DoorDash.
Of course Facebook doesn't actually want to get into food delivery, a notoriously messy and complicated business that requires hiring and managing a lot of people, but food ordering. Whether Facebook is actually accomplishing any of its stated goals to simplify the process is less clear. To order food on Facebook, you still have to decide what you want to eat, and then you also still have to sift through a bunch of options and services to order it. In theory it might be helpful if Facebook showed you some additional information, like, "30-minute wait to order on delivery.com" or "$2.99 delivery fee on Grubhub" but currently the company isn't doing that.
No, the main benefit of this service seems not to be in simplifying things for the user but for keeping people ever longer on Facebook. There were 236 million people in the US and Canada who signed onto Facebook monthly in the latest quarter. Those of them in the US can now do yet another fairly routine task—ordering food—without having to leave Facebook first.