After eight days where allegations of sexual misconduct ricochetted through Hollywood, it only took the Motion Picture Academy three hours to reach a vote to permanently revoke producer Harvey Weinstein's membership. The Academy's 54-member Board of Governors includes actors Tom Hanks, Whoopi Goldberg and director Steven Spielberg. They convened an emergency meeting in Los Angeles at 10 am PT this morning.
The Academy came forth with this statement:
The Academy of Motion Picture Arts and Sciences Board of Governors met today to discuss the allegations against Harvey Weinstein, and has voted well in excess of the required two-thirds majority to immediately expel him from the Academy. We do so not simply to separate ourselves from someone who does not merit the respect of his colleagues but also to send a message that the era of willful ignorance and shameful complicity in sexually predatory behavior and workplace harassment in our industry is over. What's at issue here is a deeply troubling problem that has no place in our society. The Board continues to work to establish ethical standards of conduct that all Academy members will be expected to exemplify.
Being ousted from the Academy means that Weinstein cannot win another Oscar, vote on future awards, nor can he attend award ceremonies. Weinstein will however be allowed to keep his Oscar for producing the 1998 film Shakespeare in Love.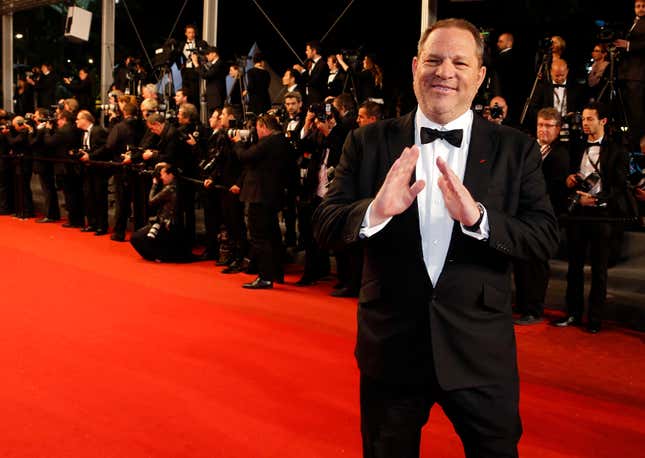 The British Academy of Film and Television Arts also suspended Weinstein's membership and the Producers Guild will convene on Monday to decide on his membership. So far 34 actresses including Angelina Jolie, Ashley Judd and Kate Beckinsale have publicly issued statements against the embattled producer.
While the Academy was swift to punish Weinstein, it has remained mum on other members who have been embroiled in sexual abuse. Bill Cosby, who has allegedly molested 60 women and stands trial for three counts of aggravated indecent assault is still a member. Director Roman Polanski won an Oscar in 2003, despite being found guilty of raping a 13 year old girl in 1977.
Correction: An earlier version of this article said the vote to oust Weinstein was uninamous.