Months after a court decision paved the way for Taiwan to become the first nation in Asia to legalize same-sex marriage, a record number of people took part in Taipei over the weekend (Oct. 28) for the city's annual LGBT pride parade.
Estimates for turnout were well over 100,000 people, compared to about 80,000 last year, with many coming from other countries in Asia. The official theme (link in Chinese) for this year's parade, the 15th Taipei pride parade, was "make love, not war—sex ed is the way to go," in the hope that more education can broaden the space for sexual equality in society.
A Taiwan court ruled in May that the existing law that bans same-sex marriage is unconstitutional and that action should be taken to make the relevant legal amendments within two years, but the country has yet to move forward to formally enshrine marriage equality into law. In July, local government restrictions on same-sex partnership registrations were lifted, but the rights to same-sex unions are still not equal to heterosexual partnerships.
While Taiwan remains years ahead of its regional peers, including Hong Kong and Australia, in terms of LGBT rights, many Taiwanese remain opposed to same-sex marriage, and rights groups say that anti-LGBT groups have ratcheted up the pressure on schools not to teach content on gender equality and related topics.
The need for "consensus" is frequently cited by president Tsai Ing-wen's government to explain the lack of progress on the matter since the May court decision. Taiwan's new premier Lai Ching-de has said that the executive branch of government plans to send a version of a same-sex marriage bill to the legislature before the end of the current legislative session, calling for the need to "seek the greatest consensus of society." Tsai said (link in Chinese) on the day of the pride parade, before leaving Taiwan for a trip, that the ruling Democratic Progressive Party would construct a legal framework in the spirit of the court's constitutional interpretation, while also maintaining "social unity."
Jason Hsu, an opposition legislator who has also been one of the most active proponents of marriage equality in Taiwan, chalked the government's inaction on the matter down to politics, as Taiwan will hold local elections in late 2018.
Politics seemed to be mostly forgotten during the parade, however.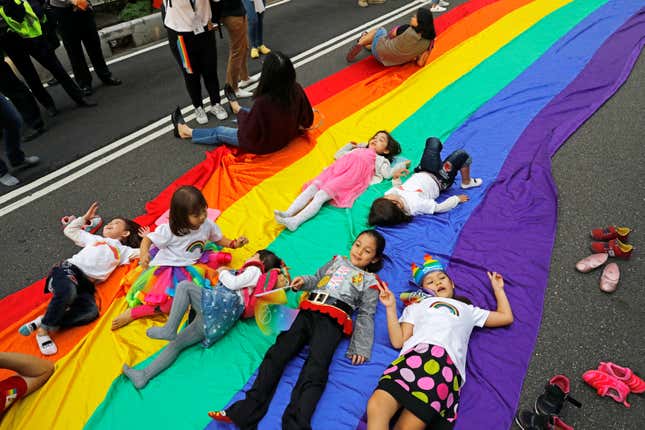 Children play on a giant rainbow flag as they take part in the pride parade in Taipei, October 28, 2017.