The man who intentionally drove a truck down a bike lane in lower Manhattan, killing at least 8 people and injuring a dozen more in an act of terror was a lone attacker radicalized as "a domestic jihadist" in the US, officials said today (Nov. 1).
"In many ways, this now a classic case of a radicalization of a domestic jihadist who associated with ISIS, and this is their new playbook," New York governor Andrew Cuomo told CBS News. "Very simple. Use a vehicle to cause harm. It's New York. It's London. It's Germany. It's France. It's Ohio. So, this is more of what we've seen."
Who is Sayfullo Habibullaevic Saipov?
Police have identified the driver as Sayfullo Habibullaevic Saipov, a 29-year-old Uzbek national who held a "green card" visa that permitted him to live in the US legally. He came to America in March, 2010, and lived in Tampa, Florida before settling in Paterson, New Jersey.
Little seemed to be notable about him to neighbors before the attack. A man who said he was Saipov's neighbor in Paterson told NJ.com that he often saw the suspect with his wife and two children, driving a car with Florida plates. The executive director of the Florida Council on American Islamic Relations in Tampa, Hassan Shibly, told the Tampa Bay Times he had not heard of Saipov before reporters began calling him yesterday. "We're all horrified by the attack," he said, "From my conversations he doesn't seem to be known at all within the community."
Was Saipov a known terror suspect?
Saipov was known to authorities and had come up in a counterterrorism investigation as a "possible associate," but he was not the focus of any inquiries and had not been under surveillance, NYPD deputy commissioner of intelligence & counter-terrorism John Miller told reporters.
The investigation so far has revealed that Saipov "will have some connectivity to individuals who were the subjects of investigation, though he himself was not," Miller said.
In 2016, Saipov was arrested in Missouri after failing to pay a fine for not maintaining his brakes, local media reported. He posted $200 bond and never showed up for his court appearance. He later entered a guilty plea and used the bond to pay off the original fine and associated court fees.
How long was Saipov planning an attack?
Officials believe Saipov had been planning the assault for a number of weeks, and appears to have followed instructions posted by ISIS on social media as to how to carry out an attack by vehicle.
Writings found at the scene of the attack indicate Saipov had pledged his allegiance to ISIS. The notes, handwritten in Arabic, included symbols and words, and "the gist of the note was that the Islamic State would endure forever," Miller said.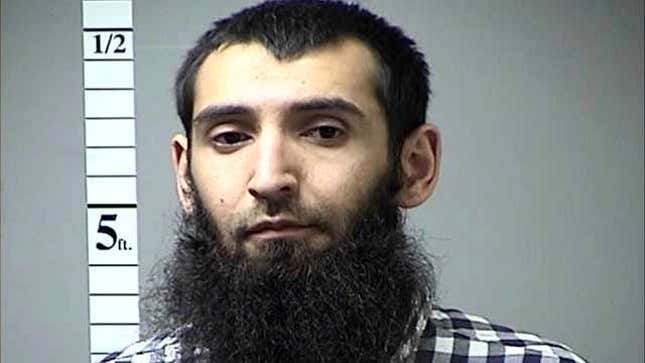 He was an active driver for Uber for more than six months and had completed over 1,400 trips. The company confirmed to Quartz that Saipov, had passed the platform's background check. Uber has been in contact with the FBI and has offered its help in the investigation.
"We are horrified by this senseless act of violence. Our hearts are with the victims and their families," a company spokesperson said in a statement. "We have reached out to law enforcement to provide our full assistance."
Officials are calling the truck-ramming attack the deadliest act of terrorism on New York City since Sept. 11, 2001, when the attacks at the World Trade Center killed more than 2,700 people.
Saipov's assault took place just blocks from the Freedom Tower site, which houses the city's 9/11 memorial and museum.
Police said the suspect, who brandished imitation firearms after exiting his vehicle after barreling down the bike path,  was shot in the stomach by 28-year-old Ryan Nash, one of the NYPD officers who responded to the scene. Saipov was taken to Bellevue Hospital and officials were awaiting an update on his condition. "He's in custody and under arrest," Miller said.