China, already the world's biggest electric-vehicle market, is now using battery power to fuel cargo shipping as well.
A Chinese company has built a 2,000 metric-ton (2,204 tons) all-electric cargo ship, which was launched from the southern Chinese city of Guangzhou in mid-November, according to state-run newspaper People's Daily.
The 70-meter long (229 feet) and 14-meter wide (45 feet) ship is equipped with over 1,000 lithium batteries, with a total capacity of 2,400 kilowatt-hours. By comparison, Tesla's Model X is equipped with a 100-kWh battery that allows it to drive nearly 570 kilometers (350 miles).
The vessel, designed for inland waterway transport, will have a pilot shipping voyage next month, and be put into commercial use early next year. It will travel a fixed route on one of the main waterways of southern China—the Pearl River—and will transport coal to a local power plant, according to state news portal Chinanews (link in Chinese). The ship is able to carry 2,100 metric tons (2,314 tons) of coal, according to Huang Jialin, chairman of the ship's design firm, Hangzhou Modern Ship Design & Research Co., which designed and built the ship. It took a little over a year from conception through research and construction, he said. Guangzhou Shipyard International invested in the vessel.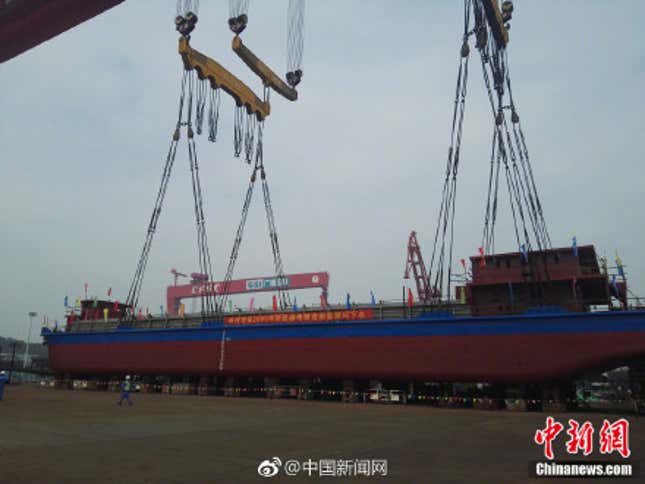 The ship can travel up to 80 kilometers (50 miles) before being recharged again, which takes two hours, about the same amount of time required to unload cargo, Huang told Quartz. The battery-run ship will also be cheaper to operate than regular cargo vessels, he says. He expects the batteries to last around five years.
Professor Lai Kee-hung, who studies logistics and sustainability issues at the Hong Kong Polytechnic University, said it was a breakthrough to have an electricity-driven ship, in terms of reducing emissions of greenhouse gases and pollution. Cargo shipping is highly polluting, since most cargo ships currently rely on high-sulfur heavy fuel oil. Global trade is only expected to lead emissions from this sector to rise. A single large cargo ship can produce the equivalent in emissions of millions of cars.
But challenges remain, Lai told Quartz in an email. For example, there are technical hurdles such as ensuring the stability of the power system, a requirement for a long-haul vessel.

Other nations are also planning to power their cargo and passenger behemoths with electricity. In July, Norwegian cruise line Hurtigruten said it was investing in ships with a hybrid engine to sail in the Arctic and Antarctic. The company expects the first ship to be delivered as soon as next year. In May, another Norwegian company, Yara International, announced that it was developing an autonomous, battery-powered ship to be fully self-driven in 2020.