The price of bitcoin hit $10,000 this morning (Nov. 29), reaching the historic milestone for the first time, even as respected voices warned against investing in the cryptocurrency.
According to Coindesk, bitcoin first surpassed the $10,000 mark around 1.30am UTC (9.30am Hong Kong time), and soon reached $10,044 after a brief dip. It reached a new height of $10,198 at around 11am HKT.

Bitcoin is breaking through symbolic price barriers every few weeks—only at a much quicker pace each time. It took bitcoin a bit over two weeks to go from $7,000 to $8,000, and just a week to reach $9,000. Just days later it has crossed $10,000. Here's a recap of its spectacular run: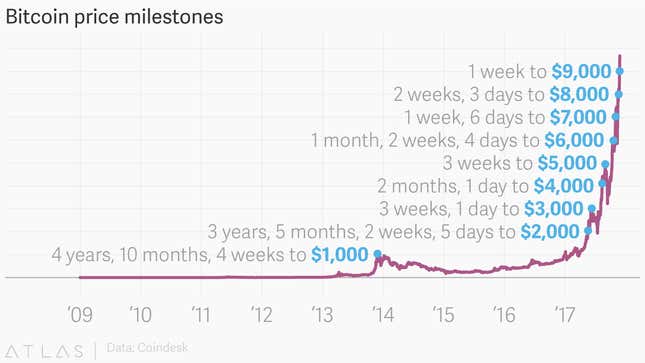 Yesterday bitcoin already traded above $10,000 at several South Korea-based exchanges, but remained just below that level in major platforms like BitStamp.
Bitcoin's market cap has risen above $170 billion, making it worth more than many US companies such as Boeing and General Electric.