Last year was supposed to be the best of Mikaela Mayer's life.
Four years earlier, she had failed to qualify for the Olympic Games in London despite being the top-ranked amateur boxer in her weight class. In 2016, Mayer made it to the Rio games; the American cruised through her opponents before being somewhat controversially beaten in the quarter-finals. Despite that, Mayer had reached the ultimate platform. She should have felt on top of the world.
For the men, a good performance at the Olympics usually starts the road to fame and fortune. Yet no one tried to sign Mayer. No endorsements deals rolled in. It wasn't the punches that had hurt. It was feeling that no one cared.  "I didn't get the recognition I thought I was going to get from it, and so I was kind of like, 'Wow, that was it?'" Mayer tells Quartz. "I wanted more. I wanted a bigger stage. I wanted for people to see my fights."
So, earlier this year, Mayer did something very few women boxers ever do—she turned pro.
She breezed past her first opponents, boxing from behind her excellent jab and knocking them both out. "I thought I was going to have a lot of nerves," Mayer says. "It's a new stage, different arena, no headgear, smaller gloves but, you know, I wanted that. It's what I asked for. I was ready to show the world what I've been hiding." Mayer will be on her biggest stage yet tomorrow (Dec. 9)—fighting for the third time in four months—on the undercard of the Vasyl Lomachenko vs. Guillermo Rigondeaux fight at Madison Square Garden in New York, which is being called the "best professional fight that has ever been made."
Women's boxing in America has come a fair way since Nell Saunders and Rose Harland fought for pride and a silver butter dish in 1876 (paywall), but it has had to bob and weave against men who resisted letting them become part of the sport. The American Civil Liberties Union had to sue USA Boxing, the amateur governing body, in 1993 to allow in women like Mayer. The Amateur International Boxing Association only lifted its ban on women in 1994. And the London Olympics in 2012 was the first time women had ever boxed at the games. It is all fairly new. If you've ever heard of a women's boxer at all, it's likely to be Laila Ali, daughter of Muhammad. She retired in 2007, undefeated after 24 pro contests in a career her legendary father had never wanted her to have. Mayer wanted to change that.
Still reeling from the Olympics fallout and trying to decide what to do next, Mayer happened to be in Las Vegas and, on her manager's urging, Todd DuBoef decided to meet with her. As the son of legendary promoter Bob Arum and president of Arum's company, Top Rank, which launched the careers of Floyd Mayweather and Oscar de la Hoya, it is fair to say that DuBoef has been around the sport awhile. "The lightbulb went off," he says of meeting Mayer. "And I said, you know what? If I'm going to build a category, you know or start to put our flag into a category, she's got the elements. She has the personality, she's got the look, she's got the ability."
Mayer represents DuBoef's biggest investment ever in women's boxing. Ask him and Mayer why women's boxing hasn't taken off and they both have the same answer.  "Well, I think you need a star," Mayer replies. "I mean, look at Ronda Rousey."
'I think it's gross'
The Ultimate Fighting Championship organization only goes back to 1993—when it was a fight club that pitted "black belts against sumo wrestlers and kickboxers against jujitsu masters" to see which fighting style prevailed. But the premier home of mixed martial arts (MMA) has probably been even more resistant to women fighters than the much older sport of boxing. So it fell to smaller MMA promotions, like EliteXC and Strikeforce, to put on all-women shows at the start of the 2000s and prove there was an audience. It was in Strikeforce that Ronda Rousey first demonstrated her ability to attract a large fanbase.
Not that any of that mattered to some. "I'm not a fan of women fighting. I think it's gross," the circus-mustachioed fighter, Ian McCall, said in 2016 documentary The Hurt Business (on Netflix, US only). "You mean, you're not going to have your daughter be a fighter?" he asks rhetorically. "No. Maybe a ballerina." The progressive view was summed up in that film by the legendary Tito Ortiz. "I don't see it as too sexy but, I mean, that's just my sexist side of me, being a man," he said. "But if they want to compete, cool."
Rousey did not just compete. She changed the sport. 
The UFC poached Rousey in 2012 and she went on a tear; between 2013 and 2015, she won six matches in a row. Several lasted less than a minute. She sold out huge arenas around the world as the headliner, a first for a woman in the sport. She appeared in the Fast and Furious and Expendables movie franchises and on the cover of Sports Illustrated. Dann Stupp, editor-in-chief of MMAjunkie, which was bought by USA Today in 2011, tells Quartz that his site has never seen the audience it had during Rousey's reign as MMA's biggest star—and that includes afterwards, with Conor McGregor. She brought in new fans, and many more women than you would usually see debating the finer details of an armbar submission.
Stupp thinks Rousey's incredible skills helped her overcome what he called the "queasiness factor"—men disliking watching women getting beaten up. "I think if we saw Ronda Rousey winning by three- or five-round decisions, where she and her opponent are both bloodied up and barely able to finish the fight, I do wonder if that would kind of slowed the quick rise of MMA," he says. "I don't think she would've been doing the late-night talk shows and the daytime TV shows and getting movie roles and spots on ESPN if she were bloodied up with a busted lip and swollen eye."

UFC president Dana White, who had once vowed that women would never fight in the Octagon, later said that women's MMA exists only because of Rousey. But you wonder if the whole sport owes her some debt. Rousey came along just as the first generation of UFC stars were retiring; her huge mainstream success probably helped the UFC sell for $4 billion in 2016. It's those kinds of numbers that made Top Rank think again about the women's game. "It was kind of funny because you talk about this alpha-male sport, then one of its biggest pay-per-view stars is a girl? It's kind of like an oxymoron, right?" DuBoef laughs. "It just doesn't make sense. I was intrigued by it."
White also noted what Rousey's success had done for her peers. "You look at all these other sports, women don't make what the men make," he said. "Women made more in this fucking sport than the men." In 2015, Rousey entered the Forbes list of highest-paid female athletes for the first time, with more than $6 million in earnings. Those millions means that Rousey hasn't had to come back to the sport since two bruising back-to-back losses in 2015 and 2016—and she probably never will. 
That kind of payday doesn't happen in women's boxing. The reason that few women boxers turn pro, as Mayer has done, is that it makes no sense. "My last fight was a world title, and the purse was $2,000," one fighter told the New Yorker (paywall). Another, Christina Cruz, who has won the US Golden Gloves amateur tournament more than man or woman in history, told the magazine that she was sticking with USA Boxing, the very program that Mayer abandoned. "The pros won't benefit me at all," Cruz said. "You fight very little, and for no money. As an amateur, I get to travel the world for free, and I get to represent my country doing what I love."
Heather Hardy (paywall) is a single mother with a 12-year-old daughter who sells tickets to her own fights. "After one fight, I walked away with $30,000 in ticket sales and a $10,000 purse, and the next guy, also on the undercard and not televised, made $150,000 for his purse," she told the New York Times (paywall). "And I bet he didn't sell any of his own tickets."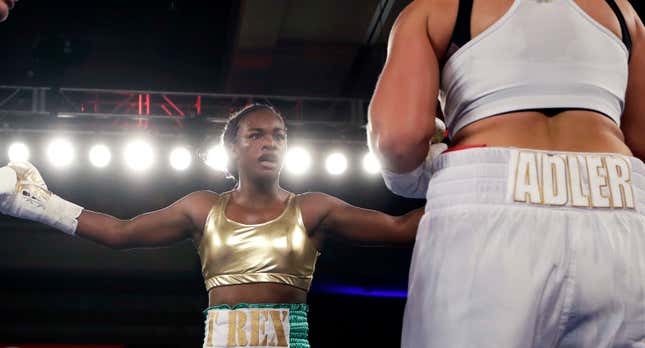 Mayer herself had an offer on the table to convert from boxing to MMA—from Bellator, a rival to the UFC—after the disappointment of the Olympics. She almost took it—before she remembered what she dreamed about as a young girl. "I wanted to pave the way for women's boxing, I wanted to excel women's boxing to where women's MMA was," Mayer says, "and I kind of lost sight of that in years of struggling to get that exposure, struggling to get that respect that we deserve." 
And now there's a bigger pool than ever to join her in the pro ranks. Mayer's Olympic teammate, Claressa Shields, recently won a title in her fourth professional fight. Ireland's Katie Taylor, also a newly crowned world champion, will headline her own show in England this month. England's Nicola Adams has also turned pro—and is racing to win a title ahead of her American girlfriend, who is also a boxer. (Shields and Adams are both two-time Olympic gold medalists; Taylor also has a gold. Rousey, before she turned to MMA, won a bronze in judo. Even in this feminist moment in history, the women coming through have had to prove themselves much more than the men for a chance at the same opportunity—and are still being asked to be grateful.)
One of their forebears is Marian "Lady Tyger" Trimiar, who was fighting in New York (paywall) in the early 1970s and shaved her head in defiance of everyone who thought she should be more ladylike. She and others—also mainly black women—applied for pro licenses from the New York State Athletic Commission in 1974. They were denied; the chairman believed licensing women boxers would "erode the sport's image as the 'manly art of the self defense.'" After several lawsuits, they were finally given their licenses in 1978.
Still, little happened for Trimiar in the sport. Almost a decade later, in 1987, she staged a month-long hunger strike advocating for better pay and working conditions for female boxers. "It's my heart, it's my love," she said at the time. "Unless women get more recognition, we will be fighting just as a novelty for the rest of our lives. There will be no future."