European Commission president Jean-Claude Juncker confirmed this morning (Dec. 8) that the EU and Britain can move on with the second phase of Brexit talks, with sufficient progress having been made in negotiations.
Not only will the 3 million EU citizens in the UK "be able to go on living as before," but prime minister Theresa May said at a press conference that there will be no hard border for Northern Ireland and the Good Friday Agreement would be upheld. The Brexit secretary for the UK, David Davis, also confirmed in a tweet that both parties can move on to the next stage:
While there was no indication on a final amount of what the Brexit divorce bill—the amount the UK needs to pay the bloc when it exits on March 29, 2019— looks like, the joint press conference confirming the EU and the UK are moving on to the second phase of the talks suggests that a tentative amount has been agreed to.
Since it has taken over eight months to get past this first phase in negotiations, you'd be forgiven for assuming a substantial portion of the talks had been settled. But this isn't the case. In fact, there are a whole host of complex negotiations that seem impossible to complete within the small time frame of just 16 months.
Trade
Prime minister May has continually said that Britain is going to leave the single market.
However, trade negotiations will be lengthy and complex because it's likely not in the UK's best interest to do so. As Quartz has reported, the best-case scenario for Britain when it comes to Brexit is pretty bleak. On top of that, Brexit secretary Davis recently admitted that the government hasn't done impact assessment reports on all sectors of the economy. So the government may be rethinking how it can negotiate a deal with the bloc to prevent dragging the UK economy over a cliff edge.
Severing ties to the single market means relinquishing unified import and export rules and costs. One recent report showed that if May and her cabinet decided to pursue the "hard Brexit" route, it would increase prices for UK exports, which could make EU consumers switch to domestically produced goods instead. This in turn would lead to a £17 billion ($22.7 billion) fall in annual EU export revenues across key UK manufacturing sectors.
This, of course, doesn't include the over 50 other sectors that would be impacted by trade changes.
Finance sector
Within discussions, the talk of what to do with the financial services sector is perhaps one of Britain's top priorities since it is so intrinsically linked to the EU. The services sector makes up around 80% of the UK economy and financial services is part of that.
Earlier this year, a report by financial services industry lobby group TheCityUK pointed out how important each individual working in the sector is to the economy. When using the gross value added measure, which is output minus consumption, staff in the industry contribute 1.5 times the average worker in Britain, with £79,500 ($105,056) (pdf). TheCityUK also put the sector's contribution to the economy at £176 billion ($232.5 billion) in 2015, counting in all affiliated sectors, and related employees to around 2.2 million, worth nearly 8% of all UK jobs:
May has repeatedly said there is going to be a hard Brexit, which means Britain would leave the EU without access to the single market, while having total control over immigration. But access to this market is a linchpin to providing services to EU citizens.
London is the hub for processing euro-denominated derivatives contracts by clearing houses. The clearing business is arguably the jewel in the crown (paywall) for the financial services sector as it clears 18 major currencies and is worth around €930 billion ($1.1 trillion) per day. Not being part of the bloc anymore makes EU leaders wonder if London should be stripped of this business. On top of that, you have the issue of financial "passporting," which allows UK-based firms to do business in other EU and European Economic Area nations.
Immigration
While the first phase of Brexit talks has secured the rights of 3 million EU citizens living in the UK, the next stage will discuss one of the most contentious issues for both the bloc and Britain. One of the biggest issues for Brexit's "leave" voters was a fear of immigration. Now the UK government is aiming to reduce EU migration into Britain—drastically.
EU citizens are also rapidly abandoning the UK since the Brexit vote.
But now both parties will have to discuss whether the UK will still take part in the Freedom of Movement act, which allows EU citizens free and easy passage between member states. Although there have been a number of independent reports out there saying how a sharp reduction in EU migration will harm the economy, May's pledge for a "hard Brexit" means that she is willing leave the single market so the UK doesn't have to opt into the act, because EU leaders have repeatedly said that leaving the EU isn't like picking from an à la carte menu.
Security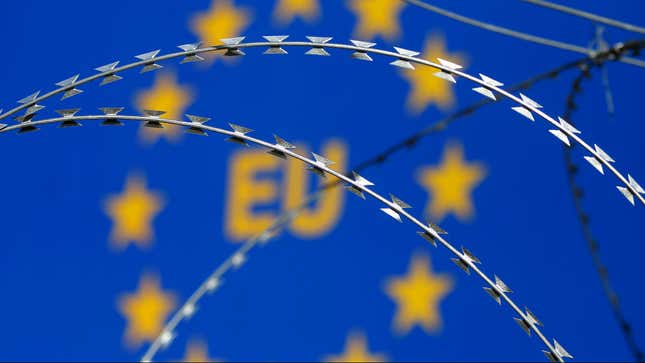 While trade and immigration have grabbed the headlines, there is one key area that has barely got any airtime: security. A recent report (pdf) by The UK in a Changing Europe, an independent think tank, warned that Britain faces a potential security-cliff edge scenario where after March 29, 2019, there could be "serious disruption to security cooperation."
"There is a danger that, unless the British Government acts quickly to define more clearly what it wants and how it might achieve it, another Brexit cliff edge—in security—might be on the horizon," said Anand Menon, director of the think tank, in a statement.
The government hasn't got far enough in talks to discuss security. It has only released a white paper that reads more like a wish list on what it would like to retain despite leaving the EU, said Peter Catterall, constitutional expert and professor of history and policy at the University of Westminster, to Quartz this year.
A key problem for Britain and the EU is how to continue the relationship on security, even though the UK is opting out of the bloc.
When you're part of the EU there are data-protection standards. When Britain leaves the bloc, while the EU will not want to lose its access to UK data on criminal matters, and vice versa, there are questions over how this will continue following Brexit. The UK will also have to think about how it can maintain direct access to Europol databases, which are vital to gaining information on criminals or spotting red flags when it comes to national security.
And finally, while the UK may be able to wrangle a similar deal to that of Norway and Iceland, it will have to negotiate how it and the EU will cooperate over European arrest warrants. In other words, if it doesn't sort this out, "some EU countries won't be able to surrender their own nationals to the UK," the think tank noted.