China's cryptocurrency enthusiasts have been left out of bitcoin's historic rally in recent months, thanks to the Chinese government banning initial coin offerings in September and then shutting down all major domestic exchanges. But it didn't take long for them to find something new to pour their money into.
That turned out to be OneCoin, designed by Chinese tech company Xunlei. Since its launch in mid-October, OneCoin's value has jumped dramatically in secondary markets—at one point more than 80-fold, according to numerous reports (link in Chinese). That's despite OneCoin not being available for trade in any major marketplace. Its crazy ride has helped Xunlei become the best-performing stock on Nasdaq for most of the past two months.
Xunlei's share price plunged in recent days after OneCoin drew public scrutiny. That came after a disenchanted business partner accused OneCoin of being an initial coin offering—a hard-to-regulate way to raise funds based on an offering of cryptocurrency rather than shares.
Will Beijing eventually intervene to ban OneCoin? How long can the OneCoin frenzy last? These are among the key questions now being pondered by cryptocurrency fans and speculative investors alike.
What the heck is OneCoin?
Let's first talk about Xunlei for a bit. Founded in 2003, the Shenzhen-based company started out as a torrent downloader, a sort of Chinese answer to Pirate Bay. Later Xunlei transformed itself into a video-streaming platform with mostly licensed content, even as peer-to-peer downloading remained a key offering. In 2014, Xunlei went public on Nasdaq, after a first attempt failed due partly to concerns over the pirated materials on its platforms. In late August, the company announced that it would become a blockchain company—a big shift in its business strategy. It also released a blockchain-based hardware product called OneCloud.
In essence, OneCloud is a network-attached storage device that lets multiple users share online storage remotely. On top of that, it's a "mining machine" that allows users to share their idle bandwidth with Xunlei's content delivery networks (CDNs)—and earn some OneCoin as a reward.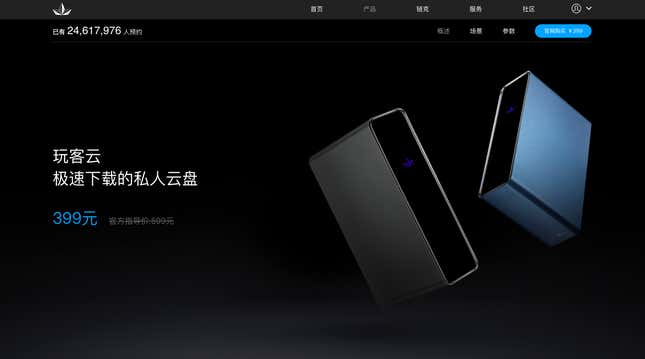 OneCoin, also known as Wankebi, can then be used to purchase value-added services provided by Xunlei—for example, extra storage on its cloud service, or faster download speeds for its torrent downloader software.
OneCoin is designed in a similar way to bitcoin. Currently, there are over 1.6 million OneCoin up for grabs every 24 hours. The reward will cut in half annually, and OneCoin's total number will be capped at around 1.5 billion.
Xunlei hasn't published the code for OneCoin, whereas major cryptocurrencies like bitcoin and ethereum are open-sourced. The company runs a wallet app for OneCoin that supports peer-to-peer transactions but not centralized exchange services. As shown by the app's installation files, OneCoin runs on a private blockchain based on the ethereum network, according to Xiao Lei, a Beijing-based bitcoin analyst.
Xunlei didn't reply to a request for comment for this story.
What's the hype about OneCoin?
Xunlei has said that OneCoin miners should be focused on the idea of shared computing rather than making money on speculation. But apparently people are flocking to OneCoin for the wrong reason, as far as its creator is concerned.
According to a report from the Beijing News (link in Chinese), by the end of last month OneCoin traded at around 8 yuan ($1.21) in numerous chat groups on QQ, a popular social network. That means it had increased in value more than 80-fold in 40 days since its launch. What's more, the OneCloud device—that storage-cum-mining tool—was reportedly being sold online for around 2,000 yuan by enterprising types, more than five times its original price tag. Meanwhile over 24 million people have pre-ordered the device on the website of Xunlei, which has struggled to meet demand.
The rally of both Xunlei's shares and OneCoin's price halted at the end of last month, after Xunlei fell into a dispute with a partner called Shenzhen Xunlei Big Data Information Services Company, which runs online services selling wealth-management products. Xunlei had originally given Big Data the right to use Xunlei branding (unrelated to OneCoin) for its data and financial services, but it later retracted that, saying the arrangement wasn't fair. In retaliation, Big Data accused Xunlei of conducting an illegal ICO through the OneCoin project—an allegation Xunlei denied. Later, the two sides issued a joint statement saying they had settled their "misunderstanding" and reached new partnership deals, without offering more details.
During the dispute, state broadcaster CCTV aired a short segment (link in Chinese) endorsing the technology innovation behind OneCoin. State-backed financial experts interviewed by the program dismissed the idea that OneCoin is an ICO, noting Xunlei didn't raise a penny through the project.
So will OneCoin be banned?
OneCoin seems to be on path to having a legal status similar to that of bitcoin in China. Bitcoin itself is legal in the country, but trading it is largely restricted.
Over the weekend, Xunlei announced that (link in Chinese) it has renamed OneCoin "Lianke" and the OneCoin wallet app to "Lianke Pocket." The company now requires all users of the new wallet app to register with their real names by Dec. 14; otherwise, they'll be unable to use the app's transaction function. Last but not least, Xunlei said it would work with authorities to crack down on illegal trading platforms for Lianke.
In the wake of Xunlei's announcement, OneCoin's price plummeted in intraday trading to 4.3 yuan today (Dec. 11) on buywkb.com, a small cryptocurrency trading venue based in Hong Kong.
Xiao, the bitcoin analyst, said OneCoin has put Xunlei in a "very awkward position." For one thing, he explained, OneCoin's limited supply makes it highly speculative by nature, whether Xunlei likes it or not. Although Xunlei didn't raise money through OneCoin, he noted, if OneCoin trading becomes popular on third-party exchanges, then the company essentially launched a securitized asset without government approval. "It's playing around in the gray area," he said.