It's been 68 years since World War II drew to a close with the surrender of Japan, but you wouldn't know that much time has passed from the contentious memorials and celebrations throughout northeast Asia on Thursday, as the tensions of the present were interlaced with the horrors of the past. On what it calls "the anniversary of the war's end," Japan angered its neighbors when government officials visited the Yasukuni Shrine, which honors those killed in World War II including several convicted war criminals. Prime minister Shinzo Abe did not visit the shrine but sent a ritual offering, and broke with two decades of tradition not expressing any remorse for Japan's aggression in his speech marking the anniversary. The prime minister, who has said it is his life's goal to rewrite his country's pacifist constitution, also did not make a traditional pledge that Japan would not engage in any wars.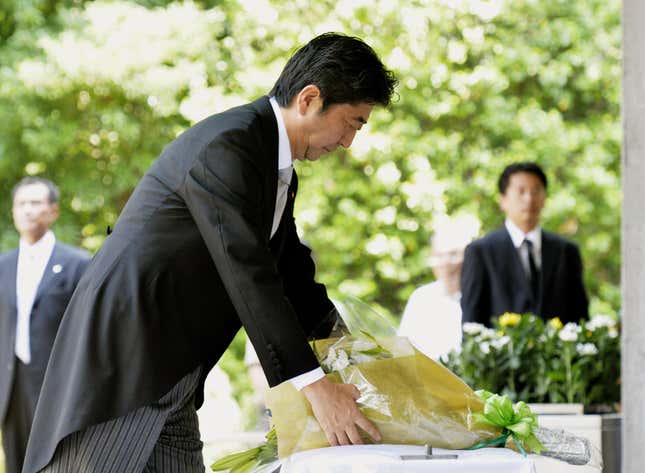 Abe certainly didn't win any new fans in China, where Aug. 15 is Victory over Japan Day. In a country where some 30% of primetime dramas consist of Japanese soldiers being graphically slaughtered, and where recent tension over disputed islands in the East China Sea has caused riots and boycotts of Honda and Toyota, it wasn't hard to find evidence of anti-Japan sentiment. "We should ask ourselves and other Asian countries whether we have taught Japan enough of a lesson," one Weibo user wrote. "History is written by victors. If Japan does not recognize that history, it means we have not yet won, nor do we have the strength or the courage to deal with a mad dog!" "Can you imagine what the world would think of Germany if they paid homage to Nazi boss Hitler?" retired Chinese major general Luo Yuan wrote in the state-owned Global Times. The Chinese military also began four days of live-fire exercises in the disputed East China Sea. In Taiwan, activists demanded that Japan apologize to women who were forced to work as sex slaves during the war. In South Korea, where Aug. 15 is Independence Day, President Park Geun-Hye urged Japan to "face history" and its leaders to show "courageous leadership." "It is hard to build trust without the willingness to face history and consider the wounds inflicted upon others," Park said. "I expect responsible and sincere steps to be taken to heal the wounds of those who are still suffering."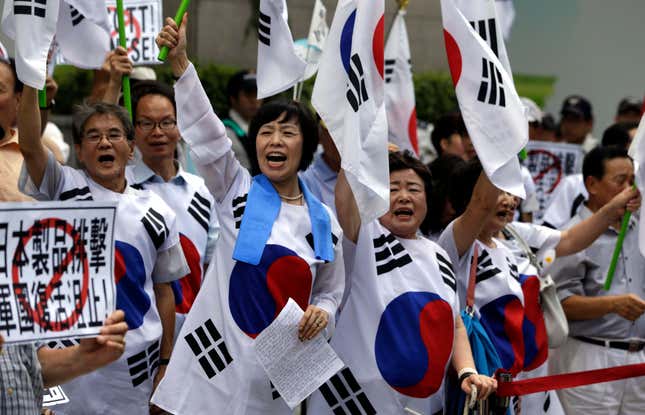 The emotional Korean events were noted ruefully by one Chinese microblogger, who noted: "The Koreans are taking it to the streets with banners, posters, and speakers while in China, all we do is book an air-conditioning room in a hotel with organizers reading their speeches to audiences that pretend to listen. " Additional reporting by Jennifer Chiu.