Last month, the global cryptocurrency community flocked en masse to CryptoKitties, a game that lets users breed and trade virtual kittens using ethereum, a virtual currency like bitcoin. At one point, 12% of all ethereum transactions were going toward the game, as users spent the equivalent of tens (and possibly hundreds) of thousands of dollars on the virtual felines.
Chinese crypto enthusiasts have been left out of the fun, however. Playing CryptoKitties requires using a wallet service called MetaMask, an extension for the Chrome browser. Downloading MetaMask requires access to the Chrome web store, which is blocked by the Great Firewall—there are ways around that, but it's a hassle.
To fill the absence, a number of CryptoKitties clones have popped up in China—highlighting pent-up demand for the game, as well as Chinese companies' tendency to ape a fad that's heating up elsewhere.
In recent days, news hit Chinese media that NetEase, one of China's largest game distributors, will release a game entitled Beckoning Cat, named after the feline figurines often found in Chinese and Japanese homes and restaurants. Details remain scarce—NetEase offered only a website showing a cat silhouette and text reading "Blockchain pet cats, collect limited supply, coming soon!"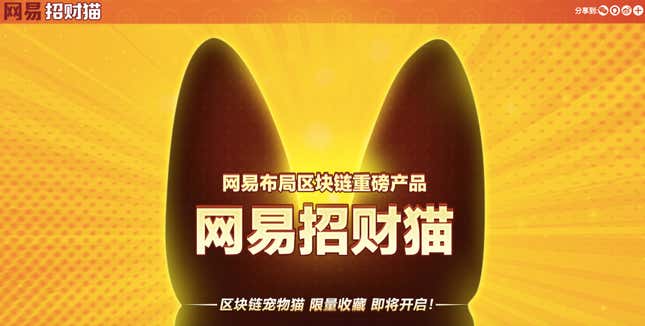 It's unclear how the game will work, or when exactly it will be released. NetEase did not respond to Quartz's requests for comment. But if it is taking cues from CryptoKitties, it won't be the first Chinese company to do so, as at least two others have beaten it to the punch.
A firm calling itself PetsChain launched a title called Cloud Petstore late last year. The company did not respond to Quartz's emailed questions. Aside from the Chinese language and other localized tweaks, it closely resembles CryptoKitties—the cats themselves look lifted from the original. The title currently lists 3,735 felines for sale (compared to CryptoKitties' 96,684), and a quick scan of the prices suggests most "Gen 0" characters—the pet-breeding game's first-generation felines—are selling for about 0.02 ethereum (roughly $25).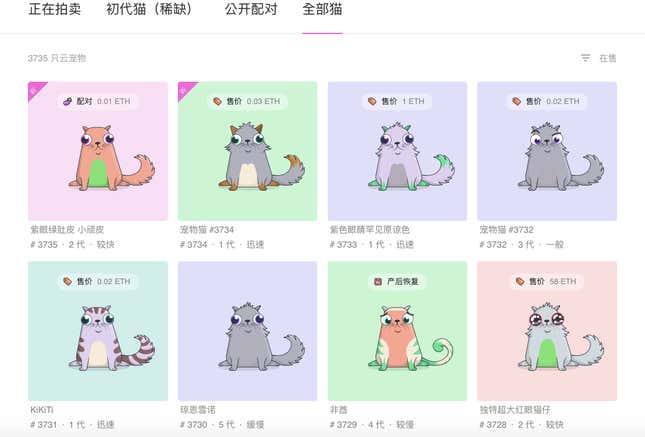 And then there's the cryptodogs, which can be bred and traded in a game called Pet Planet, launched last week. That title is based on Tron, a blockchain-based platform for digital entertainment content started in September. Tron features a virtual currency called tronix that's experienced a meteoric rise since the end of last year, becoming the world's best-performing cryptoasset in the first week of 2018. 
Cryptodogs in Pet Planet can be traded among gamers at a fixed price of 200 tronix, which is about $35. In an upcoming update, players will be able to marry their dogs to each other, after which they'll give birth to a cryptopuppy. The dogs come in different breeds and costumes, and have names that describe their looks, such as "Gangster Boss" and "Little Lion." The game is currently available only in Chinese.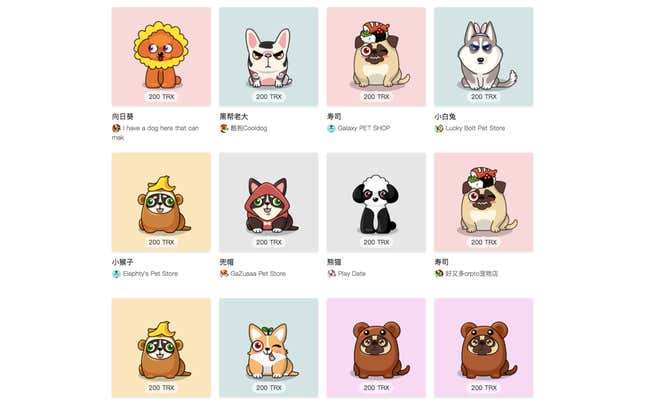 Tron founder and CEO Justin Sun is a 27-year-old tech entrepreneur based in Beijing. Before starting his own businesses, he worked as a chief representative for Ripple, now one of the world's fastest-growing virtual currency systems, in greater China.
It's not uncommon for Chinese companies to launch copycat versions of games that become popular globally, especially when Chinese gamers are locked out of playing the original. In July 2016, barred from playing Pokemon Go, Chinese users instead played City Elves Go, a knockoff that stripped away the augmented-reality features. Last year, while the global gaming community flocked to PlayerUnknown's Battlegrounds, Chinese users played copycats like NetEase's Wildness Action, which peppered the gameplay area with propaganda for the Chinese Communist Party.