Nintendo's smash hit Pokemon Go is sending smartphone addicts into the real world to catch fictional creatures in droves. After its launch only in the US, Australia, and New Zealand last week, the augmented reality game has created inadvertent troubles and thrills. My San Francisco-based colleague complained that the game is impossible to play thanks to server crashes—and I really envy her.
I'm physically based in Hong Kong and my Apple ID is tied to the China Apple store, so for me, the real question is: When am I going to catch'em all?
Not any time soon, according to the game maker Niantic Labs, which said it will "pause" Pokemon Go's release in other countries until they are able to deal with the pent-up demand. I have to find a workaround to play the game myself, I said today.
The easiest trick is to change the region setting on your iPhone, as many Pokemon fans around the globe, and particularly in China, have learned. Search "Pokemon Go" on China's most popular online shopping site Taobao and you can find dozens of shoppers (link in Chinese) selling Apple IDs registered in countries where the game is available, for as little as $0.04.
I borrowed the App Store account of a friend in Australia to download the game instead. (This is not an endorsement of this method.) From customizing my avatar to choosing one of those three starter Pokemon, everything went well for me. I couldn't wait to run out of my place and start the real adventure, but when I did I found, literally, nothing on my phone.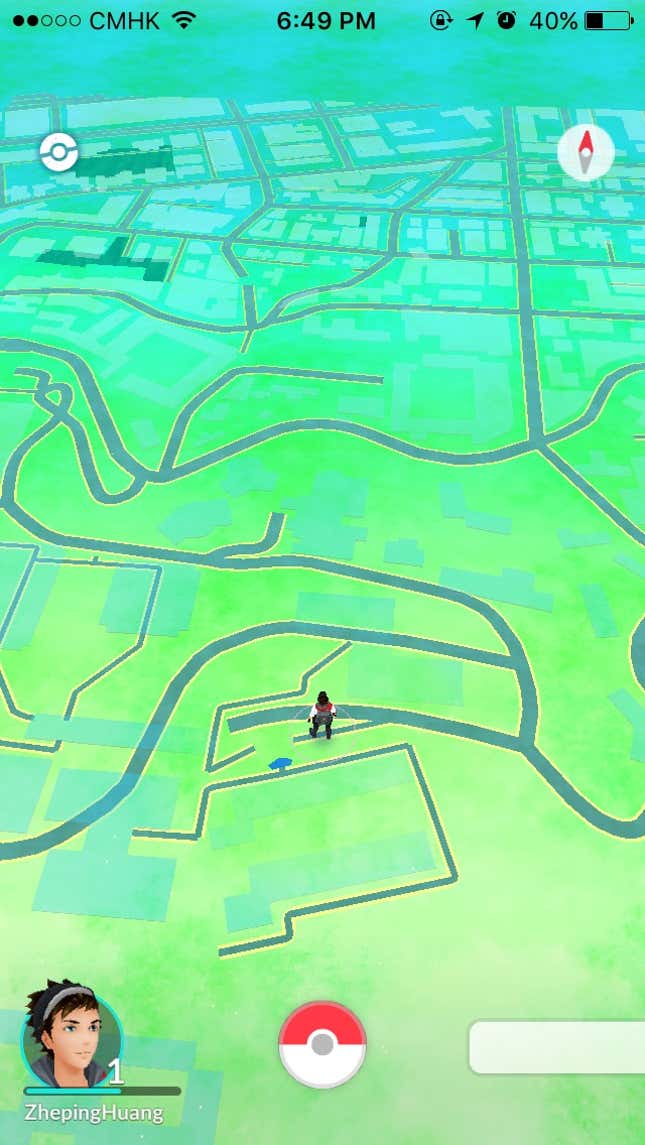 That's because the game developers have allegedly blocked GPS signals coming from most parts of China—and Hong Kong—to prevent unexpected players from putting more pressure on their servers, according to fan communities and social media (link in Chinese).
Fair enough—even if Nintendo can't stop you from downloading the game, it can stop you from playing it.
While Chinese fans are joking about "going abroad" (link in Chinese) to catch Pokemon, hacked versions of Pokemon Go that allow gamers to fake their location appeared on third-party sites in China almost immediately. One version which uses San Francisco locations, seems to be among the most popular.
These Chinese gamers are exploring a parallel universe populated by landmarks in the US, while wandering around at the streets in their home cities, as shown by screenshots my friends are broadcasting on my Wechat and Weibo feeds: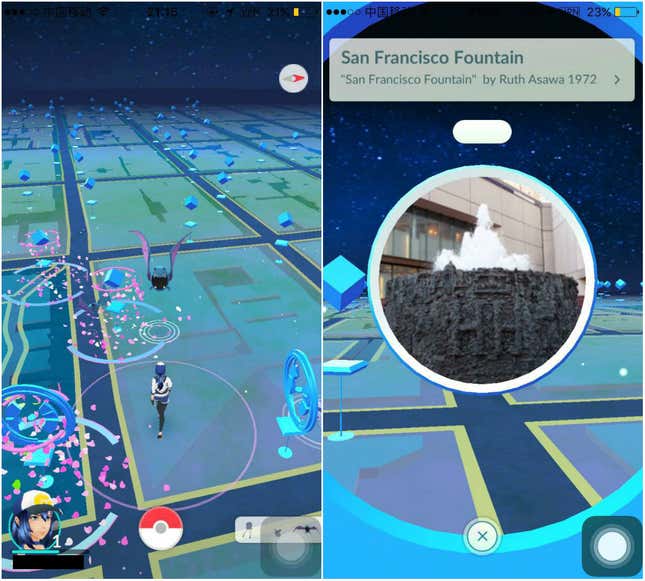 That's definitely cheating (though it is still better than some hacks that allow gamers to play the game without taking one step). Niantic Labs has made it clear that "using tools or techniques to alter or falsify your location" might lead to suspension or termination of your account. Meanwhile, hackers are spreading malware through one of many third-party versions of the software. I have to pass.
That means I'm left with no choice but to try a Chinese knock-off called 城市精灵GO, or City Elves Go. For your information, Pokemon was previously translated as 宠物小精灵, or Pet Little Elves in China, before Nintendo unified its Chinese names earlier this year.
If you search "Pokemon Go" in Apple's China store, City Elves Go is the first result that pops up. It currently is the top downloaded free app in the China store, surpassing Uber and Iqiyi, a popular video streaming app.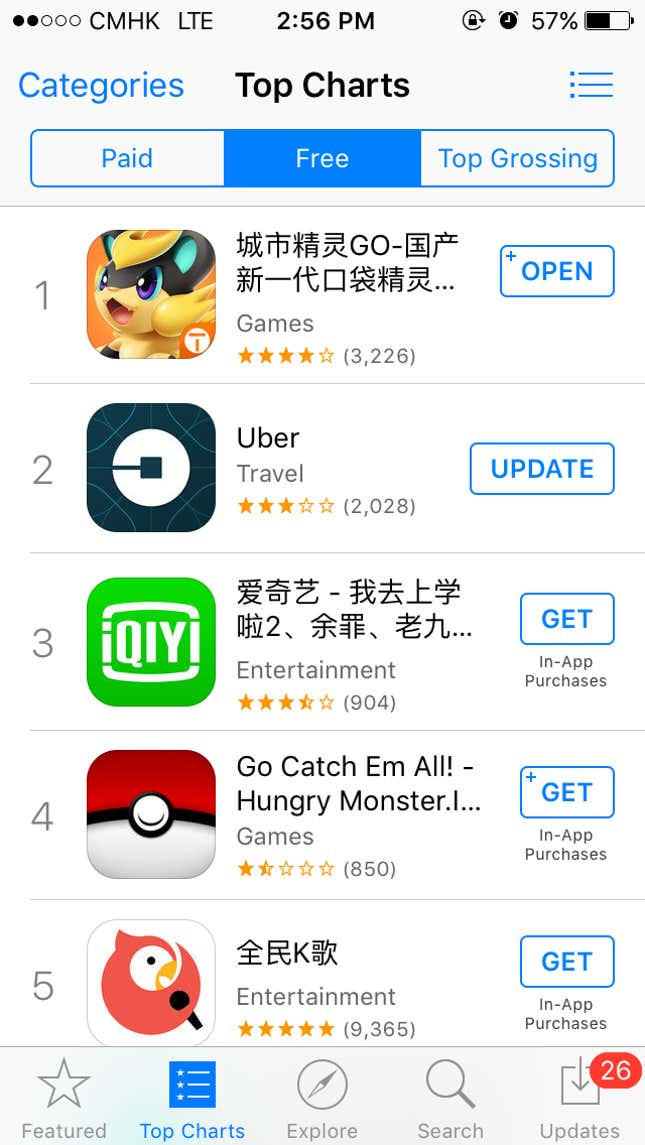 Catching monsters, collecting, and fighting…City Elves Go has the same basic elements as Pokemon Go. On top of that, it claimed to be a "location-based" game, which I take it to mean I can explore the physical world as Pokemon Go gamers do. I decided to give it a chance.
At the beginning, things on City Elves Go are very similar to my limited experience with Pokemon Go, or the previous Pokemon video game series. There's a "professor" who introduces you to a world where human beings and "elves" coexist.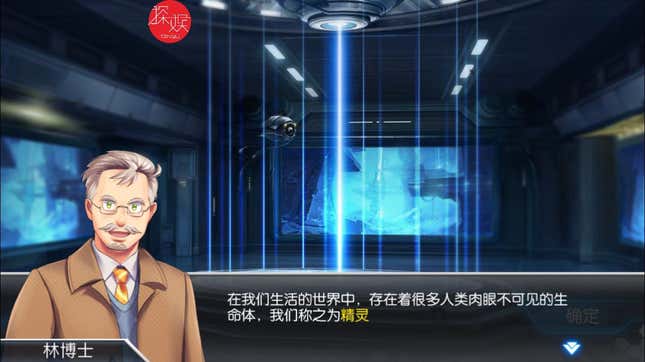 He lets you choose one of three monsters, whose types are fire, water, and grass respectively, to begin your journey.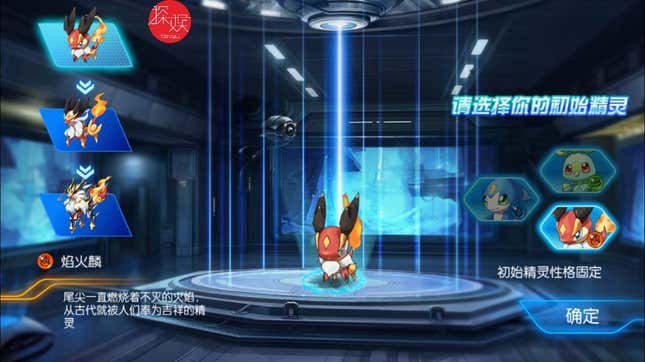 What makes me almost want to give up in five minutes is the so-called "location-based service." Yes, the game does have a map which shows your real-time location, the monsters near you, and even the other gamers near you, which Pokemon Go can't. But you just need to move your fingers, rather than your body, to catch those monsters.
City Elves Go seems to have copied the skin, but not the essence of Pokemon Go.
Battling in City Elves Go is no different from that in many role-playing mobile games in China. You don't even need to give any orders during the battle, your monsters just fight. Of course, there is no augmented reality.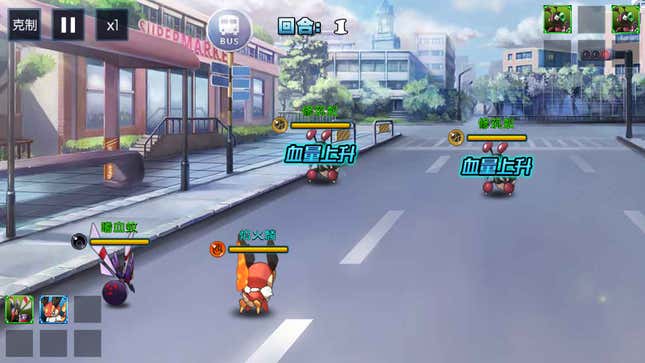 Launched in March 2016, when Pokemon Go was still in test, City Elves Go now has one million daily active users, and recently is adding around 300,000 to 400,000 new users every day, Gan Qiang, head of Tanyu Mobi, the Shenzhen-based gaming firm responsible for the game's distribution, told me. The developers didn't "consider any factors from Pokemon Go" when designing the game, Gan said, though the art designer of the City Elves is a Pokemon fan.
I deleted the app. It was just not what I had expected.
Right now the only thing I can do is fantasize about Pokemon Go entering China in the future. For that to happen, besides fixing its overloaded servers, Nintendo needs to find a workaround for China's ban on Google. A Google account is currently the only reliable way to sign up to Pokemon Go, and it relies partly on Google Maps to work.
Despite a surge of VPN users in China, Pokemon Go can't win a large audience here without localizing somehow. The sooner and better—before the likes of City Elves Go take over the monster-hunting market.