Imagine a stock that jumps 25.5% on its first day of trading, coming to rest at $159 a share. Three months later, though, shares tank, plummeting to $54. Now, 17 months after going public, it's worth $58.70.
Nope, it's not Groupon. It's "Crystal Shede 2012 Collector's Edition," a 110-proof rice wine (or baijiu, as it's known) made by a Sichuan distiller called Tuopai Shede, and it brought in 77 million yuan ($12.4 million) from its public offering on the Shanghai International Wine Exchange (SIWE).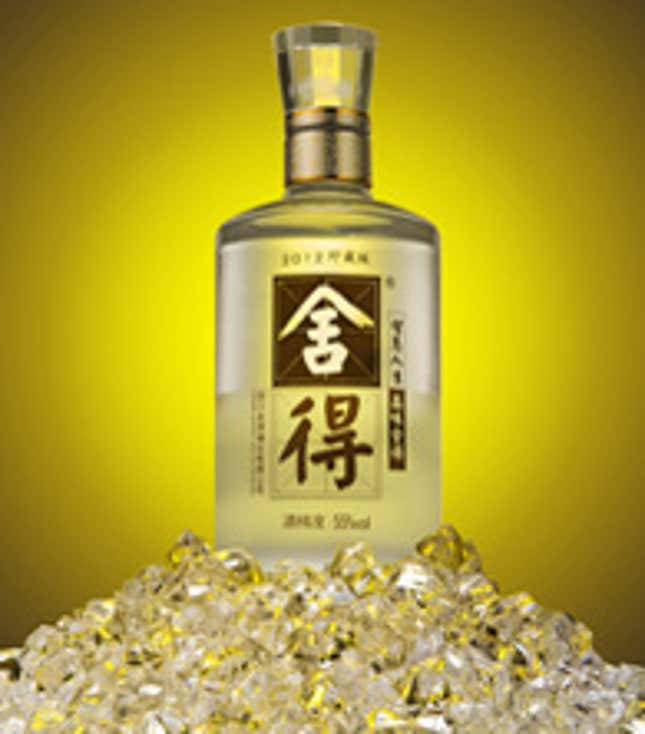 The first wine exchange—where wines are traded (usually by the case) like shares on a stock exchange—is the London International Vintners Exchange, which was launched in 1999 in order to make prices transparent and provide capital to vineyards. Liv-ex, as it's known, lets merchants and vineyards trade, but bans customers.
In Shanghai, however, ordinary people are allowed to invest. And most of what they buy and sell isn't complex wines of distinguished pedigree, but baijiu. The bubble they engendered started bursting in mid-2012 (link in Chinese), as Southern Metropolis reports. In addition to losing investors a fortune, the Shanghai wine crash exemplifies the distorted incentives that abound in China's financial system.
It all tastes the same
When SIWE, which is part-owned by the Shanghai government, launched in 2011, banks ramped up investment packages geared toward wealthy Chinese people, who were already clamoring for liquor-backed investments (link in Chinese). That meant few investors had the qualifications to be able to grasp the true value of the baijiu they were buying.
At first this didn't matter. After all, when it comes to baijiu—a substance US newscaster Dan Rather likened to "liquid razor blades," a nuanced bouquet isn't what the fuss is about.
Demand for baijiu surged throughout the 2000s, due largely to its traditional role in both the toasting and gift-giving cultures that cement professional relationships in China. Baijiu companies shrewdly made a killing on that symbolic premium, rolling out ever-posher luxury brews for ever-higher prices.
Until mid-2012, that is. That's about when the central government started cranking up its anti-corruption theme, dousing luxury gift-giving. The massive economic stimulus it had launched after the world financial crisis was winding down as well, shrinking local government budgets and slowing the real estate market, a key source of revenue.
That double-whammy dented the $98 billion the Chinese government spent on liquor each year—which, with the exception of the odd Glenmorangie 25-year, was mainly spent on fancy baijiu. Meanwhile, the faltering economy hit wealthy businessmen too. So it's no wonder that, around the same time, "Crystal Shede 2012" plunged 66%.
Bye-bye, baijiu demand. Hello, crash
Of course, any market can collapse. But few can get a government to guarantee their investors a 15% return. SIWE, however, is doing just that. Makers of underperforming wines must buy them back from investors, at the IPO price plus 15%.
For winemakers, the timing couldn't be worse. Many have booked losses for the first time in 10 years. Yet many distilleries are expanding production, likely under pressure from their local government masters to cough up revenue.
Normally you'd expect this buyback plan to discourage future baijiu IPOs. But as the Southern Metropolis article details, winemakers can hire companies to help them avoid triggering that buyback clause by bidding up the price periodically. The fee is about 30% of the IPO yield—a good deal for cash-strapped winemakers. Investors benefit as long as they sell before the end of the one-year buy-back period. And even in the event of defaults by winemakers, as Decater reports, the government ultimately underwrites the wines.
With incentives like those, the bubble may well re-inflate. But will that mean tastes for baijiu are finally maturing? Probably not.