Years of excessive investment are catching up with China, and the latest example is coal. Its reserves now contain 220 million tons (200 million tonnes) of coal, as the Hao Hao Report notes. That puts China on track to have as much as 440 million tons by the end of 2013, according to the China National Coal Association (CNCA)—around 40% more than the combined weight of the entire human population.
This excess coal has driven prices down by half, compared with the same period last year. Now 24 of China's biggest coal companies—nearly one-third—are losing money, says Jiang Zhimin, vice-chairman of the CNCA. "All the enterprises in the provinces and municipalities of Heilongjiang, Jilin, Yunnan, Chongqing, Anhui and Jiangxi are experiencing losses," adds Jiang.
How does a country amass that much unneeded coal? By pumping trillions of yuan into coal mines, for one. From 2000 to 2005, investment totaled only 200 billion yuan ($32 billion at the 2013 exchange rate). In 2012, even as the economy noticeably faltered, China invested 529 billion yuan ($86 billion in 2013 terms) in coal mining.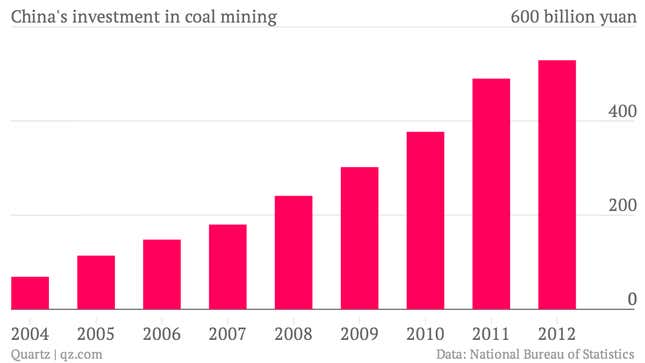 The 8% increase in coal investment between 2011 and 2012 was a slowdown: During the stimulus era of 2009 to 2011, investment in coal mining surged by double-digit percentages, compared with the previous year. That was because coal is used in production of things like steel and aluminum, key materials for infrastructure and real estate. Stimulus investment in those areas powered China's economic growth. Here's a look at the trend.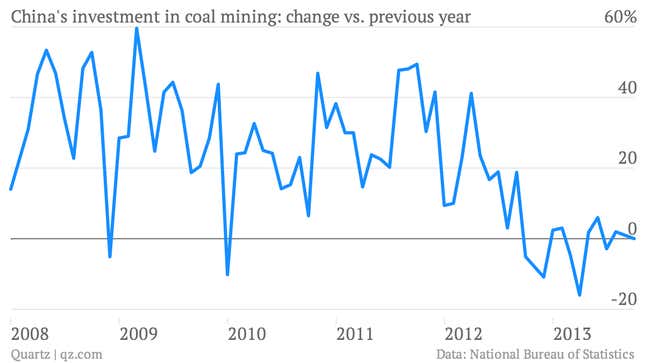 However much that's fallen in annual terms, the raw total still being invested is shocking: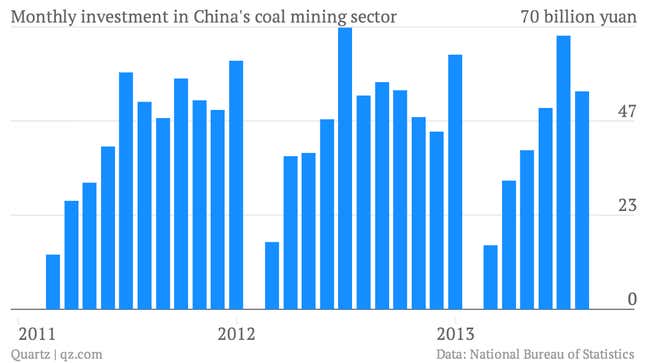 High rates of investment are bound to slow. For one thing, a seize-up in available money in China has caused banks to stop lending (paywall) to coal miners. And this is hitting companies that purchase coal too—notably, steelmakers—which have also over-invested in expanding their businesses. Coal industry customers are saddled with some $52 billion in debt, says the Hao Hao Report.
This means many coal barons out there owe payments on loans that, with coal prices down 50%, will be impossible to make. That's already causing calamity in some places. Take Shenmu, in coal hub Shaanxi province, where an estimated 60% of capital (link in Chinese) has flowed into coal mines. As a result, the government invested its glut of tax revenues from coal into 15 years of free education and free health care services. The coal bust has driven the entire town into chaos as coal bosses with enormous debts have resorted to fraud or skipped town.