Facebook shares are touching all-time highs of more than $41 today, as the stock continues to build on the momentum from its late July earnings report. (The report showed Facebook improving its operating margins a bit even as more traffic moved to mobile devices, where profits have usually been harder to make.)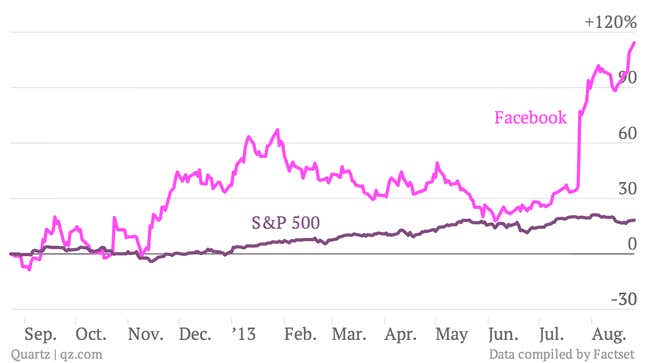 For the record, it's worth pointing out that Wall Street's oft-criticized analysts actually did a decent job of predicting this, for once. The percentage of analysts with either a "buy" or "overweight" rating on the shares peaked at 75% back in June—it was down at 54% in March—even as the shares seemed stuck in the low $20 range. Many saw the the decline of the shares after a so-so first-quarter earnings report in early May as a decent buying opportunity.
But hopes also seem to be high for growth to continue. Expectations are rising that Facebook's launch of video advertising could boost revenue. Morgan Stanley analysts think video ads could increase Facebook sales by $1 billion next year. But Facebook has to launch 'em first. The Wall Street Journal reports that CEO Mark Zuckerberg has been holding up the launch out of concern the video ads might be annoying to users.