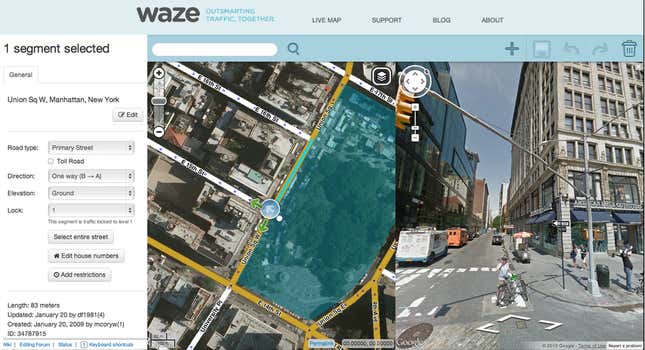 Being a business behemoth in Europe is rarely easy. Britain's Office for Fair Trading put out an "invitation to comment" this morning on the recent acquisition by Google of Israeli mapping company Waze. The request for opinions marks the beginning of a formal process to look into potential adverse effects on the UK's marketplace for mapping applications.
Google bought Waze for a little over $1 billion in early June, beating out potential buyers in Facebook and Apple. The initial, near-universal reaction was: "Somebody call the regulators." As Quartz noted at the time, Google needed Waze the least, given its stronghold on mapping. As expected, America's trade and consumer-affairs regulator, the Federal Trade Commission, initiated a review of the deal two weeks later. The FTC is looking at whether the acquisition will give Google near-monopoly powers over the market.
Britain's regulators will cover similar ground. According to the note released this morning,
The Office of Fair Trading is considering whether this agreement has resulted in the creation of a relevant merger situation under the merger provisions of the Enterprise Act 2002 and, if so, whether the creation of that situation has resulted, or may be expected to result, in a substantial lessening of competition within any market or markets in the United Kingdom for goods or services.
The timing is interesting. One possible reason the OFT has launched its probe now, two months after the FTC, could be that it is not automatically notified of a deal involving American and Israeli companies. It therefore takes time for the regulator's mergers intelligence officer to assess its powers to intervene. Google isn't likely to flinch; it has already started bringing some of Waze's features to Google Maps.

Google controls nearly 90% of the search market in the UK. Its Android operating system for mobile phones, most of which ship with Google Maps pre-installed, runs half the smartphones in Britain.
The comment submissions to the OFT, which must be received by Sept. 9, could lead to three possible outcomes: The OFT will either clear the deal or request changes to the structure of the deal and perhaps ask Google to divest some assets. Or, if the merger proves too tricky for the OFT to handle, it may refer the case to the Competition Commission, the senior regulator. Though the regulator does not commit to a time frame for an outcome, a decision is likely by the end of October.