Actions speak louder than words, especially when it comes to soothing jittery global investors fearing heavy financial losses. Ever since Ben Bernanke's taper talk triggered a rout in emerging market currencies and equity markets, Indian policymakers have been working overtime to dispel fears of an economic meltdown. But those efforts are being overshadowed by a slew of policy flip-flops and the prospect of a government spending binge ahead of India's elections next year.
India's lower house of parliament, which yesterday approved an ambitious scheme to provide cheap food grains to over 800 million poor citizens, renewed fears about unwieldy deficits. The rupee, which has lost 16% this year, fell over 3% Tuesday, its worst single-day percentage fall in over a decade.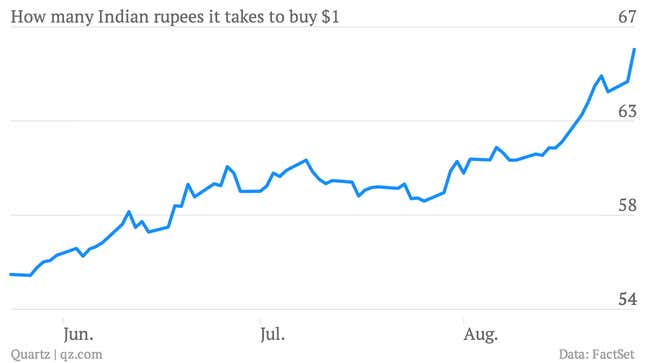 The government has budgeted 1.3 trillion rupees ($19.71 billion) for the food security program, but experts warn that the actual cost to implement it will be much higher. After the bill's passage, assurances by finance minister P Chidambaram that the fiscal deficit would remain below 4.8% of GDP—a target he set in the annual federal budget in February—didn't stop the rout. Foreign investors dumped Indian stocks, pushing the benchmark index, Sensex, 3% lower. Over the last seven trading days, overseas investors who have sold about $810 million worth of shares.
Investors were also not impressed by the government's efforts to revive investment. Thirty-six infrastructure projects worth 1.83 trillion rupees ($28 billion) were approved by the cabinet, but that didn't alleviate the concerns about projects being stifled by red tape and corruption.
Other high-profile setbacks, like Walmart's decision to put its expansion plans on hold (paywall)haven't helped. India opened its retail sector to foreign investment last year, but stringent conditions including capital investment requirements and mandatory sourcing from small businesses thwarted multinational retailers.