Call it clickbait diplomacy?
BuzzFeed has inked a partnership with Beijing-based ByteDance, maker of the wildly popular clickbaity news app Toutiao, that will see its content get distributed in China via a licensing agreement. The deal paves the way for continued cross-border expansion of the two media companies as they both face turning points in their development.
According to ByteDance, content from recipe brand Tasty, DIY brand Nifty, and other sub-units of BuzzFeed will be shown on Toutiao, ByteDance's flagship news aggregation app, and on its video-centric Xigua app. That will make BuzzFeed's content available to over 120 million (link in Chinese) Toutiao users and potential new readers. According to BuzzFeed, the agreement relates to BuzzFeed's entertainment content, and excludes BuzzFeed News.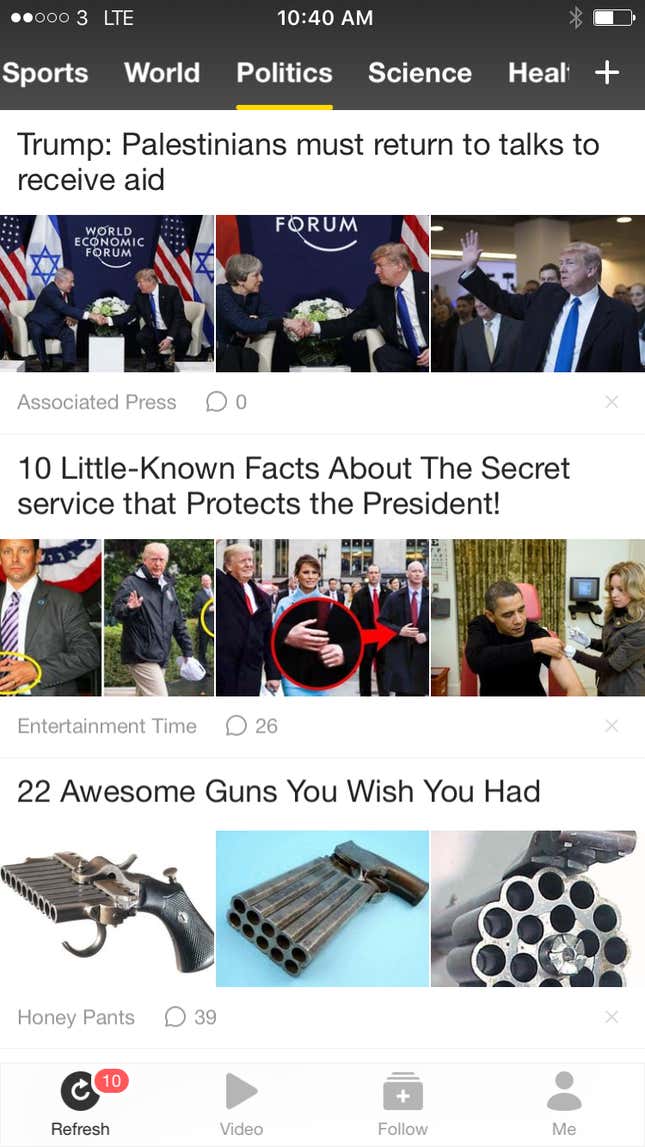 Launched in 2012, Toutiao rose to popularity as one of the first Chinese companies to popularize an algorithm-driven news app—filling a void caused in part by Facebook's absence in China (News Feed is a rough analog to Toutiao), and in part due to larger tech companies having existing, simpler news portals that were already successful. While the app uses AI to learn what a user wants to read, it's best known for promoting salacious, sensational articles—similar to how BuzzFeed, despite investing heavily in investigative reporting, remains a home for listicles and lowbrow content.
Toutiao has attracted so much attention that Chinese state media has published editorials that are thinly veiled jabs at the company, prompting it to commit to hiring 10,000 in-house censors. BuzzFeed's content will likely be vetted and censored when it reaches Toutiao.
The partnership will also make BuzzFeed content available on TopBuzz, ByteDance's app for the US, Japan, and other overseas markets. Like Toutiao, TopBuzz's content leans heavily toward clickbait. Clicking the "Politics" tab shows one article from AP, followed by items entitled "10 Little-Known Facts About the Secret Service that Protects the President!" and "22 Awesome Guns You Wish You Had."
US-China partnerships in the news industry are not unheard of. For example, web giant Tencent has inked deals with Business Insider and Recode to translate their content into Chinese. (Tencent is best known for its chat app WeChat, but it also has a news portal that dates back to the pre-smartphone era.) This one stands out, however, because ByteDance is rising fast while BuzzFeed is struggling.
In China, Toutiao's popularity has helped ByteDance approach a valuation of nearly $30 billion (paywall). While not widely discussed in the media industry, its US-facing TopBuzz app has enjoyed a bump in downloads over the past year—it now ranks as the number two news app in the iOS App Store, ahead of Reddit, Fox News, and CNN.  ByteDance has also been hungry for overseas acquisitions—it has purchased US-based live-streaming app Music.ly, video-creation app Flipagram, and even attempted to buy Reddit (paywall).
BuzzFeed, meanwhile, missed its revenue targets in 2017, leading to layoffs of about 6% of its staff. It's possible that ByteDance will help BuzzFeed reach new audiences both in China and the US. Or, by handing over its content, perhaps BuzzFeed will only be helping a new competitor.
Update, Jan. 30: This post has been updated with a clarification from BuzzFeed on the type of content included in the agreement.