The Fighting Boys, aka TFBOYS, is the most popular boy band in China. The three wholesome teenagers have a combined 100 million followers on microblogging site Weibo, and fans routinely take out ads to celebrate their birthdays or new album releases.
Their huge appeal apparently smells like opportunity for crypto fraudsters in China. TFBC, a new cryptocurrency used to trade the band's concert tickets and merchandise, among other things, took over Chinese social media over the weekend—before the band's agency denied having anything to do with the initial coin offering (ICO), a funding method of issuing digital tokens often used by blockchain ventures. The anonymous developers of TFBC say on their website that they aim to build a blockchain-based membership system for the band's fans.
TFBOYS has never authorized any organization to issue TFBC, which is likely related to illegal fundraising, wrote Time Fengjun Entertainment on Saturday (Feb. 10) in a Weibo statement (link in Chinese). The Beijing-based agency added that the claim that 60% of TFBC are reserved for the three group members is "purely fake," and the company reserves the right to take legal action against whoever is behind the project.
The developers behind TFBC didn't immediately respond to a request for comment.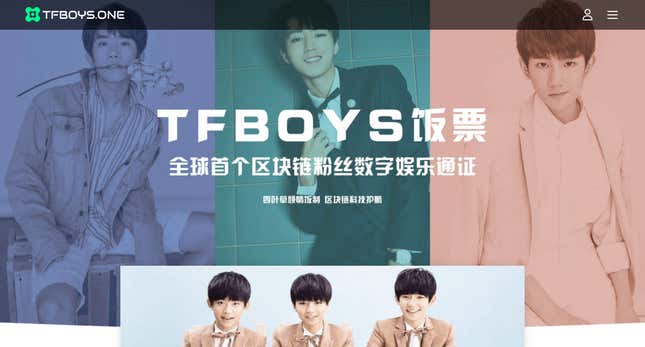 According to its website, TFBC is "the world's first blockchain-based fandom token." It is based on the ethereum network and has a finite supply of 59,993,157 coins—the sum of the three idols' birth dates. The issuer of the ICO gives away 10,000 TFBC for free each day for the first 30 days of its offering, or investors can buy 3,000 TFBC with one ethereum token, which is currently valued at around $800. So far more than 19,800 fans have obtained over 4.5 million TFBC tokens through the two methods. That means they have spent at least $1.2 million on buying the tokens, if the numbers on the website are to be trusted.
Amid fears of financial chaos, Beijing banned ICOs in September and then shut down all local crypto exchanges, but many shady ICO projects are still finding ways to reach Chinese retail investors. Earlier this month, state media reported that the government decided to block access to any crypto and ICO-related website to anyone within mainland China's borders.