Grocery chain Albertsons, one of America's largest, plans to acquire Rite Aid in a cash-and-stock deal that will create a company with a combined value of $24 billion. It's the latest big move by Albertsons, which bought meal-kit startup Plated for an undisclosed sum in September, and partnered with grocery-delivery service Instacart in late November. The deal would give Albertsons a combined 4,900 locations across most of the US, and total revenue of about $83 billion.
Albertsons' bid for Rite Aid comes as grocers everywhere—not to mention pharmacies—scramble for cover. Technology companies have been trying to "disrupt" the industry since at least the early 2000s, but the spectacular flameout of Webvan, an early contender, made it more funny than scary. In 2017 the threat became very unfunny, and very real. The gauntlet was thrown by Amazon, which in June bought Whole Foods Market for $13.7 billion. Jeff Bezos's team, always several steps ahead, has a clear vision for how Whole Foods fits into Amazon's grand plan, and how it can be used to give the company as strong a presence in the real, physical world as it commands online.
A bloodbath is imminent. Grocery stores have notoriously slim margins—earning a dollar or two, maybe three on every $100 shoppers spend—and Amazon could bleed even those profits dry. The company is already tapping its extensive logistics experience to offer free two-hour grocery delivery from Whole Foods in four US cities (Austin, Cincinnati, Dallas, and Virginia Beach). It has used store displays in Whole Foods to hawk Amazon Echos and offered exclusive discounts on turkeys to Amazon Prime shoppers at Thanksgiving. Today (Feb. 20) Amazon announced that Prime members using its Amazon Rewards Visa card will get back 5% on Whole Foods purchases, the same as it offers for purchases made on Amazon.com. (Non-Prime members with the card will get back 3%).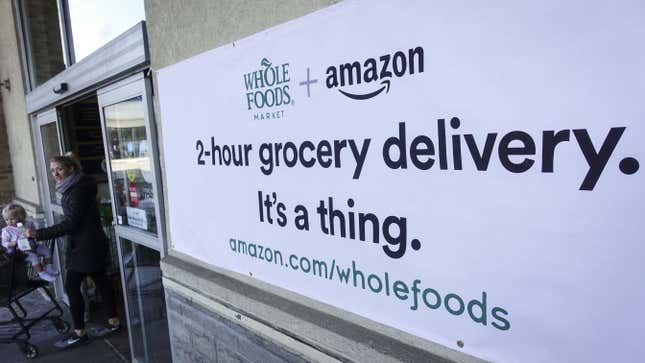 The industry panic is palpable. A few months after Amazon sealed the Whole Foods deal, Target paid $550 million for grocery delivery service Shipt. On Feb. 15, Texas-based supermarket chain H-E-B bought up Texas-based delivery startup Favor for an undisclosed sum. Other groceries—national chains and mom-and-pop shops alike—have flocked to Instacart like Noah's Ark before the proverbial flood. San Francisco-based Instacart, started by former Amazon employee Apoorva Mehta, raised $200 million in new funding earlier this month. Mehta now refers to the Amazon-Whole Foods deal as "a turning point for Instacart."
Retailers know they can't afford to sit idle. They've seen what happens to companies like Borders that fail to adapt to the new e-commerce world order. Walmart is testing a service that lets workers deliver straight to customers' fridges. The company sees online groceries as a key driver of sales—a thing people purchase regularly and develop brand loyalty over. Walmart acquired Jet in 2016 partly on the strength of its grocery operations, and assured investors on its fourth-quarter earnings call today that it plans to "almost double" locations that handle online grocery orders. That didn't stop its stock from tanking nearly 10% in afternoon trading on an online slowdown analysts are attributing to Amazon.
Grocers are hardly on as solid footing as Walmart. Many are drowning in debt, a situation that seems unlikely to improve as Amazon puts relentless downward pressure on prices, with sales on avocados and turkey. The owners of grocery brands Winn-Dixie and Tops Friendly Market are reportedly on the brink of bankruptcy. Winn-Dixie parent Bi-Lo, saddled with more than $1 billion in debt, may close almost 200 stores before or after its filing.
When Amazon went after book publishers in the mid-2000s, it dubbed the attack, "the Gazelle Project." The program earned its name after Bezos suggested in a meeting that Amazon should pursue more favorable terms from small publishers the way a cheetah would target a sickly gazelle. Amazon retired the name on concerns from lawyers, but its strategy never changed.
America's grocers should be scared: They're the gazelles now.