It's a tough week for fans of mid-century design. Much to the ire of preservationists, JPMorgan Chase announced yesterday plans to demolish its 52-story headquarters in midtown Manhattan, considered by many architecture historians to be a jewel of the Mad Men era.
Slated for early next year, it will be largest voluntary building demolition in history, eclipsing the 47-story Singer Building skyscraper that was knocked down in 1968 to make way for more office space in downtown Manhattan. But JPMorgan's announcement is noteworthy for another important reason: It's indicative of the fundamental tension between companies' desire to change with the times, and preservationists' desire to safeguard urban history.
JPMorgan plans to replace the Park Avenue building, built in 1961, with a taller tower that will accommodate its swelling ranks. The banking and financial services giant boasts that its future 70-story, 2.5 million sq. ft (232,000 sq. m.) tower will allow the company to consolidate its New York-based workforce, which is now scattered in various offices in midtown Manhattan. JPMorgan currently has 6,000 employees squeezed into a headquarters designed for 3,500 workers. The new building will accommodate 15,000 workers.
"With a new headquarters at 270 Park Avenue, we are recommitting ourselves to New York City while also ensuring that we operate in a highly efficient and world-class environment for the 21st century," said JPMorgan chairman and CEO Jamie Dimon in a press release. The new tower is scheduled to completed in 2024, around the time of Dimon's planned retirement.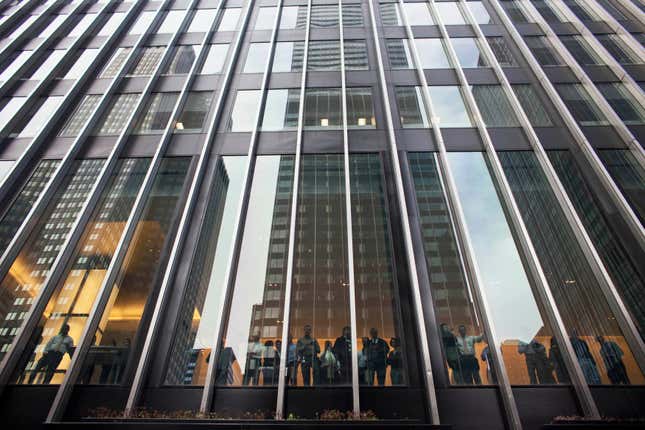 The bank's headquarters, originally occupied by Union Carbide, were designed by Natalie Griffin de Blois, then a partner at Skidmore, Owings & Merrill and one of the few leading female architects in the (still) male-dominated field.
Writing for Curbed, architecture critic Alexandra Lange extolls on the genius of the De Blois design for Union Carbide, which is a subsidiary of Dow Chemical Company. "The black metal exterior, ridged with thin silver ribs, was coated in one of Union Carbide's latest products and thus, like Lever House's window washing apparatus, became a showcase for the company's chemistry," Lange explains. That ebony façade was famously featured as the headquarters of World Wide Wicket Company in the 1967 musical comedy How to Succeed in Business Without Really Trying.
As for the new building, JPMorgan spokesperson Andrew Gray tells Quartz that they have not selected an architect for the project. When asked if the company had done any environmental impact study on demolishing the 707-ft. tall skyscraper, Gray says they will attend to it at a later date. "We just made the announcement yesterday so obviously a lot of details and approvals to come," he says. "That's an important part of any project of this type." So: Demo announcement first, study later.
The so-called Greater East Midtown zoning amendment has opened up opportunities for sleeker, sustainable and taller skyscrapers to be built in midtown. In the scheme championed by New York City mayor Bill de Blasio and New York state governor Andrew Cuomo, JPMorgan will pay the city $61.49 per sq. ft. of air rights—or $40 million by New York Times's calculation—that will go into street improvements.
The building doesn't currently have a landmark designation that would protect it from demolition.  Preservationists are looking to appeal the New York Landmarks Preservation Commission as a last ditch effort to save 270 Park Avenue.