Barcelona
New clues that Alphabet may be looking to spin-off Project Loon, its internet-beaming weather balloon unit, comes from a rather unexpected source: The attendee list for this year's Mobile World Congress (MWC).
The official app for MWC has a searchable index of everyone attending the telecoms trade show in Barcelona this week. As part of our MWC coverage, Quartz was searching it to see who from Google/Alphabet was coming. We came across multiple Loon employees, which is currently a project within X, Alphabet's "moonshot" research division. A few had job titles that didn't match what they list on on LinkedIn. That's not necessarily unusual, but intriguing nonetheless.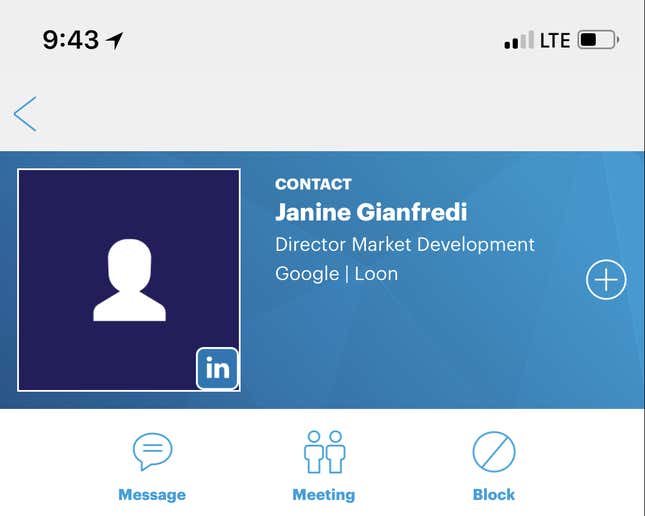 For exaple, Janine Gianfredi's title is listed as the "Director Market Development" at "Google | Loon," although she does not have a title listed on LinkedIn. (She previously was the head of marketing at X, before leaving to briefly join the US Digital Service.) Henry de Chaillé's title is listed as "Sales Executive" at "Google / Project Loon" in the app, but on LinkedIn his title is "Industry Head – Large Customer Sales" for Google in the Philippines.
The X lab has seen other projects graduate into standalone companies, like Waymo, the self-driving car company; Verily, the life-sciences company; and Google Glass, the early wearable computer. It's possible that Loon is heading in that direction, too.
Hiring business-development and sales staff would seem to suggest that the company is trying to monetize its work, which would not be the main concern of a project within X, given that Alphabet's research projects have routinely lost hundreds of millions of dollars each quarter.
From Google's career site, we can see that Loon is also hiring a financial controller, charged with building "business growth models" for a "new and growing company," and a finance analyst who will "define/evaluate Go-to-Market strategies."
In October, Business Insider reported that Alphabet incorporated a company called "Loon Inc." Not long before that, X sent its balloons to Puerto Rico to help return connectivity to the hurricane-ravaged island, in one of the most public applications of the technology to date. Last March, Loon hired telecoms veteran Alastair Westgarth to lead it. Alphabet hired another high-profile industry insider, John Krafick, a former Hyundai CEO, to lead its self-driving car program a few months before it spun it out into Waymo.
A spokesperson for X told Quartz via email that the project is making "great progress" connecting more than 300,000 people in Puerto Rico and Peru, but "we have nothing to share on graduation plans for the near future." Dealing with telcos requires a business development team, which Project Loon has had "for a while."
If Alphabet were to spin off Loon, another question is whether it would give the company an even more offbeat name, like it did with Waymo.
With additional reporting by Joon Ian Wong