A US government webpage addressing the unique health concerns of lesbian and bisexual women was taken offline sometime between Sept. 26 and Oct. 5, 2017.
The link that used to point to the US Health and Human Services page, titled "Lesbian and bisexual health fact sheet," now redirects to an index that no longer includes an entry for lesbian or bisexual health.
The removed page included answers to questions like:
What are important health issues that lesbians and bisexual women should discuss with health care professionals?
What factors put lesbians' and bisexual women's health at risk?
Are lesbian and bisexual women at risk of getting sexually transmitted infections (STIs)?
What challenges do lesbian and bisexual women face in the health care system?
What can lesbian and bisexual women do to protect their health?
A copy of the removed page can still be accessed on the Internet Archive's Wayback Machine, which periodically takes snapshots of websites and archives them by date.
The index entry for "Lesbian and bisexual health" was also removed from the "A-Z Health topics" directory page. Here was the index entry for the letter "L" on September 26, as captured by the Internet Archive: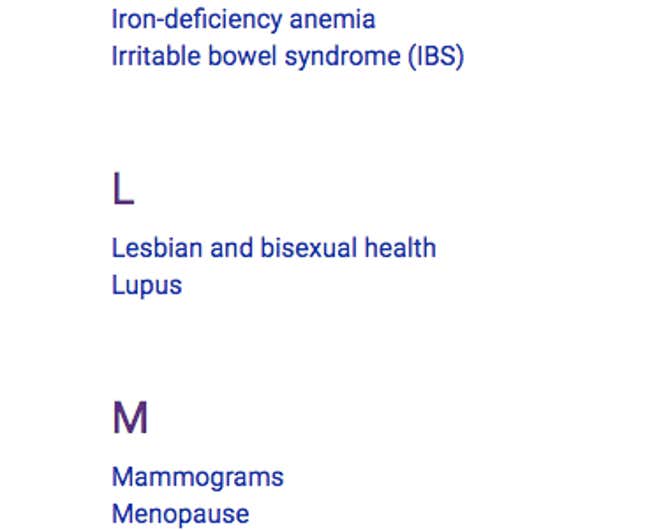 And here it was on October 5 (and how it remains as of today):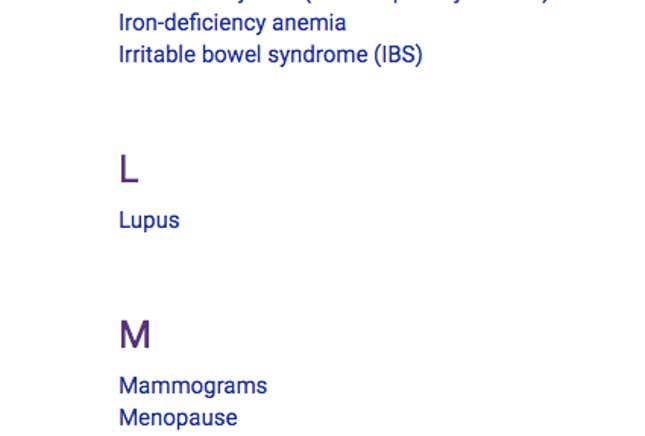 The US Centers for Disease Control web page on lesbian and bisexual women's health is still alive and well.
The change was discovered by the Sunlight Foundation's Web Integrity Project, which is documenting federal website changes under the Trump administration. Politico reported on the changes last week, and noted that the HHS's Office on Women's Health's twitter account hasn't tweeted about LGBT health since Nov. 11, 2016.
The agency told Politico the changes were part of a routine update. "The outdated lesbian and bisexual health pages were removed and the health content was integrated into the relevant health topics pages across the website," an HHS spokesperson said. Quartz could not find any of the information on other pages, and has reached out to HHS to ask which parts of the HHS website now contain the lesbian and bisexual health information. We will update this post with any response.
Like all groups of people, lesbians and bisexual women face health risks that are specific to that population. For example, lesbians and bisexual women are less likely to get routine Pap test screenings and mammograms that detect cervical cancer and breast cancer, respectively. "This may be due to lesbians' and bisexuals' lack of health insurance, fear of discrimination, or bad experiences with health care professionals. Failure to get these tests lowers women's chances of catching cancer early enough for treatments to work," according to the removed HHS page.
Then Trump administration keeps removing LGBT resources
In March, Politico reported the Trump administration had removed resources for transgender students from a Department of Education website. Notably missing was information meant to help transgender students get access to the bathrooms that fit their gender identities.
Almost as soon as Trump took office, the White House's LGBT page (whitehouse.gov/lgbt) was removed. Mashable noted that a Department of Labor report titled "Advancing LGBT Workplace Rights" also went missing.
Federal science pages have been edited, too
Government pages associated with climate change and environmental health have also been altered. The US Environmental Protection Agency took down epa.gov/climate, a website that previously linked to troves of climate change-related data. In its place is a note that the agency is  "updating our website to reflect EPA's priorities under the leadership of President Trump and Administrator Pruitt."
Shortly after Trump's inauguration, a grassroots "data rescue" effort by independent programmers and archivists downloaded and stored some data sets from the EPA's website, as well as from other federal agencies that deal with environmental issues. The participants feared a repeat of what happened in Canada in 2014, when Stephen Harper's government muzzled climate scientists and made certain research science harder to access.
Other edits have been more subtle: A US Government Accountability Office website that used to warn about the risks of oil and gas drilling was changed to promote their economic benefits. In another case, mentions of "science" were removed from the mission statement of an office in charge of crafting water quality standards. The Department of Interior's website has axed mentions of a federal rule about fracking from the Department of Interior's website, and some climate change information has disappeared from the US State Department website.