After bringing back its beloved Szechuan sauce in the US, McDonald's finally released the product in its first overseas market—China. The first batch of reviews are in, and the condiment seems to have failed to live up to Chinese people's expectations.
The Szechuan sauce was first served by McDonald's in a limited run in 1998 to promote the Disney film Mulan, but it returned to the pop-culture radar last year, thanks to Rick and Morty, an adult sci-fi animated series that featured the sauce in one episode. McDonald's seized the golden marketing opportunity to reintroduce the sauce for a limited run in the US in October, but fans took to the streets to protest over shortages. Last month, the fast-food chain distributed 20 million packets of the sauce to its stores across the US, hoping this time there's enough.
Now the Szechuan sauce is available in mainland China, with a limited release from March 28 to April 17. According to promotional materials (link in Chinese), customers can pay 11.5 yuan (around $1.8) to buy five pieces of McNuggets along with the Szechuan sauce, or pay 46 yuan to get a 20-piece meal, which comes with three different dipping sauces: the Szechuan sauce, the classic Sweet 'N Sour sauce, and the new Kung Pao sauce.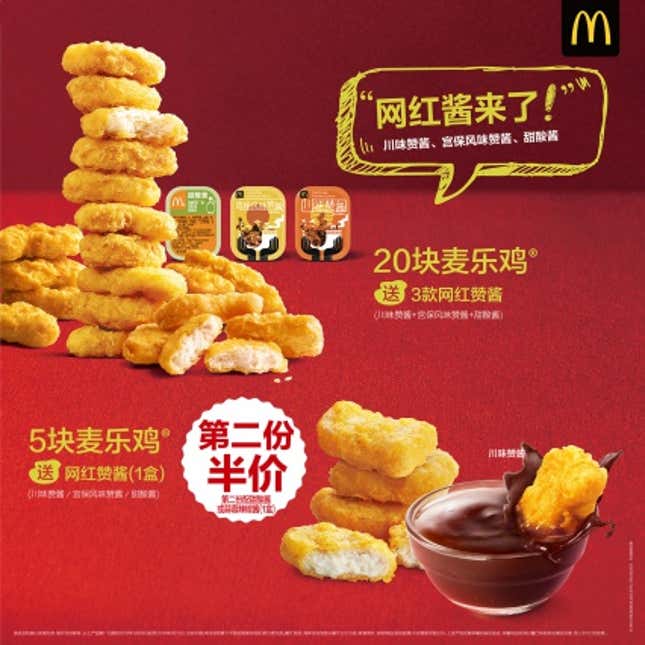 But overall, Chinese customers are not so impressed with the Szechuan sauce, with bad-to-mediocre reviews dominating on China's biggest microblogging site Weibo. "Is this really the chili sauce that the Americans go nuts about?  It's not spicy at all," one blogger wrote. "Don't put your expectations too high, otherwise you'll be disappointed. It's just okay," another person said.
Another Weibo user said he doubted whether the sauce would still be a big hit, "if people were banned from posting" photos of the sauce on social media sites to show off.
Why is the Szechuan sauce not as big in China as in the US? For one thing, China doesn't have a big fanbase for Rick and Morty, considering that the dark cartoon never officially released in the country. Fans typically watch the show through pirate sites, which is becoming harder to do amid China's deepening internet censorship.
The more important reason is perhaps that the Szechuan sauce is not Sichuan at all (the latter spelling is the contemporary romanization for the Chinese province to which they both refer). Just like other Americanized Chinese food—take General Tso's chicken, for example—the Szechuan sauce has nothing to do with its purported birthplace, Sichuan in southwest China, which is famous for all kinds of spicy, oily, and even numbing food and sauces, thanks to its eponymous peppercorns. McDonald's Szechuan sauce actually tastes more like Japan's Teriyaki sauce, a mix of sweetness with the saltiness of soy sauce.
What is Chinese people's go-to chili sauce then? It has to be Lao Gan Ma, or "Old God Mother," whose 70-year-old founder is dubbed "the hottest woman in China."