Just over a year ago, Park Geun-hye became the first president to be formally removed from office by impeachment in South Korean history, following the uncovering of her involvement in an extensive influence-peddling and bribery scandal.
Those around her who were involved in the scandal have faced justice one-by-one in the past year—including some of the country's most powerful business executives. On Friday (April 6), it will be Park's turn, as a court announces her sentencing in a trial that will be broadcast live on television. It's the first time that a trial will be shown on live TV following a change in the law last year, when judges deemed it of "public interest" to do so.
Why was Park impeached?
In October 2016, Korean media got hold of a discarded hard drive showing that Park had been sending confidential documents to a shaman-like confidante, Choi Soon-sil, whose hold over the former president—and in effect, South Korean politics—was so deep that one lawmaker at the time even described the country as a "scary theocracy." Such was Choi's influence that she was able to force some of Korea's biggest companies to donate millions to two nonprofit foundations she was linked to, while one of Korea's top universities, Ewha Womans University, gave preferential treatment in accepting Choi's daughter for a spot at the school.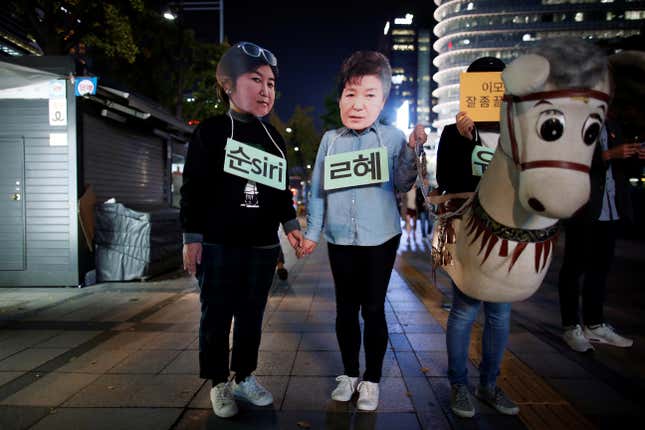 After six straight weekends of protests in Seoul and other cities in Korea, known as the Candlelight Revolution, parliament voted in December 2016 to impeach her. Her impeachment was confirmed in March 2017 by Korea's Constitutional Court.
What charges does she face?
Park faces 18 criminal charges. Some of the charges date back a few years, and demonstrate the pervasiveness of corruption, cronyism, and authoritarianism since Park came to power in 2012. They include:
Abuse of power and coercion for planning and ordering a cultural "blacklist" of artists critical of the government
Election interference for using illegal opinion polls ahead of general elections in 2016 as a way to nominate candidates that were friendly to her
Leaking classified information
Bribery for taking 3.65 billion won ($3.5 million) from the National Intelligence Service for personal use
Park has denied the charges.
Which Korean companies are involved in the scandal?
The list of companies that gave money to the nonprofit foundations controlled by Park's friend Choi reads like a who's who of Korean business. In December 2016, the heads of nine Korean conglomerates, or chaebol, were grilled in parliament over their connection to Choi. None admitted to bribery, though they admitted that they faced pressure from Park to donate money.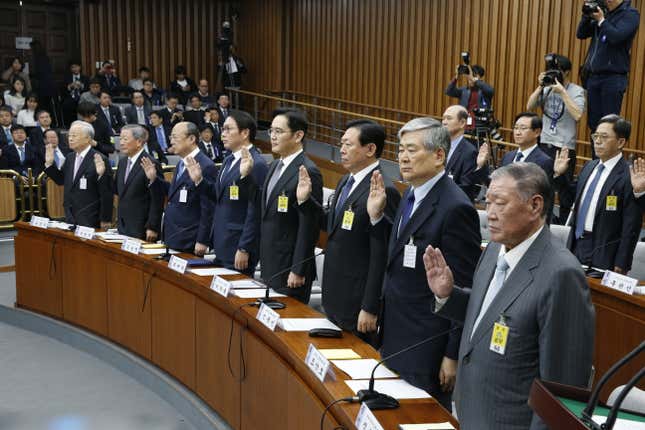 The most well-known among those companies being investigated was Samsung, whose heir apparent Lee Jae-yong was convicted in August last year of paying millions of dollars in bribes to Choi in order to win favor for a merger between Samsung affiliates (and to buy horses for Choi's daughter). Lee, who denied criminal wrongdoing, was sentenced to five years in prison. An appeals court in February reduced and then commuted his prison term. He has since resumed his duties at Samsung.
In the same month, a Seoul court sentenced Shin Dong-bin, head of the Lotte conglomerate, to two-and-a-half years in prison for bribery. Shin was accused of paying 7 billion won ($6.5 million) to Park to win favors such as a license to open a duty-free shop.
In total, prosecutors alleged that Choi and Park conspired to force 53 companies (paywall) to donate some $70 million to the two foundations controlled by Choi.
What happened to Choi Soon-sil?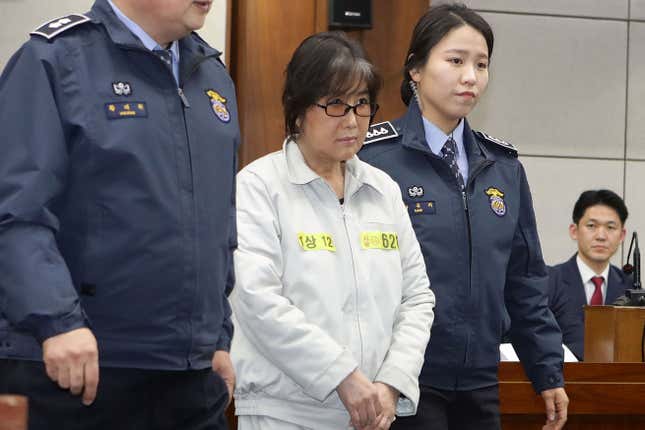 On the same day that Shin, the Lotte chairman, was sentenced, Choi was also sentenced to 20 years in prison and fined 18 billion won. She pleaded not guilty and said that she never sought personal gain. A judge said that Choi's actions threw Korea "into confusion," although he said that the "key culprit" in the scandal was Park.

Choi's niece was also sentenced to two-and-a-half years in prison in December for pressuring Samsung to donate money to Choi's foundations and also for embezzling the funds. She pleaded guilty to the charges and cooperated with prosecutors.
Choi's daughter, Chung Yoo-ra, was freed last year after she was extradited from Denmark and briefly kept in custody. A Seoul court rejected an arrest warrant for Chung from prosecutors.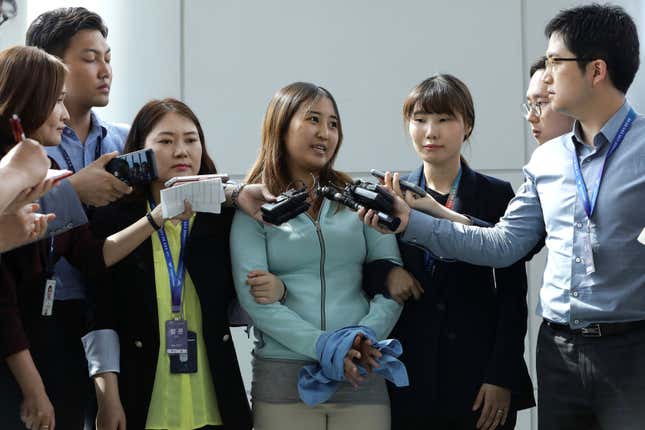 Who else has been convicted?
The former president of Ewha Womans University and the former head of admissions were sentenced to prison for complying with Choi's requests for favorable treatment to her daughter.
Seven of Park's former aides have also been convicted and handed prison sentences for their roles in drawing up the cultural "blacklist," including former culture minister Cho Yoon-sun, and former chief of staff Kim Ki-choon.
Former presidential aide An Chong-bum was sentenced to six years in jail for corruption.
What will happen to Park?
Park has been in jail in the Seoul Detention Center (paywall) since March last year. Prosecutors are seeking a 30-year prison sentence for her, and a more than $100 million fine. Some point to Choi's heavy sentence as an indication that Park could face an even longer jail term, as most of the charges leveled against Choi name her as an accomplice to Park.
The former president declared in October she would boycott her trial, and hasn't appeared in court since—or met her court-appointed defense team. Her trial has continued in absentia as ordered by a judge—so it's likely that she also won't appear at Friday's televised trial, scheduled for 2:10 pm local time (1:10am ET) in Seoul. Park also objected to the live broadcast of her trial.
The trial's conclusion is also likely to draw large protests, particularly from her supporters. Many elderly Koreans remain loyal to Park not only for her conservative policies including a hawkish stance toward North Korea, but because of their admiration for her father, the dictator Park Chung-hee. He presided over an economic boom that helped lift the country out of post-war poverty, until he was assassinated in 1979. Groups such as "People Who Love Park Geun-hye" have staged sustained protests since her arrest to demand her release.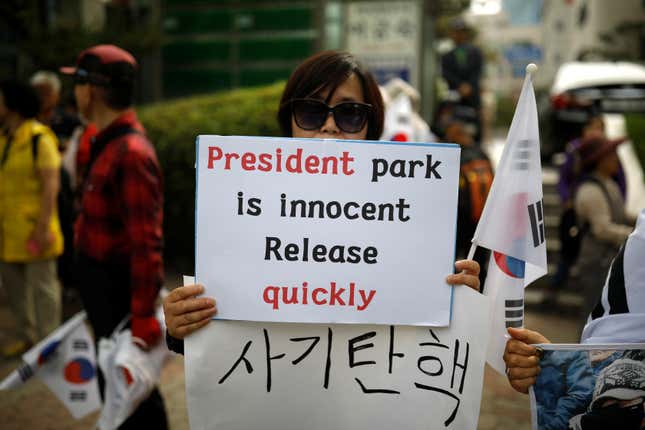 Some were disappointed with the commuting of Samsung de facto leader Lee Jae-yong's release from prison, as they saw the decision as a failure to truly tackle the deep-set corruption and cronyism in Korean society. Two convicted presidents were also pardoned in 1997. It's unlikely Park will walk free, but only a severe punishment will be enough to convince many South Koreans that the ills of earlier eras are becoming a thing of the past.
Correction: An earlier version of this article said that Park faced 21 charges, rather than 18.