China's one-child policy, which since 1979 has limited most Chinese couples to a single child, is notorious for having accelerated the rate of China's aging. It's also created a glut of young men who can't find Chinese wives; by 2020, bachelor ranks will swell to between 30 million and 35 million—equal to the population of Canada.
But lovelorn suitors aren't the only fallout from China's draconian population controls, says Zhang Xiaobo, a Peking University economist. "I just returned to Beijing [from Washington, DC], and housing prices are three times that of DC," Zhang tells Quartz. "If you look at all the indicators there's a housing bubble. But despite the very low economic returns, people [keep buying]."
The reason? Intensified marriage market competition, says Zhang. "The reason is that people have to buy a house in order to get married," he says, explaining that the mothers of most brides will accept only grooms who can provide a home for their daughter.
This, says Zhang, is what has made home prices so unaffordable (a small Beijing two-bedroom is about $330,614—what an average Beijinger earns in 32 years). And, ironically, the one-child policy will eventually reverse this trend, knocking the floor out of the market.
China's gender gap drives 30% to 48% of home price increases
China's gender imbalance contributed 30% to 48% (pdf, p.37) of the rise in real home prices in 35 major cities from 2003 to 2009, according to research Zhang and two colleagues conducted. Home values rose more sharply in cities with many more young men than young women.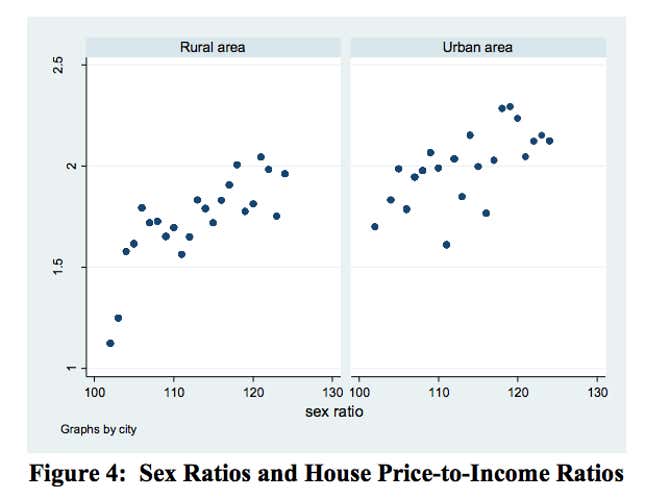 My son's house is bigger than your son's house
And this wasn't just in cities. Even in rural areas, Zhang and his colleagues found farmers aggressively investing in homes for their sons, usually either because a local matchmaker said they needed to if they wanted to attract a wife, or because of rising local "bride prices," the reverse-dowry that grooms must pay. (That price now exceeds $20,000 in some provinces.)
"If the matchmaker tells them they need to build a taller house, they make it a little bit taller than neighbors," says Zhang. "Families are building two-story or three-story houses, but if you go to second or third floor, there's no furniture at all—it's only to show off their wealth… to make sure their son will get married."
How the one-child policy will lead to the housing market's collapse
Because they lack siblings, the vast majority of Chinese couples 34 and younger are the sole inheritors of four parents' wealth. When they die, their offspring get at least two extra homes (and, given investment trends, likely more). This extra supply will drive down prices, says Zhang, and because of the one-child policy, China will have too few young people to absorb the overspill.
This will sink in by around 2020. But the policy could affect the market even sooner. China's working age population—the most likely new homebuyers—is about to start falling (official statistics say it peaked in 2012; the UN says 2015).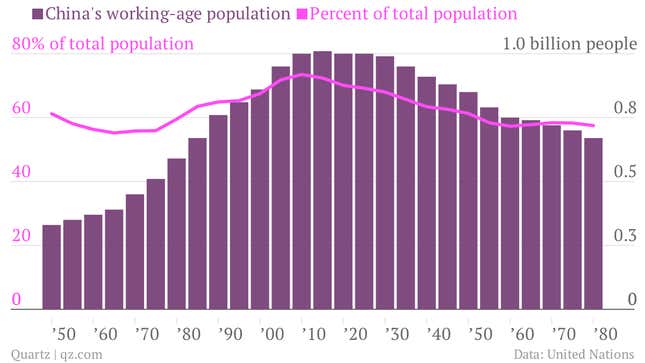 Meanwhile, China's sex ratio peaked in 2005. Only-children leaving the nest and moving into their parents' extra apartments, as well as cooling bachelor competition, will lower demand for new homes.
Of course, China's housing market is notoriously unpredictable. But if Zhang and his colleagues are right—that marriage market competition is propping up home values—then China will have even more to regret about the one-child policy than it already does.