Former South Korean president Park Geun-hye was today (April 6) sentenced to 24 years in prison for her role in a massive bribery and influence-peddling scandal. Whether the punishment fits the crime is likely to be hotly debated among Koreans for a long time.
A court in Seoul delivered the verdict in an almost two-hour-long televised trial, as the judge detailed each of the 18 charges leveled against Park including bribery and abuse of power, among others. Park, who has been boycotting the trial since October, did not appear in the courtroom. She was found guilty of 16 charges.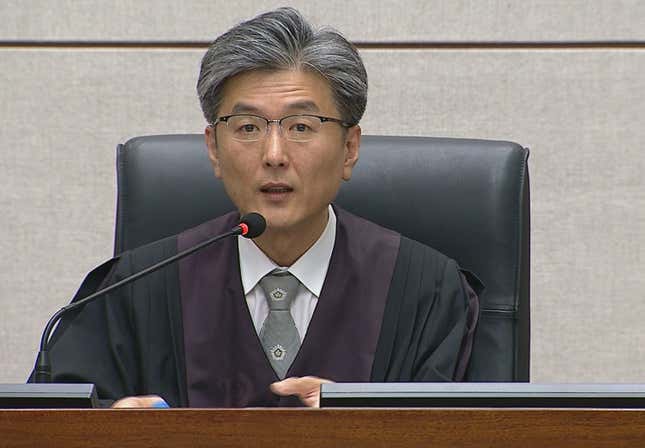 Park was impeached in late 2016 and then officially removed from office last year. The charges against Park center around her relationship with her confidante Choi Soon-sil. Choi was so influential that she was able to force some of Korea's biggest companies to donate millions to two nonprofit foundations she was linked to. Choi was sentenced to 20 years in prison earlier this year.
The judge said that Park's lawyers have one week to appeal the sentence. She has denied the charges. The court also fined Park 18 billion won ($17 million).
If Park serves out the whole of her 24-year sentence, she would be 90 by the time she is released. She would also be the only South Korean president to serve a full prison term—two previous leaders who were convicted of corruption and other crimes, Roh Tae-woo and Chun Doo-hwan, were pardoned in 1997. President Roh Moo-hyun committed suicide while being investigated for corruption in 2009.
For the hundreds of thousands of Koreans who rallied weeks on end in 2016 in the cold calling for Park's removal from office in what later became known as the Candlelight Revolution, a 24-year prison term might not be enough. Prosecutors had originally been seeking a 30-year sentence for Park. Given Park's centrality in the scandal, many would have expected that she would have been given a far harsher sentence than the 20-year prison term handed to her friend Choi.
Speaking on Arirang television after the verdict, Song Se-ryun, a law professor at Kyung Hee University in Seoul, said that the verdict ultimately found that no direct bribes were paid to Park and there was no personal gain on her part, which might explain why the judge didn't sentence her to 30 years in prison. The judgement said that Park was guilty of receiving 7.2 billion won in bribes from Samsung, but couldn't ascertain how much she used for herself.
The more important outcome of the Candlelight Revolution and Park's sentencing, said Song, may be the way in which all the "imperfections" and "structural deficiencies" of Korea's political system were exposed, which could in turn lead to improvements such as a recent proposal by president Moon Jae-in to weaken the power of the presidential office.
To that end, another test awaits Korea's 30-year-old democracy—another former president is currently sitting in jail. Park's predecessor Lee Myung-bak was arrested last month on corruption allegations. He has yet to be formally charged.