Bob Visse couldn't believe it when he first heard about MoviePass, a subscription movie-ticket service that lets members see a movie per day in theaters for $9.95 a month. "I honestly thought the same thing that everyone else always thinks," he said. "This is too good to be true."
In December, Visse, who lives in Kennewick, Washington, bought a pair of yearlong passes for himself and his wife for $89.99 each through a Costco deal. He also started paying attention to Helios and Matheson Analytics, a little-known data company that took a controlling stake in MoviePass in August 2017. Before he retired, Visse, 50, managed Microsoft's MSN web portal and entertainment division, and he was intrigued by MoviePass's potential to cut deals with film studios. Earlier this year, Visse started buying Helios and Matheson stock.
It hasn't gone well. Shares of Helios and Matheson have tumbled 88% this year, as MoviePass has burned through an average of $21.7 million a month since last October to subsidize steep discounts, forcing its parent company to sell more shares to bolster its balance sheet. Instead of cutting its losses, Helios and Matheson has doubled down, buying up so much MoviePass common stock that it held about 92% of outstanding shares as of April 16. Helios and Matheson fell 45%, to $0.79, on May 9 after the company said in a securities filing that it had $15.5 million in cash on hand remaining, which even if it slashed the rate of its cash burn would last little more than a month.
Visse still has one good option: lending out his shares to short sellers, investors who bet that a company's stock price will fall. Demand to short MoviePass's parent is so great on Wall Street that retail investors like Visse can make a good bit of money by loaning out their otherwise largely worthless shares. As of May 9, bank and brokerage firm Charles Schwab was offering a 48% annualized interest rate to retail investors with large positions in Helios and Matheson, Visse told Quartz. It was charging double that to institutional investors looking to borrow the shares to short them. Schwab declined to comment.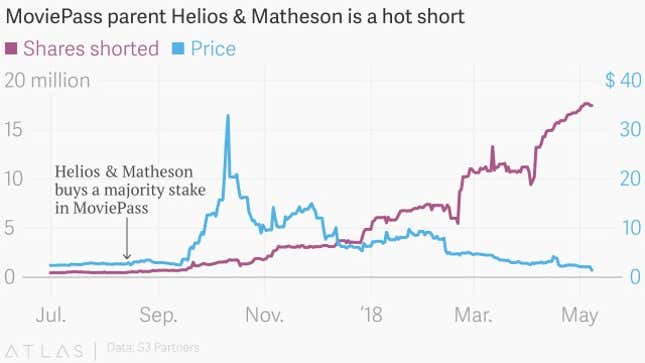 Investors bet against a company by selling borrowed shares, with an agreement that they'll return them to the lender some time in the future. They make money on the trade if the share price declines, so they can purchase the shares back at a lower price when it's time to return them to the lender. The short seller pockets the difference in price, less the daily interest they must also pay to the lender (the so-called borrow fee). If the interest charge is steep enough, it can erase the gains for a short seller, even if they bet right on the falling price of a stock.
Ideally, a short seller borrows a stock, sells it, and it immediately tanks in price. That means the borrower can quickly buy it back at a discount to return to the lender, with minimal borrow fees because the loan didn't last for very long.
MoviePass charges $9.95 a month to get members into one 2D movie showing per day in the US, where movie tickets cost $9.16 on average. It pays theaters the full ticket price for the showing. The company, founded in 2011, grew from thousands of subscribers to about 2 million subscribers after it slashed its monthly price to $9.95 a month from around $15 to $50 when Helios and Matheson took a controlling stake last summer. "Our vision has always been to make the moviegoing experience easy and affordable for anyone, anywhere," MoviePass CEO Mitch Lowe has said.
Many are skeptical that the model works. As of early May, investors had shorted an all-time high 17.5 million shares of Helios and Matheson, representing 31% of outstanding shares, according to data from S3 Partners, a financial technology and analytics firm. This year, the annualized interest rates to borrow those shares—a sign of demand among short sellers—have averaged around 70%, making Helios and Matheson easily one of the most expensive stocks to short in the Russell 3000 index, said Ihor Dusaniwsky, head of predictive analytics at S3 Partners. "You've got to be right, and you've got to be right very quickly," he said.
Seth Stern, 24, has owned some Helios and Matheson shares since before it took a stake in MoviePass. He decided to buy more in April after Helios and Matheson acquired Moviefone, a movie ticketing and information platform that it said would complement MoviePass. Charles Schwab reached out to Stern, who had a Schwab account, to see whether he'd be interested in loaning his shares to short sellers. He took Schwab up on the offer this week at a 37% annualized interest rate, paid out monthly. "If it does go to zero, at least I'll collect some interest in the short term," said Stern, who works in real estate in New York. "It's not even a hedge, it's free money."
So far this year, short sellers have come out ahead, gaining about $47 million on their positions, according to data from S3 Partners. But the high borrow fees on the stock make shorting it a risky move. "We analyzed it as a company and thought shorting it made a lot of sense, except the cost of borrow was prohibitive," said one hedge fund analyst, who spoke to Quartz on the condition of anonymity.
Visse has continued to root for MoviePass and analyze the company on his personal blog. His models show that Helios and Matheson could become cash flow positive this year if the average MoviePass member used it 1.3 to 1.4 times a month. (Helios and Matheson chairman Ted Farnsworth said May 8 that MoviePass had cut utilization to an average of 1.13 visits a month at AMC theaters, from 1.8 in April, after cracking down on members who were seeing the same film multiple times.) But after Helios and Matheson plunged for two consecutive days this week, Visse said he's ready to let Schwab lend out his shares to the short sellers. "If things calm down, I will buy more, too," he said.
Additional reporting by Ashley Rodriguez.