Last month, Washington dealt a major casualty in the standoff with Beijing over technology when the US commerce department ordered American companies to stop supplying components to China's ZTE, the fourth-largest handset brand in the US.
The US penalty came in response to ZTE's violations of Iran sanctions, and a failure to comply with a guilty plea agreement the telecom manufacturer made. But it also arrived as tensions between China and the US over technology reach new highs. Already, the Shenzhen-based company is facing a painful aftermath. Today (May 9) the company filed a notice (pdf) to the Hong Kong Stock Exchange stating "major operating activities of the Company have ceased."
The company's page on Tmall (link in Chinese), one of China's major e-commerce sites, doesn't link to any product listings. Instead, it states that the page is "undergoing maintenance," and shows a photo of rowers alongside text that roughly translates to "Youth is a time for fighting."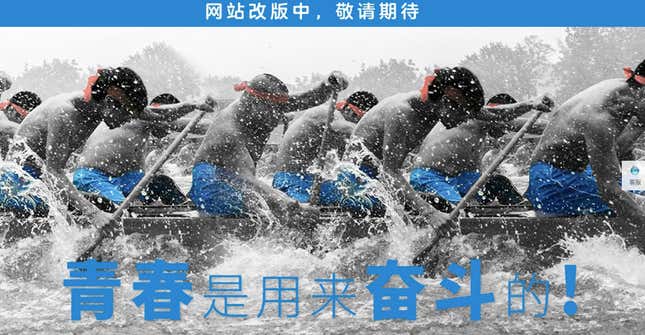 Links to the company's official online page for its phone catalogs direct users to the same image. The Nikkei Asian Review reports that some carriers in China are continuing to sell ZTE phones in their retail outlets but are nearly out of stock (paywall), with one employee saying production was stalled. The company's page on JD.com, another Chinese e-commerce site, remains up and running. ZTE could not be reached for comment.
When the US restrictions were first announced, analysts stated the move would cripple ZTE in the short term, at best relegating it to a maker of rudimentary smartphones with out-of-date technology. Over 50% of its smartphones come packed with processors from San Diego-based Qualcomm, while the bulk of its remaining devices rely on chipsets from Taiwan's MediaTek. While ZTE can continue to rely on MediaTek to supply it for mid-range devices, no chipmaker other than Qualcomm can adequately power the company's high-end devices (paywall).
On Sunday, ZTE said in a filing to the Shenzhen stock exchange, where its shares are also traded, that it had asked the US commerce department to suspend the sales ban. Meanwhile, the penalty will likely serve as a further impetus for Beijing to improve its domestic semiconductor industry and become less reliant on foreign companies like Qualcomm. A state-backed investment fund known as the China Integrated Circuit Industry Investment Fund Co. is currently raising 300 billion yuan ($47.4 billion) (paywall) to finance Chinese homegrown semiconductor firms.
This story has been updated to show ZTE has filed a notice with the Hong Kong Stock Exchange.