In the Philippines, almost any occasion is worthy of a selfie. Makati City, the country's financial center, is the world selfie capital according to a Time magazine analysis, and Filipinos have been known to turn their camera phones towards their faces for any number of reasons, from capturing a special reunion to documenting a time they had to sit in traffic. Now, Filipino activists are mobilizing the nation's love of mobile-phone portraiture to promote a political agenda.
Since Tuesday (May 8), Filipinos donning dark sunglasses have been posting selfies on Facebook, Twitter, and Instagram to protest of an ongoing ballot recount that could pave the way for the son of dictator Ferdinand Marcos to seize the vice presidential seat. Current vice president Maria Leonor "Leni" Robredo narrowly beat Ferdinand "Bongbong" Marcos Jr. in the 2016 elections, winning by 263,473 votes—a slim margin considering over 40 million Filipinos showed up to vote.
Days after Robredo was sworn in, in June 2016, Marcos filed a 1,200-page petition to the Philippine Supreme Court appealing for a recount.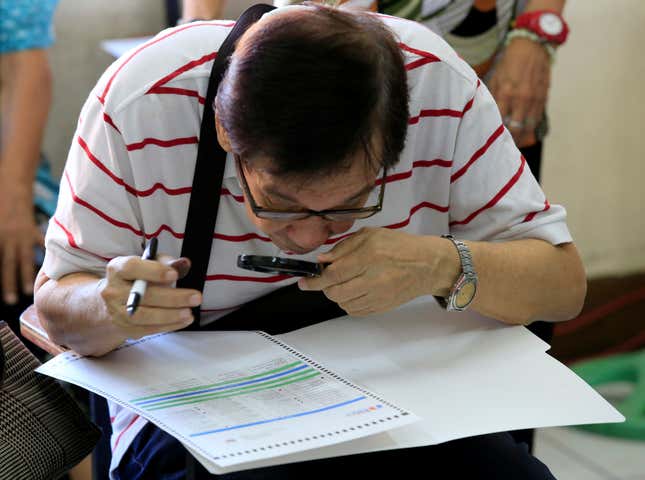 The selfie campaign seeks to highlight questionable new standards that the country's electoral tribunal introduced when they began scrutinizing ballots on April 2. The tribuna,l which is comprised of supreme court justices, declared that a ballot only counts if the oval next to a candidate's name had been shaded at least half way—that's the reason for the sunglasses, and the inspiration behind the campaign's tag, #LeaveOurShadesAlone.
The so-called "50% threshold" came as a surprise, since the vote-counting machines used in the 2016 elections were set up to accept ballots with only 25% of the oval colored in. The tribunal has insisted on the 50% threshold because that was the standard used in the 2010 presidential elections. The change seems minor, but will be a crucial detail in a recount that can trigger a defining upheaval in the Philippine political landscape
Over a month into the manual ballot recount process, Filipinos all over the world have been posting selfies to protest.
The Marcos family are allied with current president Rodrigo Duterte, who was instrumental in helping the former dictator get a sneaky hero's burial in 2016. Robredo, on the other hand, is a vocal opponent of Duterte's strongman policies. She asserts that the 50% threshold rule will "systematically decrease" her votes; her lawyers say she may have already lost 21,000 votes because of the tribunal's criteria.
Duterte, who has been president since 2016, has done little to mask his wish for a new second-in-command. "Bongbong could be our new vice president if he wins his [electoral] protest," he said in a 2016 speech.
The ballot auditors are unsure how long the recount will take, but with a gymnasium-full of ballot boxes to review, it could be a while.