There's a small chance that quite soon, you might actually, finally, be able to get something delivered in the US by an autonomous drone.
The US Department of Transportation and the Federal Aviation Administration (FAA) announced today, May 9, that they have selected 10 regions to participate in what they're calling the Unmanned Aircraft Systems (UAS) Integration Pilot Program. This new initiative, under Trump-appointed transportation secretary Elaine Chao, is intended to speed up the integration of autonomous drones into the US airspace by conducting tests at smaller areas around the country, in partnership with drone-technology companies. The goal is that these pilot programs will inform future nationwide regulations on drone deployment.
The FAA received 149 proposals for its pilot program, and whittled that down to 10. Over the next three years, those areas will test out their ideas and systems to determine whether it's possible to safely integrate drones that are flying on their own, beyond the line of sight of a human pilot, day and night, into the air above US citizens. A range of tests have been proposed, from search-and-rescue operations and delivering food or medical supplies, to border security.
Who is taking part?
Here are the regions the FAA has approved, a brief description of what their tests will be, and the private companies they'll work with: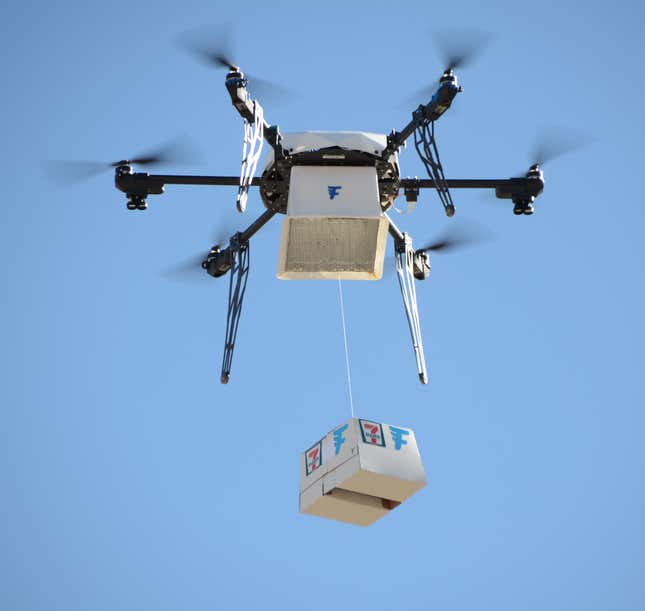 Reno, Nevada
The city will work with Flirtey, one of the few drone companies that has carried out officially sanctioned unmanned drone tests in the US, to test delivering medical equipment, such as defibrillators. Reno hopes a single drone could save 28-34 lives a year by being able to deliver live-saving materials across the city, day and night.
Virginia
The state's innovation and entrepreneurship investment authority partnered with a wide range of organizations, including Virginia Tech, Alphabet's Project Wing, Intel, AT&T, Airbus, State Farm, Dominion Energy, Sinclair Broadcast Group, and Hazon Solutions, a drone inspection company, to test using drones for delivering packages, emergency management, and infrastructure inspection.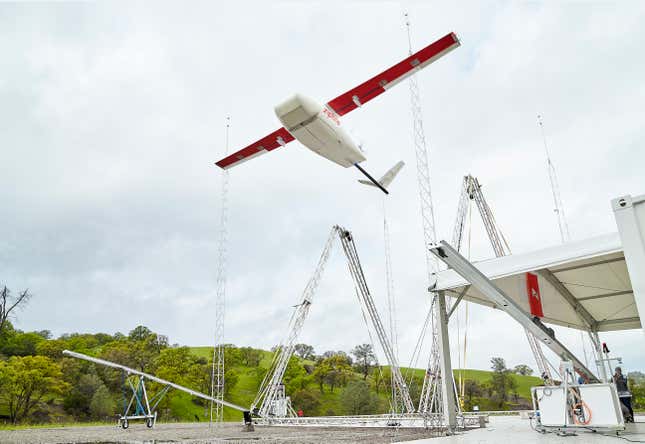 North Carolina
The state's transportation department, along, with Zipline, a medical drone-delivery startup that is now delivering 20% of the blood shipped across Rwanda (outside of its capital), will work to bring a similar delivery system to the state. It plans to set up delivery bases, much like Zipline has in Rwanda and Tanzania, to service deliveries day and night. (For reference, North Carolina is roughly five times larger by area than Rwanda.) Drone startup Matternet will also be working with Zipline on the delivery service.
The state will also be work with Flytrex, an Israeli startup that recently launched an autonomous drone delivery service in the suburbs of Reykjavik, Iceland.
Apple is also reportedly working with the state to test using drones for its mapping app, which it's been testing for the last few years. Apple wasn't immediately available to comment.
Memphis and Shelby County, Tennessee
The city and surrounding county will partner with the Tennessee Airport Authority, Agricenter International, an agricultural research nonprofit, Flirtey, and FedEx, to inspect FedEx aircraft, and potentially develop drone deliveries as well. The project also aims to develop a working air-traffic management system that incorporates both drones and regular planes. FedEx is based in Memphis.
Lee County, Florida
The south Florida county will partner with the local mosquito control group to control and manage the mosquito population with a 1,500-pound autonomous drone. (That's more on scale with the sorts of drones the military uses than the commercial and hobbyist drones many projects will likely use, which tend to way less than a few hundred pounds.)
San Diego, California
The city's tests revolve around food delivery and border protection. It's partnering with mapping startup AirMap, Qualcomm, Matternet, and the University of California San Diego Health hospital system to deliver patient blood samples, among other things.
Choctaw Nation of Oklahoma
The Native American tribe will test using drones to inspect crops, livestock herds, and infrastructure. It will partner with outdoor research facility Green Valley Farms Living Laboratory, CNN, Flirtey, and AirMap.
Kansas
The rural state will use drones "to facilitate precision agriculture operations" at a statewide level, as well as disaster response and power plant inspection. It'll be partnering with state universities, Flirtey, AirMap, and the local department of transportation to find ways to safely integrate drones into the airspace.
North Dakota
The state has a history of trying to position itself as a hub for drone research in recent years. A release shared by the state's transportation department, which led the application, says it intends to "explore new uses for unmanned aircraft, such as monitoring critical infrastructure and working with law enforcement and emergency services to speed up response times during events such as flooding, blizzards and finding missing persons." It'll work with local universities, including the drone research facility in Grand Forks, and AirMap. Quartz has reached out to the transportation department to confirm what other partners it will work with.
Alaska
The state will partner with the University of Alaska-Fairbanks to inspect pipelines in harsh weather conditions, which Alaska tends to have a lot of. The university says it also plans to test using drones to inspect wildlife and fish stocks, as well as aid in search-and-rescue operations, and delivering packages in remote areas. Quartz has reached out to the university to confirm what other partners it will be working with.
Where's Amazon?
Many of the companies interested in bringing autonomous drones to the US have joined one of the FAA-approved projects. But one of the biggest omissions from today's announcements is Amazon. The company made a splash in 2013 when it announced that intended to deliver small packages to its Prime subscribers in the near future. Since then, it's carried out tests, even launching a pilot service in the UK, and has been vocal about how regulation should be implemented in the US, and yet, it was not on a winning application. In a statement, Amazon confirmed to Quartz that it was part of rejected proposals. "While it's unfortunate the applications we were involved with were not selected, we support the Administration's efforts to create a pilot program aimed at keeping America at the forefront of aviation and drone innovation," said Brian Huseman, vice president of Amazon Public Policy, in a statement. "At Amazon Prime Air, we're focused on developing a safe operating model for drones in the airspace and we will continue our work to make this a reality."
Smaller startups, like AirMap and Flirtey, were on multiple (six and four, respectively), and even Alphabet, which scaled back its drone research, managed to get in on a bid.