China's ride-hailing giant Didi Chuxing is suspending one of its ride services and promising sweeping driver checks and operation reviews after the murder of a female passenger this week. The announcement came after its initial responses—seen as gimmicky and insensitive—resulted in an online backlash against the company.
After the body of the female passenger was found, Didi apologized and announced a bounty for any tips from the public about the missing driver who had picked her up last Sunday—the chief suspect, according to police. The offer provoked anger from many who saw it as confirmation that the ride service doesn't run effective checks on its drivers.
According to local police (link in Chinese), the murdered passenger, whom they identified only by the last name Li, used the ride-hailing service from the airport in the central city of Zhengzhou. During the ride, the 21-year-old flight attendant texted a friend that the driver was making her uncomfortable. "[The driver] said I am really good looking and he wants to kiss me," said Li, according to screenshots of the chat obtained by local news outlets. Li's friend later dialed her to check in and was told everything was fine—the last time Li was heard from.

Her body was found Tuesday with multiple stab wounds, according to local news portal Dahe (link in Chinese). The police said they were searching for the driver, 29-year-old Liu Zhenhua, who abandoned the car and jumped into a river nearby, according to surveillance footage. Li's father said his daughter was found partially undressed and that the forensics exam suggested she may have been raped, according to Dahe.
Didi said on Thursday that it had "undeniable" responsibility for the death, and followed the statement with a post that promised members of the public as much as $160,000 for "providing key clues." The post included Liu's picture, contact number, and ID number.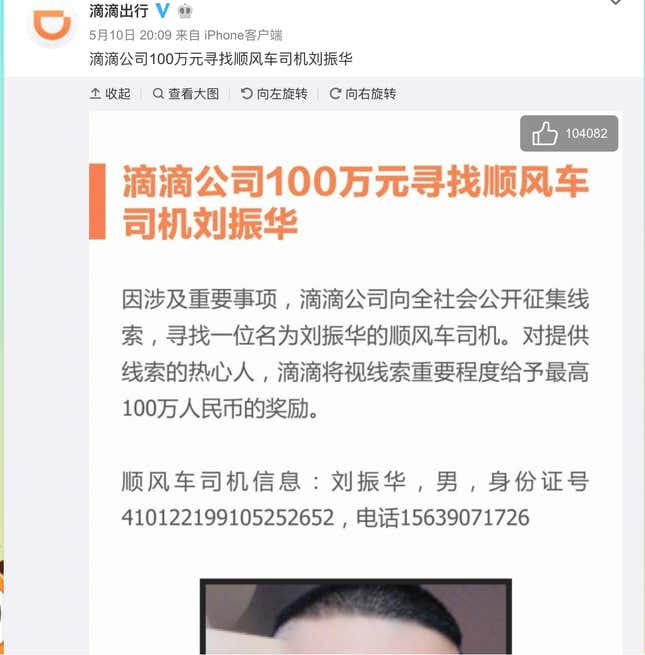 Many saw the bounty as tacky publicity move, rather than a serious response to the problem. "Didi should compensate the victims' family instead of putting on a show," wrote one person on the micro-blog Weibo. The post was retweeted (link in Chinese) over 30,000 times with over 42,000 comments. On Zhihu (link in Chinese), China's answer to Quora, a user said the insufficient vetting of ride-hailing drivers is a "land mine" for society and that Didi's dominance since the departure of rival Uber in 2016 had allowed it to become less stringent. "It's become this monopoly that only thinks about making money, and disregards social responsibility," said the user, adding that the Didi should have a police alert function in its app.
Didi deleted both its apology and the bounty offer on Friday (May 11).
The driver Liu was using an account belonging to his father, who was registered with the Didi Hitch service (which allows car owners to pick up commuters going in the same direction), a violation of Didi terms of service, the company said. Hitch drivers must go through facial recognition before taking an order. Didi said the facial recognition check failed that night. Didi also says it earlier received a complaint of verbal sexual harassment against the driver, but customer service tried and failed to contact the suspect.
The company will suspend Hitch service nationwide for a week starting midnight tonight to carry out the reviews.
Earlier, Didi Hitch processes were found to have other loopholes—drivers were able to register with other people's cars without asking (link in Chinese) for the car owner's permission.
Rapes and assaults are common in the ride-hailing industry in China, as well as elsewhere. Li's case is the latest in a slew of Didi assault scandals, a huge concern when over 40% of its passengers are females, according to research firm Jiguang (link in Chinese) in March.
In May 2017, a woman in China's eastern Nantong city was raped by a Didi driver who followed her home. In 2016, a teacher in southern Shenzhen city was robbed and murdered by a Didi driver. The firm in 2016 rolled out an SOS button (link in Chinese) function in the app for passengers and drivers. Once a user   presses the button, the app makes a recording that its shares (link in Chinese) with Didi. It will also send SOS alerts to the emergency contacts. It's unclear if Li had a chance to use the button.
The latest case of assault against a Didi driver comes as the company ventures to other markets, such as Brazil and Mexico, where assaults against women while commuting are also a serious worry. If Didi can't figure out how to solve the women's safety issue at home after repeated wake-up calls, it's unclear how it'll do any better overseas. In its statement, Didi said it "adopts safety standards and practices according to local laws" in overseas markets.