You don't have to be a soccer fan, or even a sports fan, to have heard of Lionel Messi or Christian Ronaldo. Messi, the diminutive Argentine, and Ronaldo, the preening Portuguese, have been at the pinnacle of their sport for a decade, trading player-of-the-year honors back and forth like an unwanted baseball card since 2008.
They are unquestionably the two most recognized players taking the pitch at the 2018 FIFA World Cup, kicking off in Russia today. Yet there's a host of other players, all stars in their own right, who deserve your attention over the next  32 days and 64 matches.
Neymar, Brazil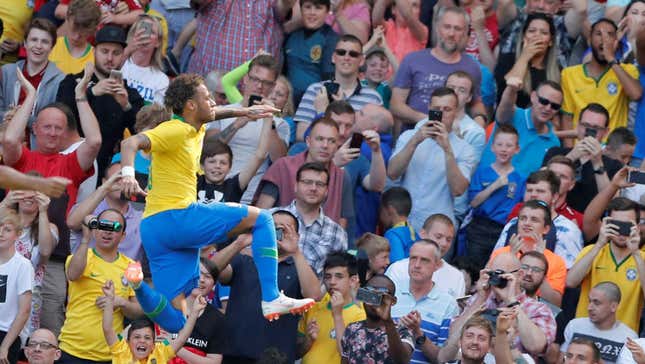 If there's a third player elbowing his way into the Messi/Ronaldo tandem, it's Neymar, Brazil's 26-year old striker. Twice the third-place finisher in player-of -the-year honors (behind guess who?), he engineered a transfer from Barcelona FC, where he was perpetually in Messi's shadow, to Paris Saint-Germain, which paid an eye-popping €222 million ($263 million) to secure him. Brazil is the most storied team in international soccer, and is still smarting from its ignominious 7-1 defeat to Germany in Belo Horizonte at the 2014 World Cup. The pressure is on the entire squad to redeem their tarnished honor, but no one will be asked to shoulder a greater burden than Neymar.
Mohamed Salah, Egypt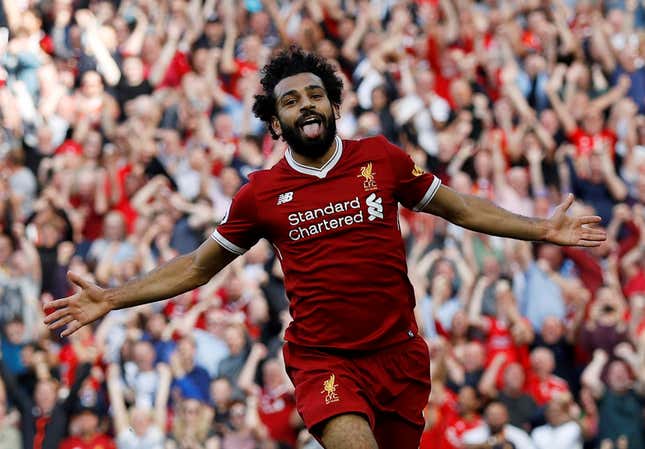 Egypt, a consistent power in African soccer, had never launched a star onto the international stage. Until now. After three years in the top Italian league, Saleh exploded at Liverpool last season, leading the Premier League with 32 goals in 36 matches, and powering the Reds to the Champions League finals. It was in the May 26 championship match that Salah injured his shoulder, jeopardizing his World Cup. The striker, who turns 26 tomorrow (June 15) will reportedly be ready for the match on his birthday with Uruguay, giving 97 million fans reason to hope.
Harry Kane, England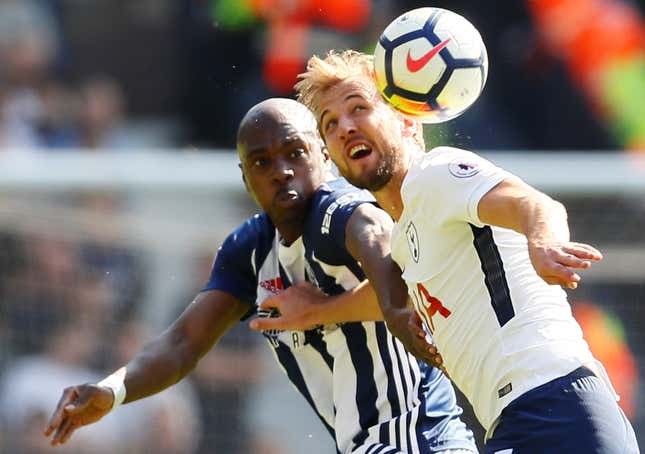 England's best player comes with none of the baggage or controversy of his predecessors like Paul Gascoigne, David Beckham, or Wayne Rooney. He's not married to a pop star, battling addiction, or feasted upon by the tabloids. All that boring Harry Kane does is score goals: 108 in the Premier League, mostly for Tottenham Hotspur, since 2013. His emergence as a star has coincided with the Spurs' best run of success in decades. Kane, 25, has a chance to be the first English player to win the "Golden Boot" award, given to the World Cup's top goal scorer, since 1986. But only if the rest of the team performs well enough to get out of the group stage, which it failed to do in 2014. Even Kane can only do so much without help.
Paul Pogba, France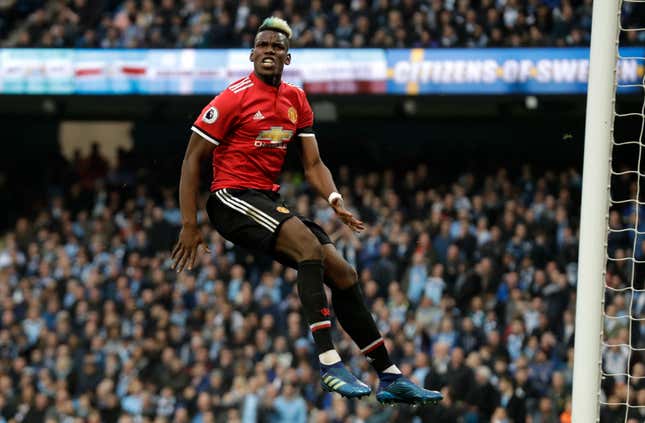 Few players enter the 2018 World Cup with as much to prove as Pogba, France's 25-year-old midfielder. Named the best young player after his stand-out 2014 cup, Pogba and his contract were purchased from Juventus by Manchester United for a then-record €105 million in 2016. His performance in the Premier League has been uneven, and he's clashed with Manchester manager Jose Mourinho. Pogba is the most prominent of a new generation of  talented French players many think capable of someday winning a cup. Unless Pogba finds his form this summer, it won't be this year.
Manuel Neuer, Germany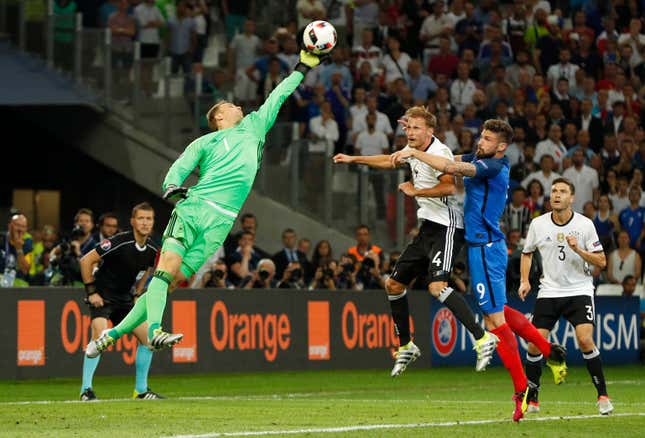 Manuel Neuer, 32, is generally regarded as the best goalkeeper of his generation, and by an increasing number of observers, of all time. Neuer brings a slashing athleticism to the position, and doesn't hesitate to charge out to challenge strikers. He gave up just four goals in seven games as Germany won the 2014 World Cup and was even more dominant in the 2016 Euros. Germany is among the favorites to win it all in Russia, and a big reason is Neuer, the last line of defense.
Sadio Mané, Senegal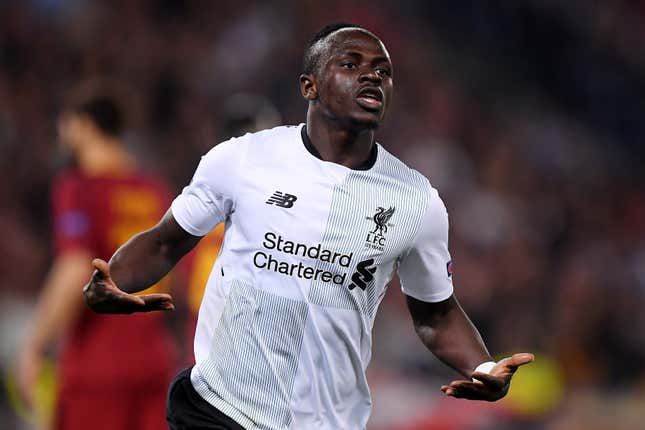 Sadio Mané may be the second best player from Africa and on Liverpool—behind Salah in both—but he's still one of the most dynamic players in the world. The 26-year-old winger scored 10 goals in Liverpool's Champions League campaign, and in 2015 set a Premier League record for the fastest hat trick, scoring three goals for Southhampton in 2 minutes and 56 seconds. Senegal doesn't have a distinguished World Cup history—appearing once before, in 2002, when it made the quarterfinals— but has a favorable draw this year, playing in a group with Poland, Japan, and Colombia. If the Lions of Teranga escape the group round again, it will likely be because of Mané.
Javier Hernandez, Mexico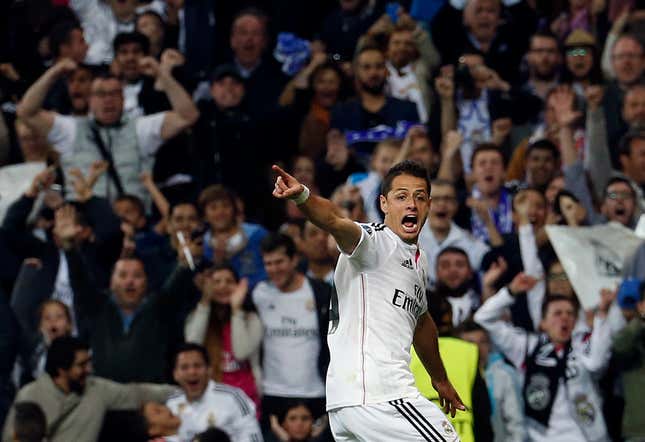 Hernandez, nicknamed Chicharito or "little pea," is Mexico's most decorated player and all-time leading scorer. After a frustrating four-year stint with Manchester United—where he scored goals in bunches, but played infrequently— Hernandez found a home with Germany's Bayer Leverkusen before returning to the UK and West Ham. Now 30, Hernandez is arriving in Russia with perhaps the most talented Mexican team in generations. El Tri has a history of advancing out of the cup's group stage, only to collapse in the next game. Breaking through that barrier would be a fitting capstone for Hernandez's career.
Keylor Navas, Costa Rica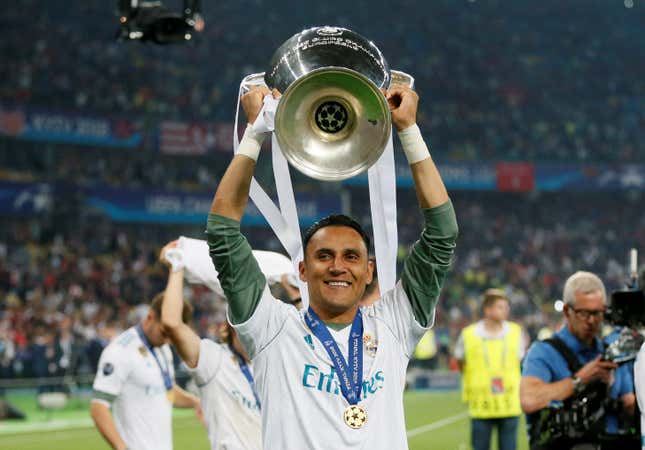 The international soccer apparatus has an uncanny ability to find talented players, no matter how obscure their country of origin. Costa Rica is no one's idea of a soccer power, yet Keylor Navas emerged from its domestic league to become the No. 1 goalkeeper for Real Madrid, winners of the last three Champions League titles. Madrid is perpetually rumored to be signing a keeper with a more respectable provenance. Yet Navas, 31, keeps playing, and winning. Costa Rica doesn't have a lot of offensive firepower, but with Navas, it always has a chance.
Correction: An earlier version of this article suggested that Javier Hernandez most recently played for Bayer Leverkusen. Last season he played for West Ham in the UK's Premier League.