If you've purchased a smartphone in the last year, or even seen pretty much any smartphone released in that time, you've probably noticed a new design trend. In a bid to make their screens as big as possible, manufacturers have been finding ways to wrap their displays around the front-facing cameras. Apple introduced the much-copied "notch" on the iPhone X, and others, like Essential, just have a tiny bump for a camera. 
But Vivo, a subsidiary of the third-largest smartphone company in the world, the Chinese firm BBK Electronics, has taken another tack. Its new Nex smartphone, which you may have seen copiously advertised during this year's soccer World Cup, appears on first glance to have no front-facing camera. That means that almost the entirety of the front of the phone is a giant 6.59-inch high-definition display, without any awkwardly shaped cutouts.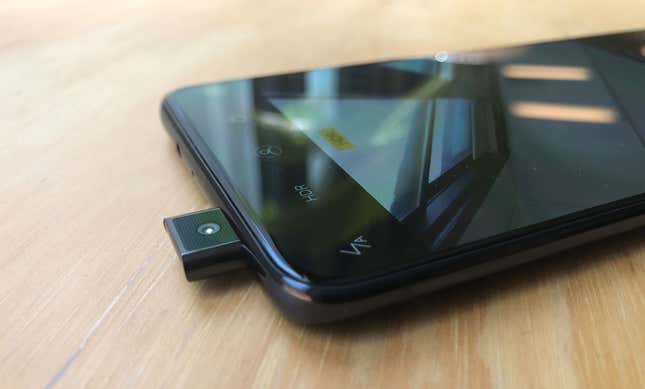 The Vivo Nex, however, does indeed have a front-facing camera. It's hidden inside the top of the phone body, and pops up like a tiny periscope when you turn on selfie mode. It even makes a bunch of whirring and beeping noises as it opens and closes. 
While this solution is definitely unique, it might not be the most practical. The pop-up camera doesn't seem particularly sturdy, and I could easily see someone accidentally snapping it off, or the motor wearing out from excessive use by the average selfie-obsessed kid. Vivo's sister company, Oppo, which primarily sells devices in southeast Asia, China, and India, also just introduced its own idea for an all-screen phone. But instead of a pop-up camera, the Oppo Find X has a camera hidden beneath an entire slide-up part of the phone that automatically pops out when it's selfie time. It's like a modern-day Sidekick phone.
Vivo also achieved another technological feat. Unlike Apple, it managed to incorporate a fingerprint scanner into the screen itself. The reader sits directly below the glass, and you can can just rest your finger on the front of the phone near the bottom to unlock it, with no need for a dedicated home button or fingerprint reader anywhere else on the device that would have reduced display size.
The Nex has more to offer than just a gimmicky camera trick and fingerprint scanner. It packs up to 8 GB of memory and 256 GB of storage, a massive battery, and a 12-megapixel rear camera, along with a 5-megapixel second camera directly below it for portrait-style shots. It'll cost 4,998 yuan (around $760) when it's released.
Most of those in Europe and North America won't get a chance to buy Vivo's latest phone, however much it's been advertised at the World Cup. The phone will only be available in China, according to The Verge. But it is definitely a sign of the latest capabilities of smartphone manufacturers. It wouldn't be surprising if the next versions of Samsung's flagship phones incorporated the in-screen fingerprint scanner, and companies will likely keep trying to differentiate their designs from the notch Apple has popularized. But they probably won't be a fun as Nex's tiny periscope.