After years of speculation and billions of dollars raised, we finally get to see what Magic Leap has been working on. Well, sort of.
The augmented-reality startup announced today that its first product, the Magic Leap One Creator Edition, a bulbous headset it first showed off in December, is available for purchase. The device will cost $2,295 and is available in "limited quantities" to developers in select US cities, according to Magic Leap's website.
"This is the next step in Magic Leap's journey to create the next computing platform using computer vision, light-field technology and spatialized audio, in concert with the human brain," the company said in an email to Quartz.
The Creator Edition headset is not intended for regular consumers, but for developers who may be interested in producing apps and content for the system when Magic Leap (finally) releases a consumer product.
Few have had access to Magic Leap's technology since the firm was founded in 2011. It swore investors and others who got demonstrations to secrecy, and when Wired covered the startup for a 2016 cover story, there was still barely any information available about how the technology worked or what it did.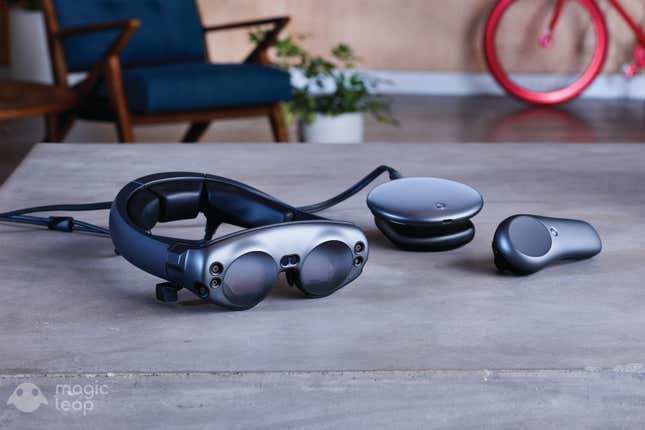 But now we can see that it's a headset and wearable computer combination, which is meant to overlay digital information onto the physical world, rather like Microsoft's HoloLens, which was first introduced in early 2015. The Magic Leap One will ship with a few apps, including Helio, a web browser that's supposed to bring information from the internet into our three-dimensional world. It's given early access to the furniture company Wayfair and The New York Times to develop content for the browser.
The headset will also ship with Social, a (rather prosaically titled) 3D social networking app, where users create avatars of themselves and meet friends virtually. It looks quite similar to Facebook's VR app.
There's also a sandbox program called Create that lets users "paint, draw, build, and create in ways never before possible," and includes sample code to help developers build their own apps.
Other apps include an arty collaboration with the band Sigur Rós and a shooting game called Dr. Grordbort's Invaders.
"Ours is a journey of inner space. We are building the internet of presence and experience," founder Rony Abovitz told Wired in 2016. With today's limited public release of headsets, we're closer to finding out whether the company has truly taken the first, er, leap toward reinventing the way we interact with computers, or if it's just burned through piles of money to invent the next generation of Google Glass.