Apple poached more than Burberry's luxury and social media savvy by plucking its departing CEO Angela Ahrendts. The company is also gaining the expertise of one of the most successful luxury brands in China, which happens to be the world's largest smartphone market and one of Apple's target markets.
Apple commands only a 5% share of the smartphone market in China, which is expected to remain the world's biggest smartphone market over the next four years, according to projections by IDC (paywall). The company has been outpaced by less expensive handsets made by Lenovo, ZTE, Xiaomi and Samsung in the country. Ahrendts's experience in building a luxury behemoth in China could help the tech giant find its way. Here's how:
By being both accessible and exclusive
One criticism of Apple's strategy in China is that its phones are too expensive for the majority of consumers. The iPhone 5S starts at 5,288 renminbi (about $860), while a phone by Xiaomi goes for 799 renminbi. Meanwhile, the average disposable income in 2012 was 24,565 renminbi for urban Chinese residents, the bulk of smartphone buyers.
In this sense, comparing Apple to China's affordable smartphone makers is misguided. Its prices are more in line with the "aspirational luxury" brands found in fashion—which is a niche that Burberry knows well. Last year, Apple was the second most-preferred luxury brand among Chinese male millionaires, after Luis Vuitton and ahead of Hermès. Young professionals and well-to-do students are target customers for the iPhone as well. (One teenager even reportedly sold a kidney for the cash to buy an iPhone and an iPad.) The gold iPhone 5S sold out at some Chinese retailers within its first week of sales.
Good thing for Apple that under Ahrendts's watch, Burberry became a model brand for accessible luxury in China. Its sales in the Asia Pacific region have surged over the past few years, largely because of Chinese demand.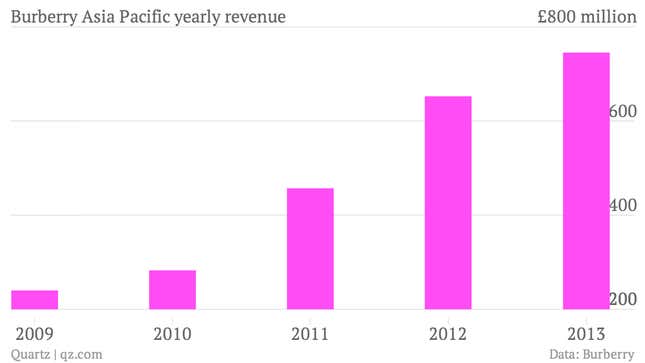 Burberry has outperformed its rival luxury brands even amid a luxury slowdown prompted by government austerity. Part of that success comes down to reviving its once declining brand. Luxury brands like Louis Vuitton have seen some of their cachet squandered as cheaper knock offs run rampant. By contrast, Ahrendts cut back on a brand licensing agreement that allowed the Burberry name to appear on third-party products and worked on restoring the brand's novelty.
Ending the company's franchise agreement in China also gave Burberry more control in marketing its brand to choosier customers. The company now sells more to customers in heavily designed Burberry stores (paywall) than in department stores, which pay less attention to heightening individual brands. It has also kept customers interested by introducing new products (paywall) as often as every few weeks. Recruiting brand ambassadors like British actress Emma Watson has also helped the company reach a younger, hipper Chinese clientele.
Honing its brand hasn't come at the expense of Chinese growth. Unlike many of its luxury rivals, Burberry has reached more Chinese shoppers by expanding into second-tier cities. Meanwhile, Louis Vuitton, Dior, and Chanel have stuck with a more cautious approach and focused mainly on first-tier urban centers out of fear of brand dilution. The company has also wooed China's well-to-do international travelers by staffing stores outside China with Mandarin speakers.
By mastering digital retail
Apple could also benefit from Burberry's social media savvy in China. Burberry has been good at connecting with Chinese shoppers online, compared to, for instance, Louis Vuitton, which has depended more on traveling exhibitions to increase brand exposure. Many Chinese shoppers research potential luxury purchases online, following recommendations from people they follow on Chinese social media like Sina Weibo and WeChat. Burberry is on four Chinese social media sites, and has over 600,000 fans on Weibo. In a ranking this year of luxury brands in China according to their digital IQ, Burberry ranked first.