As we recently predicted, after trimming a hugely successful investment in Netflix, corporate activist Carl Icahn has intensified his campaign on Apple. He wants the company to return some of its enormous cash pile to shareholders through a buyback of $150 billion in stock, which he says could boost earnings per share by 33% and lift the stock price to a staggering $1,250 (it's currently inching up towards $530, after an all-time high of $702.10 last year).
To that end, he launched his much anticipated website this morning—Shareholders Square Table. Although it suffered from some teething problems, a simple registration process now lets anyone join what advertises itself as a "platform from which we can unite and fight for our rights as shareholders and steer towards the goal of a real corporate democracy." There's a cartoon (posted below) that appears to compare corporate America with medieval Europe (we can only assume that the green-caped crusader brandishing a sword and a "list of nominees" is meant to be Icahn's cartoon avatar) and also Icahn's latest missive to Apple CEO Tim Cook.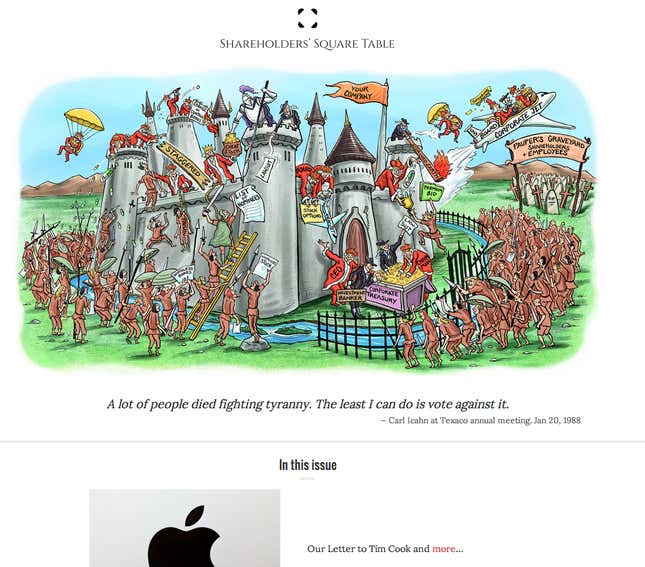 For the first time, Icahn has also disclosed the size of his position in the tech giant: about 4.7 million shares, worth some $2.5 billion at today's price. It's a huge position for any portfolio, but still only around 0.5% of Apple's total shares. It remains to be seen whether Icahn will be able to wield much influence at the company, but don't doubt his seriousness.
Icahn has already incurred the wrath of one of his rivals: Bill Gross, the head of the world's biggest bond fund, PIMCO,  who took to Twitter to criticize him: