Two years ago, Meng Hongwei became the first Chinese person to head Interpol, the international police cooperation organization based in Lyon, France. Nearly two weeks ago, he went missing. Yesterday (Oct. 7), China announced that Meng was under investigation for "suspicion of violating the law," according to China's anti-corruption authorities (link in Chinese).
China's Ministry of Public Security (link in  Chinese), which oversees law enforcement, today (Oct. 8) said that Meng was involved in bribery and that his investigation was required to "utterly rectify the poisoned stream of influence brought by Zhou Yongkang." Meng at one time worked with Zhou, who as minister for public security was one of the most high-profile politicians to be taken down during a corruption campaign launched by president Xi Jinping after coming to power in 2012.
It's unclear how long the investigation into Meng will last—though there may be little surprise about how it ends. A brief timeline of Meng's political career and disappearance—and shifts in China's politics—offered hints of troubles to come.
April 2004: Rising at the Ministry of Public Security
Holding a bachelor's degree in law from Peking University, one of the most elite institutions in the country, Meng had been China's vice minister of public security since 2004, (link in Chinese), when he was working under Zhou. In the same year, he became the head of Interpol China. Meng also held posts such as the director of the National Counter-Terrorism Office and was appointed head of the Maritime Police Bureau in 2013.
November 2012: Xi ascends, Zhou retires
At the Communist Party congress in 2012, Xi became general secretary of the party, and Zhou retired. Not long after he went into retirement, Zhou disappeared from public view. In 2014, authorities confirmed he was being investigated for corruption. The investigation targeted hundreds close to him in the oil industry where he once worked, and in the public-security ministry.
Zhou was given a life sentence in 2015 for crimes including bribery and abuse of power, and his son and wife, a former TV presenter, were convicted of bribery charges the following year. Xi's ability to conduct such a campaign against a retired elite party member was seen as a sign of his consolidation of power. Other theories for the takedown proliferated.
Still, Meng appeared to carry on unscathed—in recent days Meng's wife said the two men were not close and that Zhou had tried to oust her husband from the security ministry.
November 2016: A symbol of China's international clout
In November 2016, Meng was elected in Indonesia as the president of Interpol for a four-year term.
Meng's election came as China's pushed to seek the return of officials and other suspects identified as among its "100 most-wanted," a campaign started in 2014 (paywall). While the president is largely symbolic—and not in charge of the international police agency's daily operations—he's still an influential figure. Interpol, which has 192 member countries, has the right to issue "red notices," which is the closest instrument to an international arrest warrant in use today.
During Meng's time at Interpol, China filed lists of its most wanted suspects with the organization, with 15 persons on that list returned to China since 2017 (link in Chinese).  China also asked the organization to issue a "red notice" to arrest Guo Wengui, a Chinese property tycoon living in the US who has made serious accusations against China's former and current officials.
December 2017 to April 2018: Clues of troubles
While Meng's downfall seems sudden, looking back there appear to be traces of what was to come, one blogger wrote (link in Chinese) on WeChat, China's main messaging app. The article was reposted by local Chinese news outlet The Paper.
China's central government removed Meng from his posts as the head of the Maritime Police Bureau and as vice minister of the State Oceanic Administration in December 2017 (link in Chinese), without providing details. In April, the Ministry of Public Security disclosed that Meng (link in Chinese) was no longer a member of the Communist Party committee that oversees that ministry, a move seen as further weakening his power.
August 23: Last seen in public
Meng's last public appearance in Singapore, when he met the country's second permanent secretary.
September 25, 2018: A knife emoji
Grace Meng, the missing chief's wife, said that on Sept. 25 her husband sent her a knife emoji, followed by the message "wait for my call," according to a screenshot of a WhatsApp exchange between them. She then lost contact with her husband. She reported her husband's disappearance to Lyon police on Oct. 4, telling them she hadn't seen her husband in 10 days since he departed for a trip to China.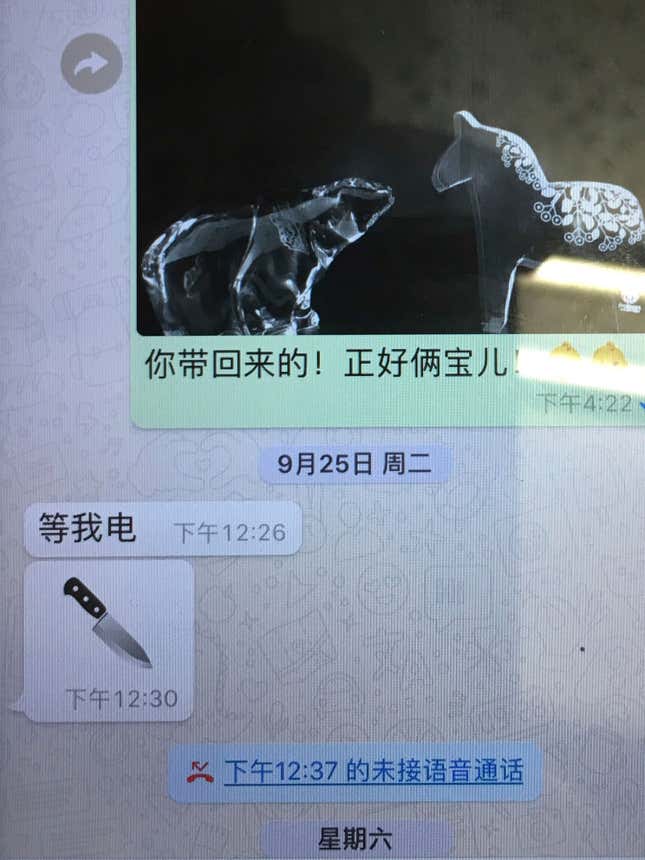 Oct. 6: Interpol raises a query
After acknowledging reports of Meng's disappearance, the organization said on Saturday it had requested "clarification from China's authorities" on his whereabouts.
Oct. 7: Confirmation, resignation
Meng was supposed to be in his post until 2020. On Sunday evening local time, the Communist Party's internal graft investigation body and a national anti-corruption agency said in a one-sentence statement that Meng was under investigation. Not long after, Interpol said that the 64-year-old had resigned.
The same day, Grace Meng gave an impassioned press conference in Lyon, her face hidden from the cameras.
"From now on, I have gone from sorrow and fear to the pursuit of truth, and responsibility toward history," she said, speaking in Chinese. "For the husband whom I deeply love, for my young children, for the people of my motherland, for all the wives and children, so that their husbands and fathers will no longer disappear."
Oct. 8: China's "high-voltage" rule of law
In a lengthy statement carried on Chinese news outlets, the Ministry of Public Security elaborated on (link in Chinese) the reasons for Meng's detention:
…Meng Hongwei's investigation for bribery and suspected violation of the law was very timely, completely correct, and very wise. It fully demonstrates the clear attitude of the party Central Committee with comrade Xi Jinping as the core to strictly manage the party and carry out the anti-corruption struggle. It resolutely demonstrates that there is no privilege and no exception before the law. Anyone who violates the law must be severely punished. We must resolutely uphold the authority and dignity of the law, bearing in mind that the red line of the law cannot be overstepped… It is necessary to make the legal system a 'high-voltage line' of electricity.