If you drive around Los Angeles you just might spot a silent-running sport utility vehicle sporting an unfamiliar automaker's badge. The electric car can go nearly 200 miles on a charge, and at the touch of a button its battery will power your house if there's a blackout. The manufacturer is not some Silicon Valley startup but BYD, the $30 billion Chinese conglomerate. It's quietly entering the US market by placing small numbers of of the SUV, called the e6, in corporate fleets.
BYD is best known in the US for its famous investor. In 2008, Warren Buffett's Berkshire Hathaway took a 10% in the company that makes, among other things, cars, batteries, mobile phones and solar panels. Earlier this year, BYD became the first Chinese automaker to open a manufacturing plant in the US. It retrofitted a defunct factory in southern California to assemble an electric bus. BYD has also built a battery assembly plant in California.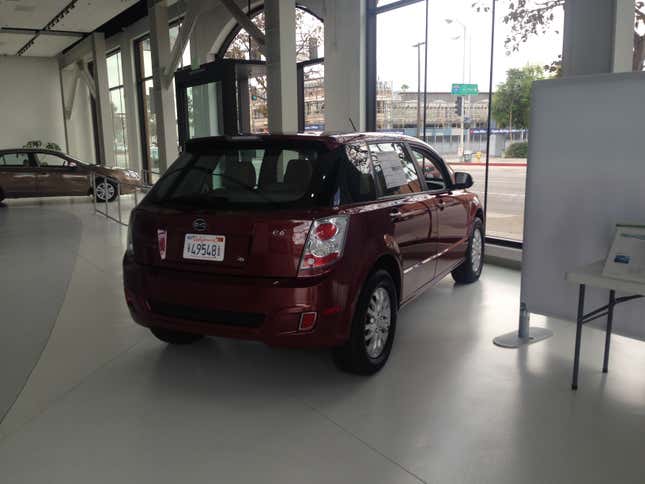 The bus business is BYD's vehicle to break into the US market and establish a reputation before selling the e6 to consumers. That means you're more likely for now to catch a ride in an e6 taxi at the airport before you can buy one in a showroom. "I think the e6 would be ideally suited for use in taxi fleets or black car service." Brendan Riley, BYD's vice president for fleet sales, told me at the company's North American headquarters in Los Angeles.
That's the strategy BYD has pursued elsewhere in the world. The company has sold the e6 to taxi fleets in Bogotá, Hong Kong and London. In China, the Shenzhen police are buying 500 e6s for use as patrol cars.
But though BYD may be making buses and taxis now, its ambition to emulate the US success of South Korean automakers like Hyundai and Kia is clear. The company's headquarters is where all the big car firms have their showrooms, west of downtown Los Angeles. It includes a rather bare-bones showroom displaying a rust red e6, as well as a gasoline-powered sedan—presumably just to help fill the space, since BYD doesn't plan to sell it in the US.
While no one will mistake the $52,000 e6 for the stylish Tesla Model S, it looks a lot better built than the Coda, the only other Chinese vehicle to be sold in the US. Los Angeles-based Coda assembled a bland, old-fashioned-looking electric sedan whose chassis was imported from Hafei, a Chinese state-owned automobile and aircraft manufacturer. It looked cheap and plastic and was beset by quality problems. Coda only sold a hundred or so of the $38,145 cars before filing for bankruptcy last May.
The e6, on the other hand, offers cutting-edge technology. The 186-mile range—Riley told me he usually can get 200 miles on a charge—is more than double that of most other electric cars currently available in the US. And the e6's battery is bi-directional, meaning that if you press a button on the dashboard, the battery will discharge electricity—handy in the event of a power outage and of possible interest to utilities that would like to tap electric car batteries to balance supply and demand on the grid. Riley says BYD's $2,500 charging station will fully replenish the battery in an hour and a half, versus six to eight hours for most home chargers.
"It took a long time for Japanese and Korean automakers to gain the reputation they have here," Riley says. "China is next. It might be only five years from the introduction of a Chinese vehicle to the acceptance of it as quality alternative."