Beyond being a preferred venue for annoyingly perfect food pictures, dog videos, or wellness and workout tips, Instagram is also a place where many people, particularly millennials and younger generations, go to connect with their favorite brands.
It's become such an important point of connection, in fact, that investors in luxury labels should be using it to help them decide which brands to put their money behind, according to investment bank UBS. "Given the rising importance of social media for luxury brands—especially in the context of millennials growth—we believe Instagram data can no longer be ignored as a data point for luxury investors, to help them pick the winning brands," the bank said in an Oct. 19 research note.
UBS used six key measures to determine the level of engagement between a brand and its followers, including the brand's total monthly likes, average likes per post, and follower growth. It also used Google Trends to look at search volumes around specific brands.
Instagram engagement offered a reliable indication of "current brand heat," with top performers including Gucci, Versace, Rolex, and Louis Vuitton. UBS added that there's a "clear linear relation" between a brand's number of followers on various social channels and its retail sales. Even if not all of a brand's followers are current customers, those followers should still translate into sales eventually "as long as there is match between the product offer and earnings capacity."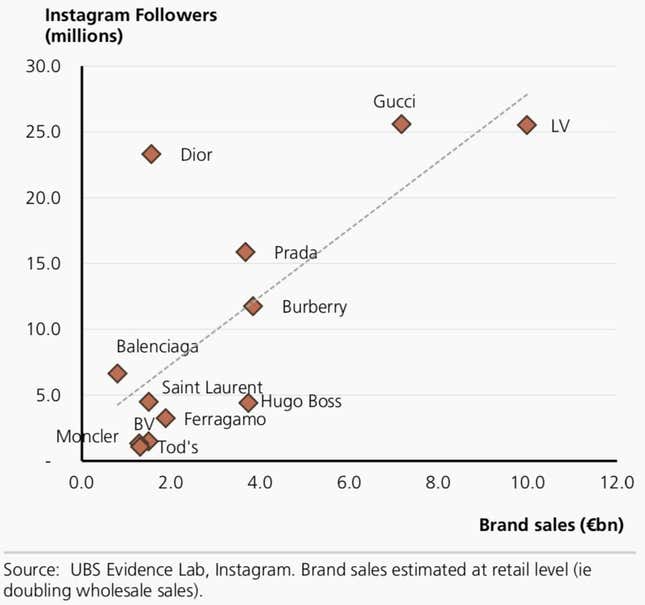 One major caveat was that, because engagement can fluctuate a lot around events, UBS wouldn't use it for trying to predict a brand's sales in the near term. Another was that the data is most useful for gauging the attitudes of American and European millennials. In China, a major source of sales for luxury brands, Instagram and Google are banned.
The rise of Instagram and social media have helped to flip the power dynamic between brands and the people they hope to sell to, creating a dialogue where once there was more of a monologue. But it's also an opportunity for brands because it gives them a direct line to customers, at a time when luxury labels are doing more and more of their sales straight to shoppers rather than through retail partners.
It isn't just millennials and younger shoppers connecting with high-end brands online, of course. A joint report (pdf) last year by management consulting firm Bain & Company and Farfetch, a large online luxury platform, found that a "millennial state of mind" was spreading among luxury shoppers, including the older generations that still accounted for 73% of luxury purchases in 2016.
One of the main characteristics of this mindset was interacting with brands digitally. "Today, 70% of luxury purchases are influenced by online interactions, which means at least one digital interaction has taken place with the brand or the product before those purchases," the report noted. This behavior is only set to grow, as millennials are expected to make up 40% of luxury purchases by 2025.