Early this month, Hong Kong saw the abrupt cancellation of an exhibition by Chinese political cartoonist Badiucao, known for drawings that criticize Chinese and Hong Kong authorities. A recent example is his illustration of late Nobel peace laureate Liu Xiaobo, who died in custody in mainland China last year, in a loving embrace with wife Liu Xia.

Just days later, dissident Chinese novelist Ma Jian faced what appeared to be efforts to stop him from speaking in Hong Kong about his new book China Dream, a dystopian novel about a corrupt Chinese official who is brought to face his demons—and whose title points directly to the words of Chinese president Xi Jinping.
The events come within days of Hong Kong losing two of its cultural giants—novelist Louis Cha and film producer Raymond Chow, legends who once made the city the creative capital of the world's Chinese-speaking communities.
The juxtaposition of these events, for many in Hong Kong, pointed to the troubling question of just how much of the creative freedom that gave rise to giants like Cha and Chow in pre-handover Hong Kong still remains. Hong Kong, which was under British rule until its return to China in 1997, enjoyed a level of freedom of expression quite unlike many other territories in Asia, said political commentator Lau Sai-leung recently (link in Cantonese).
Last year, at the 20th anniversary of the handover, Xi's speech in Hong Kong to mark the occasion warned its people not to cross "the red line" by challenging the authorities of Beijing or undermining national sovereignty.
"While we mourn for the passing of cultural icons like Cha and Chow, let's not forget that their success owed to the unique environment of Hong Kong," said Lau. "If we don't reflect on the current status of our freedom, our culture will fade away in no time."
Hong Kong's golden era
Cha's wuxia novels—martial arts epics—have been dear to global Chinese-speaking communities since they were serialized in newspapers in Hong Kong in the 1950s under the pen name Jin Yong.
Cha's elite family was a target of Communists' attacks when the party took over China in 1949. At that time, Cha moved to Hong Kong to work as a newspaper journalist and began writing his first novel The Book and the Sword in 1955. It was serialized in the now defunct New Evening Post, the evening edition of the Communist-owned Ta Kung Pao. The story, which revolves around the underground Red Flower Society's schemes to overthrow the Manchu's Qing dynasty and revive Han rule, became an instant hit.
Cha founded Ming Pao Daily News in 1959 and continued to write his beloved stories about fictional martial arts heroes fighting corrupt rulers in historical China. At the same time, his journalistic writing and editorials often condemned China's Communist rule, particularly during the Cultural Revolution (1966-1976). That led to his brief exile to Singapore upon receiving death threats from the underground Communists in Hong Kong in 1967. It was the freedom of expression in Hong Kong under the British colony that gave Cha the opportunity to flourish and write critically.
Around the same time, the Hong Kong-born Chow left Run Run Shaw's Shaw Brothers Studio and co-founded Golden Harvest studio with Leonard Ho in 1970. Chow, who also worked as a journalist previously, collaborated with independent studios and pursued new film genres and narratives that brought commercial success. It was Chow who cast kung fu legend Bruce Lee in his first major lead roles in The Big Boss (1971) and The Way of the Dragon (1972).
Chow's Golden Harvest sealed its status as the leader of Hong Kong commercial films in the following decades. Drunken Master (1978), Snake in the Eagle's Shadow (1978) and the Police Story series in the 1980s launched Jackie Chan's superstardom. Meanwhile, their Hui Brothers comedies, such as The Private Eyes (1976), made up of gags and sketches drawing inspiration from Hong Kong urban life, also became hits.
The studio continue to rule Hong Kong cinema through the '80s and '90s with horror comedy films (the Mr Vampire franchise) and Stephen Chow's mo lei tau comedies mocking Hong Kong's pre-handover political situation, such as All for the Winner (1995), respectively.
While Hong Kong was enjoying freedom and economic prosperity, mainland China was closed off from the world. During the Cultural Revolution, people were only allowed to watch state propaganda films and shows—except for state leader Mao Zedong who was said to have sneaked Bruce Lee films (link in Chinese) from Hong Kong to mainland China in 1974 for his own enjoyment. Many of Hong Kong's cultural products were not available until the 1980s and 90s, after the reforms and opening up of Deng Xiaoping.
Political opinions will now cost you
Cha and Chow's successes showed that in the past creators of work that was popular, and financially viable, were free to create and express themselves.
"If you could make money, you were king," said Sampson Wong, artist and lecturer at the Hong Kong Academy for Performing Arts. "Today, commercial success does not guarantee freedom."
Ten Years, the 2015 film that imagine a bleak future for Hong Kong under tightening Communist rule was a box-office success in 2016, beating the latest Star Wars film in the city's theaters. But the film was criticized by state-run Chinese media and soon disappeared from theaters. Trivisa, a crime thriller co-directed by Jevons Au, one of the young directors of Ten Years, was banned in mainland China and mainland media pretended the film did not exist when it was named the best film at the Hong Kong Film Awards in 2017.
Canto-pop singer Denise Ho began losing jobs after being a vocal supporter of the 2014 Umbrella Movement protests that called for all Hong Kongers to be able to choose the city's leaders (compared to a tiny minority now). Cosmetics brand Lancome canceled Ho's Hong Kong performance it was sponsoring in 2016.
"If you do not obey, you cannot make money. That's the China model," Wong said, adding that the lack of clarity about the "red line" was part of its effectiveness. "There is a lot of speculation about what is allowed and what's not. It is more of a psychological red line to create fear, so that you self-censor."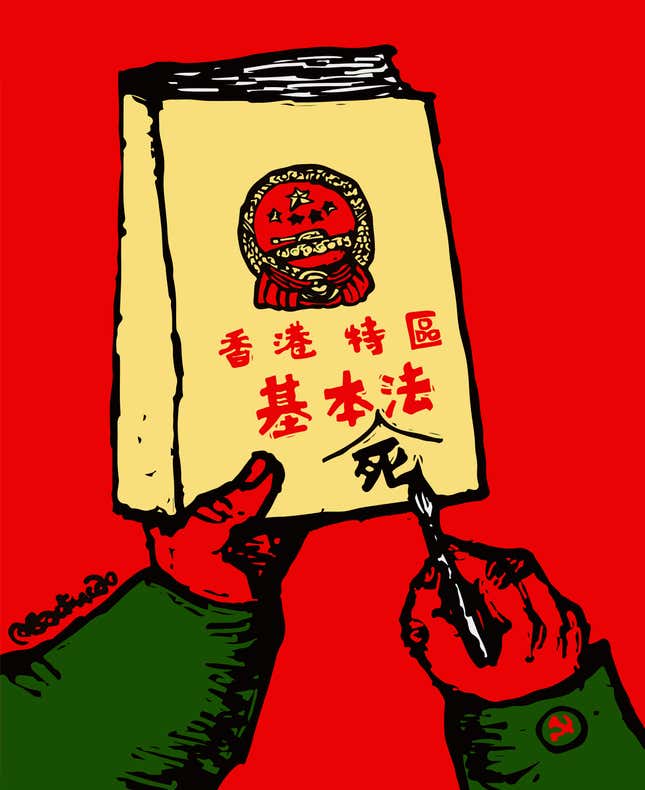 Gongle
Badiucao's exhibition in Hong Kong, slated to open Nov. 3, was going to center around Beijing's tightening grip over Hong Kong. In addition to his cartoons, it was to feature installations like Tiger, a torture chair commonly used in prisons in China but with two curved bands attached to its legs to look like a rocking chair.
Badiucao, who left China a decade ago and is now an Australian citizen, describes himself as a self-taught artist from an ordinary middle-class family in China.
"I'm not a hero. I'm just an ordinary guy. That's why I hide my identity. But I want to show people that even if you are an ordinary person or even a coward, you can still find a way to have your voice heard," he said in an interview with Quartz ahead of the cancellation of Gongle, which was to be part of a program of a Free Expression Week, organized by the Hong Kong Free Press, Amnesty International and Reporters Without Borders.
The exhibit's name in English comes from the show's Chinese title 共歌 (Gòng gē), which means "Communist song," typically sung by the party's ardent supporters. It's also a reference to search giant Google's plans to develop a censored search engine, Dragonfly, for China. The poster for the show merges the faces of Chinese president Xi and Carrie Lam, chief executive of Hong Kong.
In the interview, Badiucao expressed concern about the de facto expulsion of Financial Times journalist Victor Mallet, who was denied a visa renewal in October after moderating a talk given by Andy Chan, of the pro-independence Hong Kong National Party, at the Foreign Correspondents' Club, describing it as "very shocking."
"I don't think this could've happened five years ago," he said. (Mallet was also denied entry to Hong Kong on November 8 as a visitor,  after being questioned for hours by the immigration.)
Organizers on Nov. 2 announced that Badiucao's show was cancelled, citing "safety concerns" and "threats made by the Chinese authorities relating to the artist."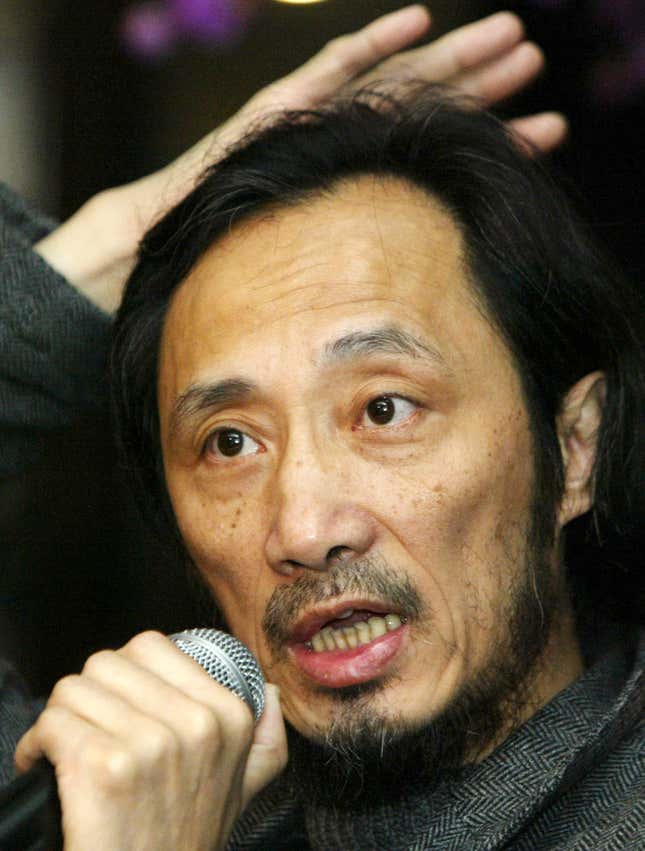 A cultural center that fears the arts?

Novelist Ma, whose books have been banned in the mainland since 1987, was to give two talks on November 10 at the Tai Kwun Center for Heritage and Arts, a former jail and police station that's been turned into an arts and cultural institution (paywall). It's been the venue this year for the Hong Kong International Literary Festival (where Mallet was supposed to moderate an event).
Ma on Twitter on November 7 that Tai Kwun had declined to host his talks.  In interviews, he expressed the belief that the decision to try and pull his talk could have come from a higher level (link in Chinese) than Tai Kwun's operator, the Hong Kong Jockey Club.
The following day, the literary festival said in a statement that it did not want to speculate on the reasons for the decision, but that it would find another venue to make sure Ma could speak. Tai Kwun's director director Timothy Calnin said in a statement that the institution did not want "to become a platform to promote the political interests of any individual"—prompting a retort from Ma.
After a public outcry that made international news headlines—and the festival's difficulty finding other venues—Calnin reversed his decision and decided to host Ma's talks as scheduled.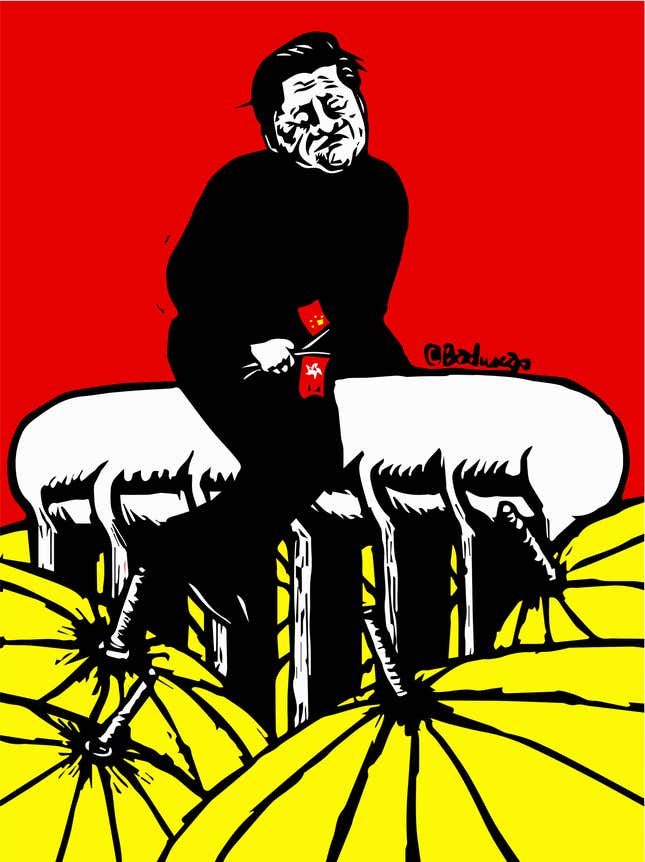 While Ma expressed happiness at Tai Kwun on Saturday (Nov. 10) at the "failure of self-censorship," in an interview ahead of the off-again-on again talks, he expressed grave concern over Hong Kong's freedom of expression.
"My books have been banned in China since 1987 but the Chinese originals have always come out in Hong Kong," said the author of Beijing Coma, the epic surrealist novel about the 1989 Tiananmen Square crackdown, via email ahead of his appearance here. "One brave publisher was keen to go ahead as long as I made a few changes. But at the last minute he pulled out because he said it was clear that no bookshop in Hong Kong would dare to sell it."
In the wake of the 2015 disappearance of booksellers who sold Chinese-language titles banned in mainland China, it has become increasingly hard to find such work in Hong Kong. One of the few remaining bookstores selling such works closed recently, and more than 70 percent of the city's publishing market is now controlled by the Beijing-owned Sino United Publishing.
"In the past, Hong Kong was a small pocket of freedom where thoughts were freely expressed and exchanged without fear of repercussion. But all that has changed," wrote Ma. "The strangling of free expression in Hong Kong is a tragedy not only for Hong Kong, but for all the Chinese-speaking world."